I am crazy about Stanford. I am crazy about the way he lays on his back and raises his short legs way up when he wants belly rubs.  The way his butt sways when he walks.  The way his pointed ears perk up when it's time for his walk.  The way he barks when you say speak. The way he rolls over for a treat.
I am so crazy about my little boy.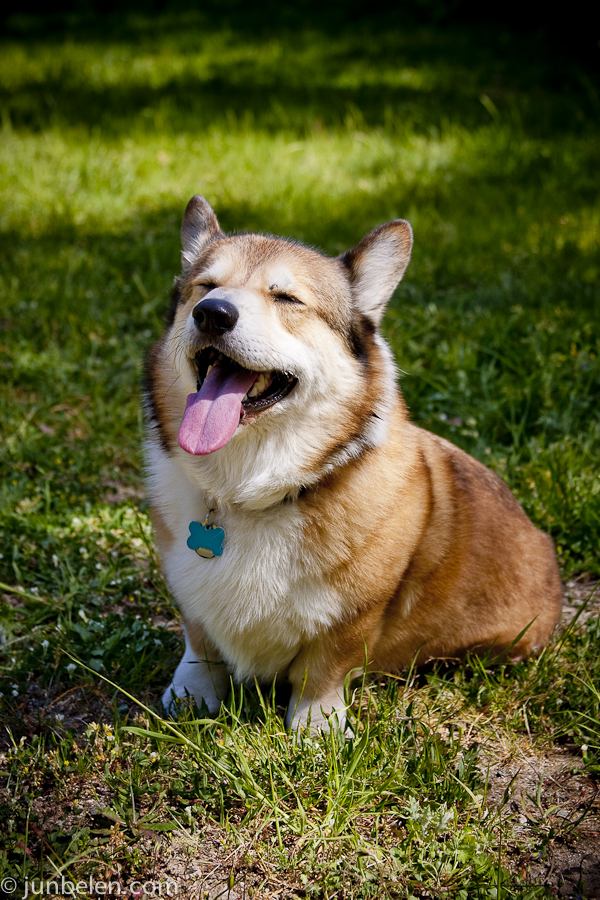 Dennis and I adopted Stanford in 2008.  We wanted a Pembroke Welsh Corgi so badly and were having no luck in finding one in the Bay Area until we came across Stanford's profile at Petfinder, the on-line database of adoptable pets.  Stanford was a stray rescued by Shannon and Kim of 4 Paws Rescue in Ogden, a suburb of Salt Lake City.  We instantly fell in love with Stanford's handsome photos and even though it meant either flying or driving to Utah in the middle of winter, we were determined to take the chance and hopefully take him home to San Francisco.
We flew to Salt Lake City the weekend after our application for adoption was approved. We rented a car and drove to a local pet store just outside Salt Lake City where we would meet Stanford for the first time.  I can remember very clearly how Dennis and I were very anxious as we entered the store.  We were so worried that we wouldn't be a good match but as soon as we saw Stanford's smiling "please-take-me-home" look on his face inside his crate, we knew for certain that he was ours.
After going through the paperwork, we got him a dog tag, bought supplies for the long drive home and said our farewells to Kim and Shannon.  Off to the city we went.  Luckily, the drive through the Sierras was not at all bad.  We stayed the night in Winnemucca, Nevada and then continued the drive back to California the morning after.
Stanford has been enjoying life in the city.  He loves to eat.  He loves to run and chase balls in the park.   He loves anything that squeaks.  He doesn't care too much for window blinds, vacuum cleaners and paper shredders.  We actually have been through quite a lot in terms of vet visits in the past year and a half, from scratched eyelids to tummy aches.  When we first got him, Stanford would limp after too much running.  We later found out that his limping was caused by being a little bit overweight.  Did I say he loves to eat?  But he is now slim and trim at 30 pounds and, overall, he is in excellent shape.
Whenever Stanford greets me with his handsome face every morning and each time I come home from work, I can't help but be thankful that we found each other.  It breaks my heart when I picture Stanford as a stray looking for something to eat out in the cold.  But it warms my heart that Stanford is now safe and enjoying a happy life with us.
I think all dogs (and cats, too!) deserve a second chance.  A second chance to a happy life of belly rubs and squeaky toys.  The San Francisco SPCA is a great resource for anyone looking to adopt homeless cats and dogs in the city.  And for anyone looking to rescue corgis in particular, the Golden Gate Pembroke Welsh Corgi Fanciers is a great place to start your search.