Making pie crust from scratch isn't too hard.  Okay, scratch that.  Watching Dennis make pie crust from scratch isn't too hard.  But seriously, it's one of those things that seem too laborious, too tedious to do but it's actually not.
The Awl has an awesome recipe for homemade pie crusts and here is a documentary in photos of the flaky buttery goodness that Dennis made over Thanksgiving.
A few key things to remember: flour, butter and water must be chilled before making the dough.   Mix 1-1/2 cups of flour, a few pinches of salt, a smidge of sugar, 2 sticks of butter, and about a cup of cold water into a lumpy dough with chunks of butter.  Do not mix it thoroughly. Let the dough rest in the freezer for at least about half an hour before rolling it.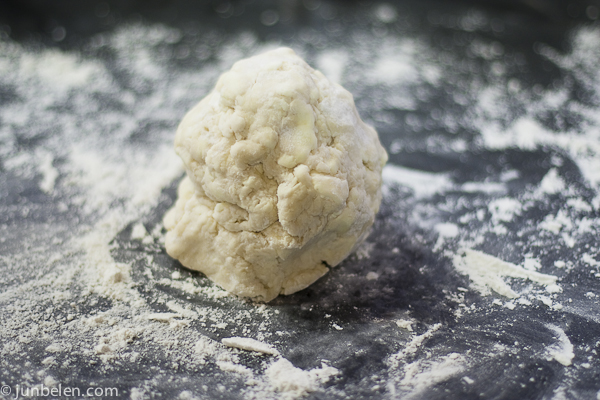 Clean your counter thoroughly and spread a generous amount of flour all over it.  Flatten your dough four to six inches wide, fold it in on itself and roll it out using a clean bottle with no labels or, of course, a rolling pin if you have one. If it's too dry and it breaks a lot, fold it back in on itself and glue back bits and pieces with some water.  If it's too soft, which means it's too wet, put some more flour.  Continue rolling and turning for a few more times until it's dish size.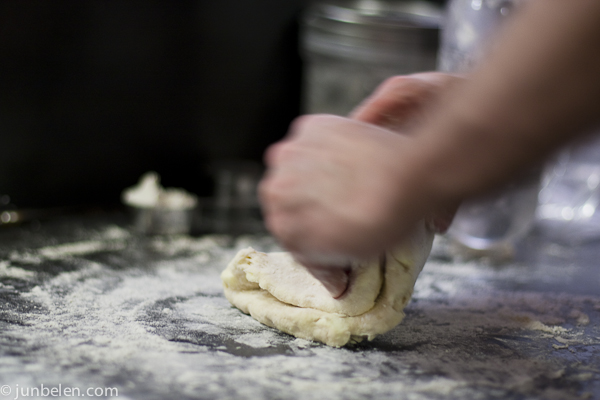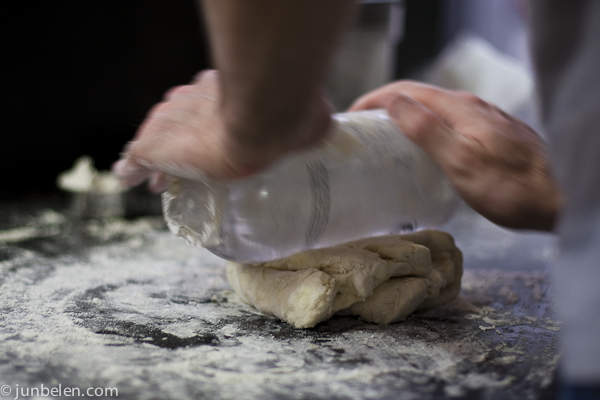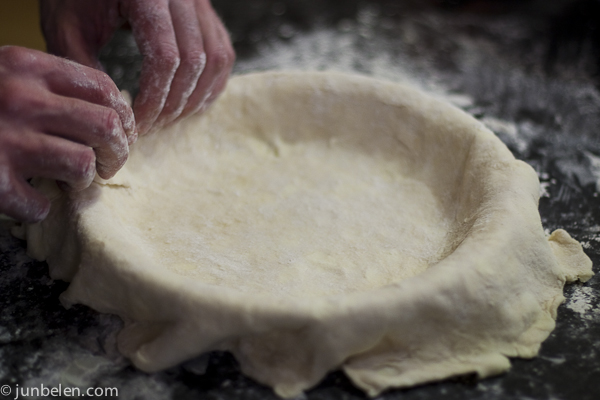 While Dennis was busy rolling the dough, my friend Alvin and I were busy making the apple filling.  Seriously, peeling, coring and slicing 2-1/2 pounds of apple (5 to 6 large ones) into 1/4 inch thick slices is the more tedious part of the entire apple-pie-making exercise compared to making the crust.  We used Pink Lady apples because Dennis thought they were pretty but also because we wanted a sweeter apple pie.  Granny Smiths, Jonathan, Jonagold and Pippin are great choices for a sweet-tart apple pie but stay away from Gala, Red Delicious and Golden Delicious apples because they tend to become too mealy.  From the Joy of Cooking,  mix the apples with 3/4 cup sugar, 3 tablespoons all-purpose flour, 1/2 teaspoon cinnamon, a pinch of salt.  Let it rest for 15 minutes an pour the filling into the bottom crust.  Add 2 tablespoons of unsalted butter, cut into small pieces, on top of the apple filling.  Cover the pie with the top crust and sprinkle with sugar and cinnamon.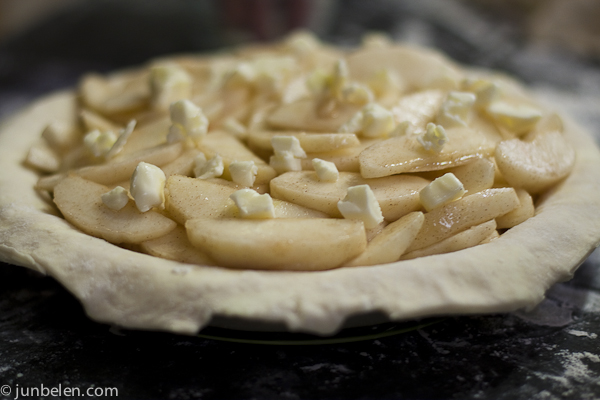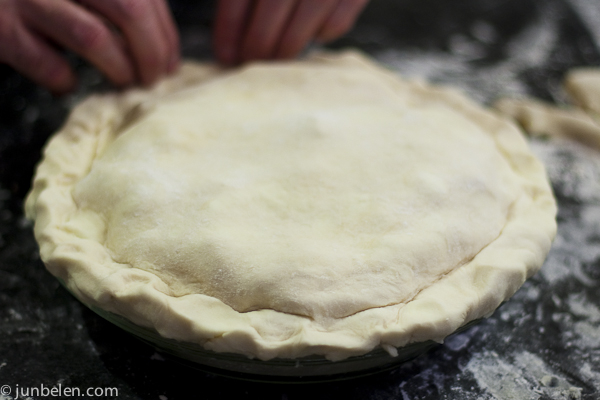 Bake for 30 minutes at 425F. Slip a baking sheet under the pie, reduce the temperature to 350F and bake until the apple feels tender when a knife is poked through a steam vent, 30 to 45 minutes more.
Baking was actually the most exciting part of the day.  I guess for some reason Dennis added much more butter than what the recipe called for and it melted, spilled out of the pie and burned inside the oven.  While smoke enveloped the entire loft and the smoke detector madly went off, we tried frantically to save the apple pie!  After all the rolling, peeling, and coring we had to do, we were determined not to let too much butter ruin the day!   In the end, we persevered.  And seriously, butter is always a good thing.