It's Dungeness crab season in San Francisco and there's no better way to enjoy these tasty crustaceans than to make crab cakes!  Making homemade crabcakes is an excellent example of why homecooking is so cool: you actually know what ends up in your plate because you made it yourself.  Most of the time I wonder how much crabmeat there is in the crab cakes I get when I dine out.  Get the best crabmeat, pick the freshest herbs, make your own breadcrumbs and if you're a little adventurous, make your own mayonnaise from scratch! Fresh ingredients plus a simple recipe equals great-tasting food.

Crab Cakes Recipe
Recipe by Alice Waters from The Art of Simple Food, makes four servings

1 lb crabmeat (picked from 2 Dungeness crabs)
1 cup mayonnaise
2 Tbsp chopped chives
2 Tbsp chopped parsley
2 Tbsp chopped chervil
1 Tbsp fresh lemon juice
salt and cayenne to taste
1-1/2 cups breadcrumbs (click here to learn how to make fresh breadcrumbs)
5 Tbsp unsalted butter (click here to learn how to make clarified butter)
Boil salted water in a large pot and then carefully drop in the Dungeness crabs. Two Dungeness crabs will yield roughly a pound of crabmeat but use as many blue crabs or other crabs as needed to yield the same.  Boil for 15 minutes.  Remove the crabs from the pot and let them drain and cool.
Pull off the large top shell, remove the fibrous lungs and rinse lightly.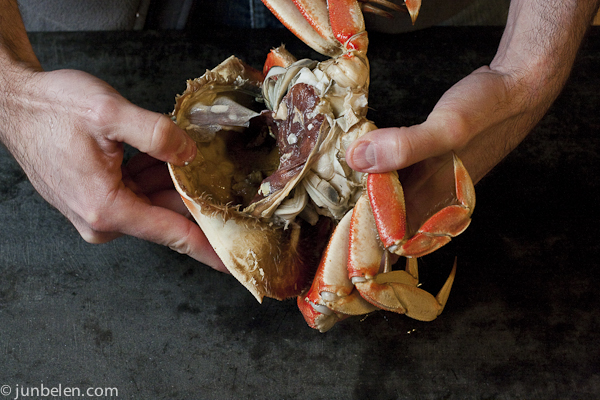 Split the main body in half down the center.  Pull off the legs, crack them, and pick the crabmeat from the body and legs.  Big chunks of crabmeat are good for texture. Put the crabmeat in a bowl and gently go through the meat to remove any bits of shell left in the meat.  Refrigerate until ready to use.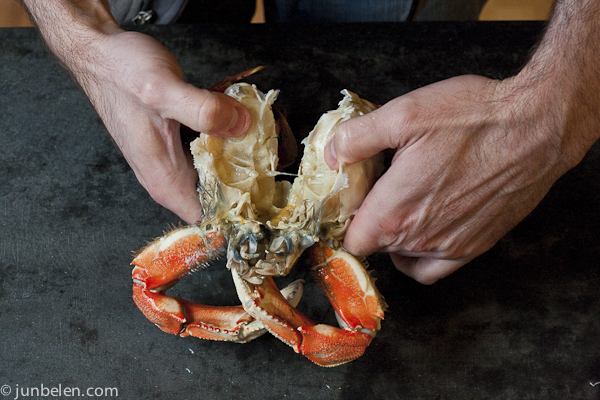 Stir the chives, parsley, chervil, lemon juice, salt and cayenne into the mayonnaise and mix thoroughly.  Let me make a note that chervil is pretty difficult to find. Even the local Whole Foods does not normally carry them.  If you find yourself chervil-less, don't worry I think you'll be fine without it.
Stir the mayonnaise into the crabmeat, mix gently but thoroughly. Taste and add more lemon juice and salt as needed. Form the mixture into patties. I ended up making six 3-inch diameter cakes.  Roll the patties to coat in the breadcrumbs.
Warm a heavy-bottomed pan over medium heat.  Pour in the clarified butter (click here to learn how to make clarified butter) and when the butter is hot, carefully add the crab cakes and fry until golden brown, about 4 minutes on each side. If the breadcrumbs start to burn, turn down the heat.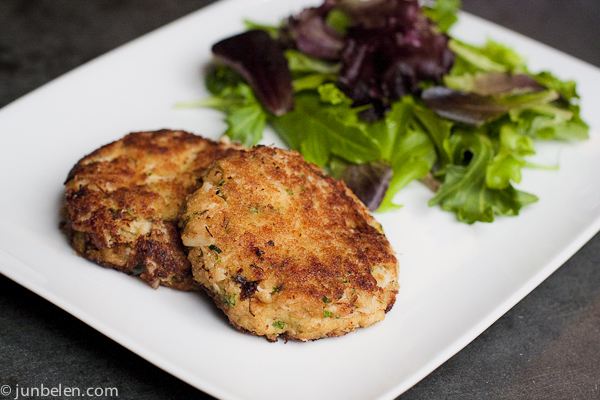 A cool variation to this dish is to use fish fillet to make fish cakes.  Waters recommends using a firm white fish like halibut, haddock or ling cod.  Use two cups of chopped fish fillet in place of the crabmeat.
How to make fresh bread crumbs
Breadcrumbs are best made from bread that has been dried out for a day or two.  For breading and frying, Waters recommends using white bread.  First, remove the crust. Cut the crustless bread into cubes and grind up the bread in batches using a food processor or a blender.  The bread should be ground up thoroughly so the crumbs are more or less the same size.  Crumbs for breading need to be ground very fine, so they will stick to and evenly coat whatever is being breaded.
Melt unsalted butter in a small heavy pot over medium heat.  Cook the butter until it has spearated and the milk solids are just turning a light golden brown.  Pour through a fine strainer to remove the milk solids.