Shopping in Chinatown is always an adventure.  The oldest in North America and one of the largest outside China, Chinatown is undoubtedly one of the most fascinating neighborhoods in the city.
The adventure starts once you get on the 30 en route to Stockton where you'll be greeted by an energetic mob of Chinese ladies eager to get the best seat on the bus. It starts to feel distinctively Chinese once the bus maneuvers its way through Union Square and goes through the Broadway tunnel. And once you step off the bus at Stockton, you'll definitely feel you have entered an entirely different world.
I had two things I wanted to buy last Wednesday: some char siu and a bamboo steamer. I was going to make my very first char siu bao, buns filled with barbecue flavored char siu pork.  The buns can be either steamed or baked but I was going to steam them so I was also on the lookout for a bamboo steamer. Crate & Barrel downtown carries bamboo steamers but I wanted to get one from an Asian store and, besides, I was certain I could get a cheaper one in Chinatown.
I intentionally did not have a solid plan on where to get the two items in my shopping list. I guess that was part of the fun. I had just one thing in mind, I was going to rely on people I meet on the street to give me the leads. So where did I start? I was a bit hungry for a snack and went straight to Golden Gate Bakery.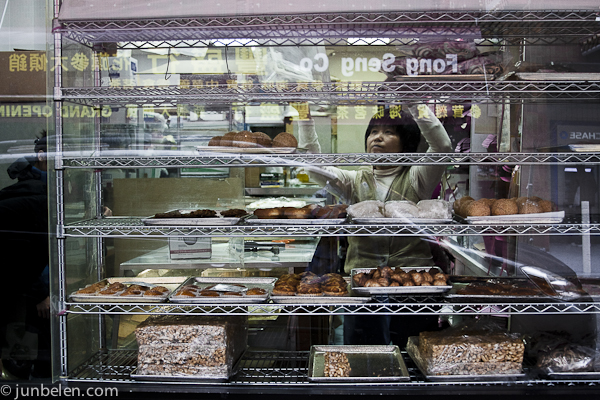 They have the tastiest Chinese sweet treats this side of town, from yummy deep fried sesame balls to creamy custard tarts. I grabbed my flaky melon cake wrapped in a brown paper bag and a tip to go to Yee's Restaurant a block away along Grant Avenue for some char siu pork.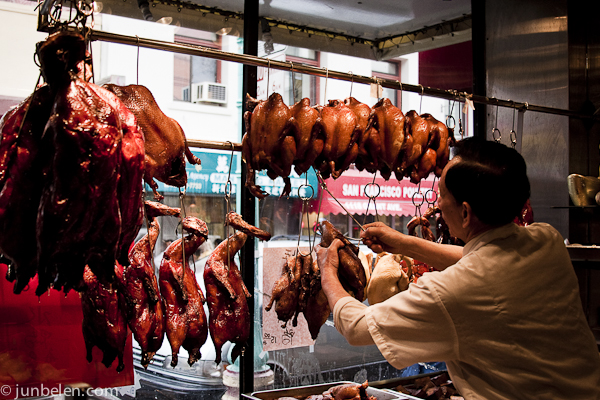 A true Chinese hole-in-the-wall with take out, Yee's has everything from roasted duck, chicken, and goose to barbecued pork. A half a pound of char siu for less than 4 bucks was the deal of the day. The friendly butchers at Yee's then referred me to Ginn Wall Hardware Company down the street for my bamboo steamers.  The plan was working out.
I got so excited when I saw the bamboo steamers all lined up in the store's window display but got so disappointed when I found out that the hardware is closed on Wednesdays! After checking out five other Chinese bazaars along Grant Avenue that carried steamers that were either too big or too small, I started to get a little frustrated. I'm in Chinatown! They should have steamers in every corner, I thought. But I finally stumbled upon The Wok Shop where I got myself a sturdy 8-inch bamboo steamer. It was exactly what I wanted.
With char siu pork in one hand and bamboo steamer in the other, I was ready to go home and make some yummy char siu bao. I looked up, admired the beautiful red Chinese lanterns and noticed that it was laundry Wednesday.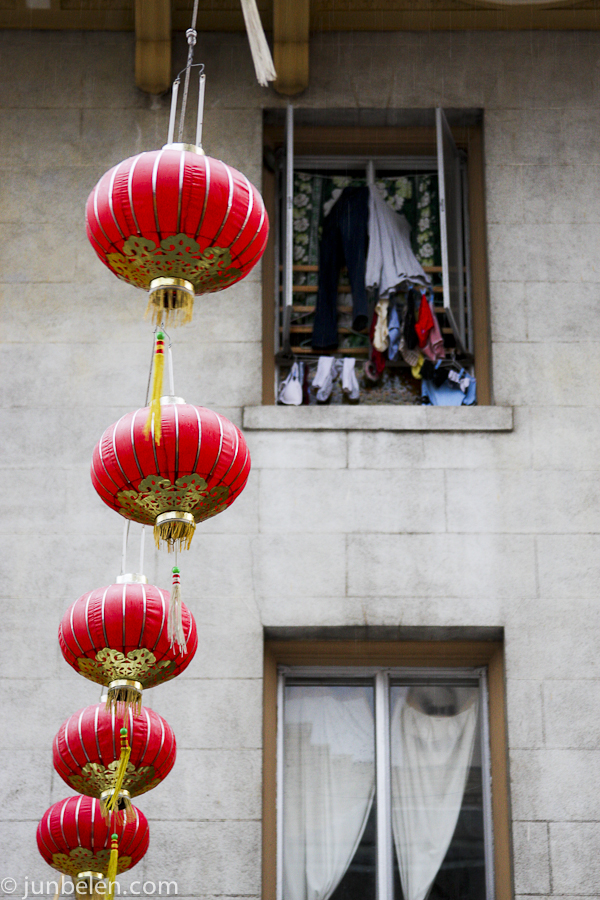 Here is more information about the restaurants and shops mentioned in this blog.
Golden Gate Bakery
1029 Grant Ave between Jackson Street and Pacific Avenue
San Francisco, CA 94133
415.781.2627
Yee's Restaurant
1131 Grant Ave between Pacific Avenue and Jack Kerouac Alley
San Francisco, CA 94133
415.576.1818
Ginn Wall Hardware Company
1016 Grant Avenue between Jackson Street and Pacific Avenue
San Francisco, CA 94133
415.982.6307
The Wok Shop
718 Grant Avenue between Commercial Street and Sacramento Street
San Francisco, CA 94108
415.989.3797
www.wokshop.com