The reason I started a Twitter account not too long ago wasn't that I wanted to tweet incessantly about what I'm eating (although I must admit that I do this more often now).  The reason was that I wanted to follow the burgeoning San Francisco street food scene. What are they cooking? What are they making? Where are they hanging out?  I just wanted to know because I am such a huge fan.
San Francisco street food is one of the reasons why I love this city.  It's diverse. It's laid-back. It's accessible. It's simply delicious food.
The city's street food carts have certainly come a long way (all the way to City Hall) and have created a diverse and devoted following.  Recently, they have started hosting indoor events, aptly called Outside In, which not only showcase street food at its finest but also help raise money for worthy causes.  The most recent event, Outside In 3, featured Filipino food last Saturday at Mink Bar and was a huge success.
I was actually intrigued and thrilled when I first found out that the carts were doing Filipino food.  I think Filipino food is so underrepresented even in a city as diverse as San Francisco.  There are so many interesting local flavors and local ingredients that deserve so much more attention and affection.  So I was curious to know what the chefs would come up for the event. I went to Mink Bar with high expectations and went home very impressed, from Papalote's chicken adobo burritos and Adobo Hobo's sisig tacos to Lumpia Cart's turon and Gumbo Cart's gumbo with Filipino longanisa. Very impressed.  But there were three things that stood out.  Here is a short list of my top picks of the evening.
1. Kitchenette's Kinilaw
Kinilaw is a collection of fresh seafood, fruits and vegetables soured and mixed in the moment. Traditional souring agents are diverse, ranging from coconut vinegar to various native species of lime like kalamansi and dayap.
Kitchenette's take on this Filipino favorite was tasty, light and refreshing.  Fresh hiramasa and dungeness crabs soured with blood oranges and kumquats mixed with crunchy cucumbers and radishes and garnished with mint.  It was wonderfully inventive and clever that stayed truly Filipino.
2. Soul Cocina's Ginataang Hipon
Ginataang hipon is shrimp cooked in tasty gata — Filipino for coconut milk. There are so many variations to this dish but the most popular one involves cooking squash, sitaw (long beans), and shrimp in coconut milk. Soul Cocina's version was hot and creamy, the way it should be.  Served over steamed rice, his coconut shrimp definitely hit the spot.
It was interesting to note though that he used kangkong instead of long beans. Kangkong is water spinach, which is one of the more popular vegetables in the Filipino kitchen because it is totally ubiquitous.  It grows practically everywhere.  Cooking with kangkong is a bit challenging because it becomes a green mush when overcooked.  Instead, I prefer ginataang hipon with long beans that are cooked tender but still firm to the bite.  Nonetheless, Soul Cocina's take on this Filipino dish was very impressive.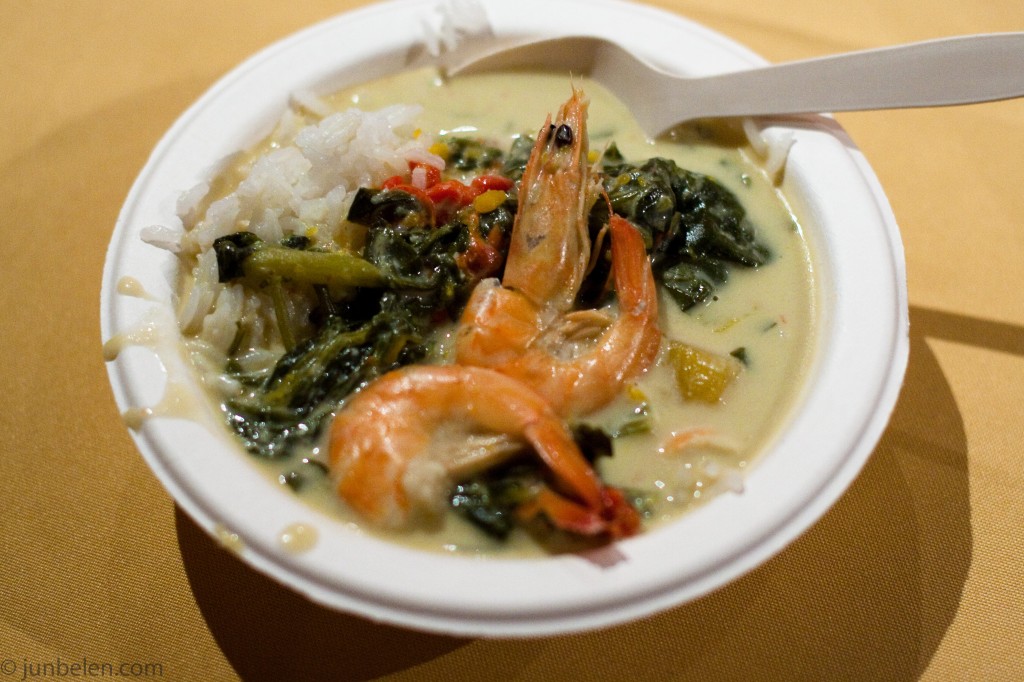 3. Gobba Gobba Hey's Ube Coconut Lime Gobs
Hearing about Gobba Gobba Hey's ube gobs, I must admit, got me really excited about the event.  I love purple yams — ube — in any shape or form.  Ube ice cream, ube cake, ube cookies, and the list goes on and now the list got even longer with his ube gobs:  coconut lime cake sandwiches with ube filling.  Apparently, they were made with frozen purple yams.  I don't think fresh ones are available here in the United States but I'm so curious to see how these gobs will turn out if they were made with fresh ube.
Gobba Gobba Hey's ube gobs were definitely a great sweet treat to cap a wonderful evening of Filipino street food.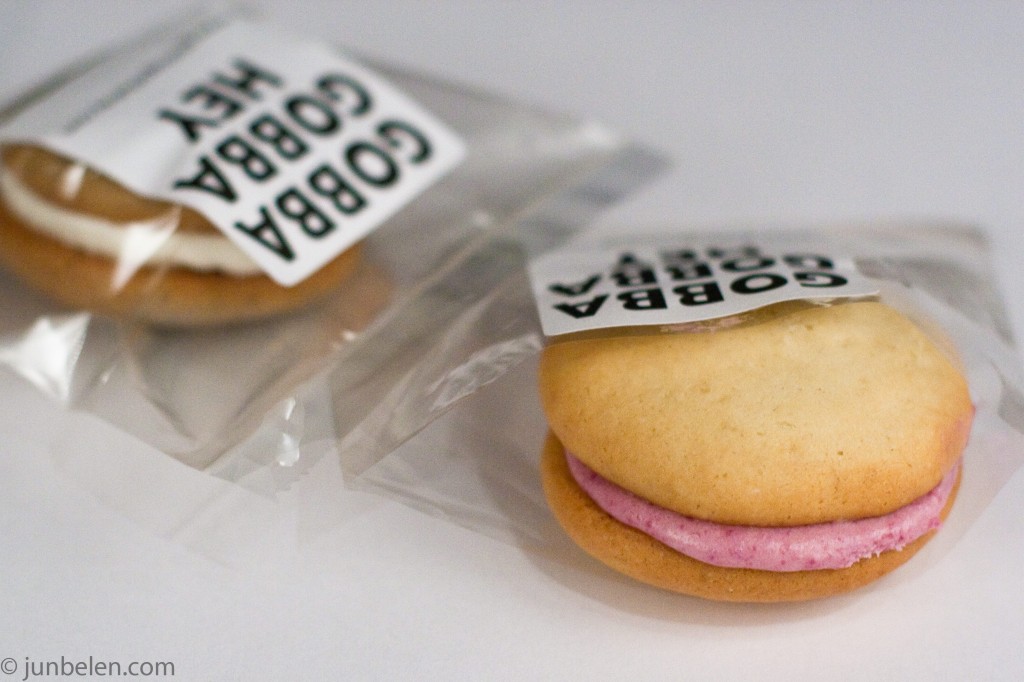 There is an upcoming fourth edition of Outside In on April 25th at the Heart Wine Bar in the Mission. It's going to be your favorite street food paired with wine served in mason jars. Time to mark your calendars.
And by the way, I was so stuffed that I couldn't try all the other Filipino goodies that evening like Cookiewagsf's maja blanca and Bay Area Urban BBQ's pulled pork with Filipino barbeque sauce.  What were your favorites?