One of my earliest food posts in Jun-Blog is a succinct 41-word tribute to a scoop of Bi-Rite salted caramel ice cream. I must admit I am always at a loss for words to describe the blissful state I find myself in whenever I indulge in Bi-rite. Even on the chilliest of San Francisco summer evenings, I wouldn't mind a scoop or two of roasted banana or toasted coconut. Colder nights are actually the best time to go when the queue to get in their tiny store, which was recently expanded, does not wrap around Dolores. But seriously, anytime is a good time to go and treat yourself to some delicious salted caramel or just plain vanilla.
Not too far from Bi-Rite, in the Mission, is another San Francisco favorite, the fabulous Humphry Slocombe with their witty tweets and their quirky flavors. Who could resist their delightful Secret Breakfast — bourbon and cornflakes? I certainly could not.  And Marlowe's couldn't either.  After licking my fingers clean of horseradish aioli from Marlowe's mind-blowing burgers the other night, I indulged in their upside down apple crisp with bourbon ice cream and brown butter caramel sauce.  I loved it even though the ice-cream-to-crisp ratio was a bit on the high-side, which left me craving for more delicious crisp.  As much as I love the Secret Breakfast, I find some of Humphry Slocombe's flavors too over-the-top like salt and pepper, which is just too — well, salty and peppery. Call me old-fashioned but I'd rather stick to the sweet classics. And for the record, I consider bourbon and cornflakes as classics!
As we continue the countdown to Jun-Blog's first year, I made Tartine's incredible caramel sauce to go with some Bi-Rite toasted coconut ice cream. Taken from the Tartine cookbook, this caramel sauce is amazingly simple to make and so incredibly delicious.   Sprinkle chopped pecans on a scoop or two of Bi-Rite ice cream topped with Tartine's caramel sauce and that's what I call a classic sundae.  Next time, I'll do hot fudge.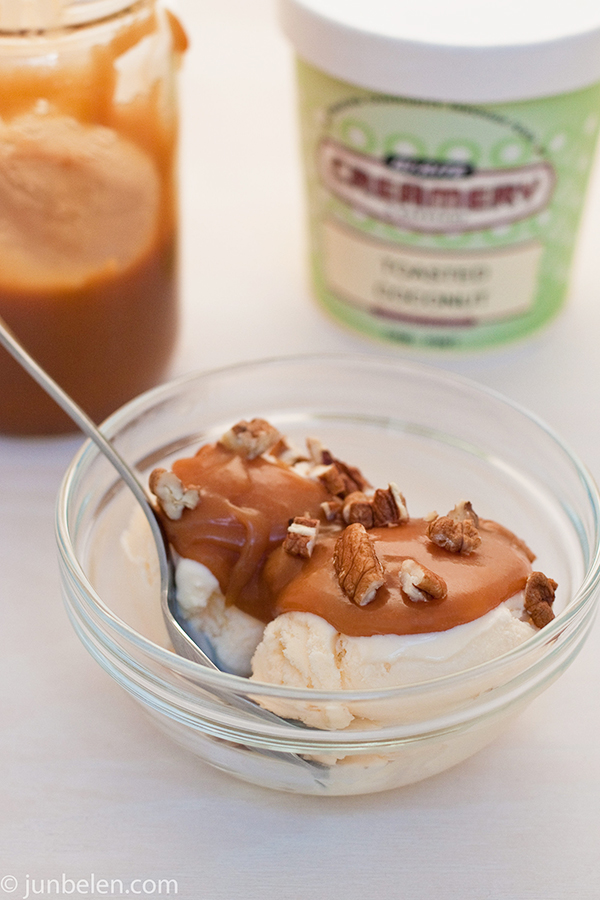 Caramel Sauce Recipe
Recipe by Elisabeth Prueitt and Chad Robertson from Tartine, makes about 1-1/2 cups
2/3 cup heavy cream
1/4 of one vanilla bean
1-1/4 cup sugar
1/4 cup water
1/4 tsp salt
2 Tbsp light corn syrup
3/4 tsp lemon juice
4 Tbsp unsalted butter
Pour the cream into a small, heavy saucepan. Split the vanilla bean in half lengthwise and use the tip of a sharp knife to scrape the seeds from the pod halves into the cream. Place over medium-high heat and bring to just under a boil, stirring occasionally. Reduce the heat to low to keep the cream warm.
In a medium, heavy saucepan, combine the sugar, water, salt and corn syrup. Use a good-sized pan because the caramel will boil vigorously and the volume will increase dramatically as soon as the hot cream is added. Bring to a boil over medium heat, stirring to dissolve the sugar. Then let the mixture boil, without stirring, until the mixture is amber colored. Watch the sugar mixture carefully as it cooks to avoid burning the sugar. From the time the mixture started to boil, it took over 15 minutes to reach an amber color. Remove from the heat.
The mixture will continue to cook off the heat and become darker, so make sure to have the cream close by. Carefully and slowly add the cream to the sugar syrup. The mixture will boil vigorously at first. Let the mixture simmer down, and then whisk until smooth. Add the lemon juice and let it cool for about 10 minutes.
Cut the butter into 1-inch chunks and add them to the caramel one at a time, whisking constantly after each addition. Then whisk the caramel periodically as it continues to cool.
Pour the caramel sauce in an airtight container such as a glass jar and store in the refrigerator. This will keep for up to a month.
Bi-Rite Creamery
3692 18th Street at Dolores
San Francisco 94110
415.626.5600
Humphry Slocombe
2790 Harrison Street at 24th
San Francisco 94110
415.550.6971

Tartine Bakery
600 Guerrero Street at 18th
San Francisco 94110
415.487.2600