The title of this post could very well have been How to Make Seafood Paella Three Times Before Finally Getting it Right. For weeks, I stressed and obsessed about making the perfect seafood paella.  Some of our close friends were coming to dinner and we promised everyone an elegant Spanish-inspired meal — pimientos de Padrón, jamón ibérico, queso manchego, empanadas, and paella.  Paella is one of those rich and savory dishes that I have always loved. My mom makes a very hearty paella loaded with Spanish chorizo, fresh prawns and mussels. She uses a deep kawali instead of a flat paella pan and uses achuete seeds for color instead of saffron threads.  It may be far from authentic but it is certainly delicious and memorable.
For the dinner party, I turned to Linda Tubby's Paella Valenciana recipe.  Here is a link to the original recipe taken from her Spanish Country Kitchen.  I got the recipe from Samantha, my food geek friend, who has a fond obsession with making the most authentic paella outside Barcelona. I told her I had never made paella before and I wanted to make it with seafood. Paella is a very flexible dish, she said. The protein and vegetables can be easily changed depending on what's available. For seafood paella, she suggested that I use a firm-fleshed white fish such as halibut, unpeeled prawns and langoustines in place of the chicken and duck. I scouted the seafood options in the city and decided to use tiger prawns, manila clams, and green-lipped mussels. I went to Sur la Table and bought my first paella pan, a 15-inch pan big enough to serve 6 to 8. I assembled my ingredients and planned a dry run weeks before the party.  I was extremely excited.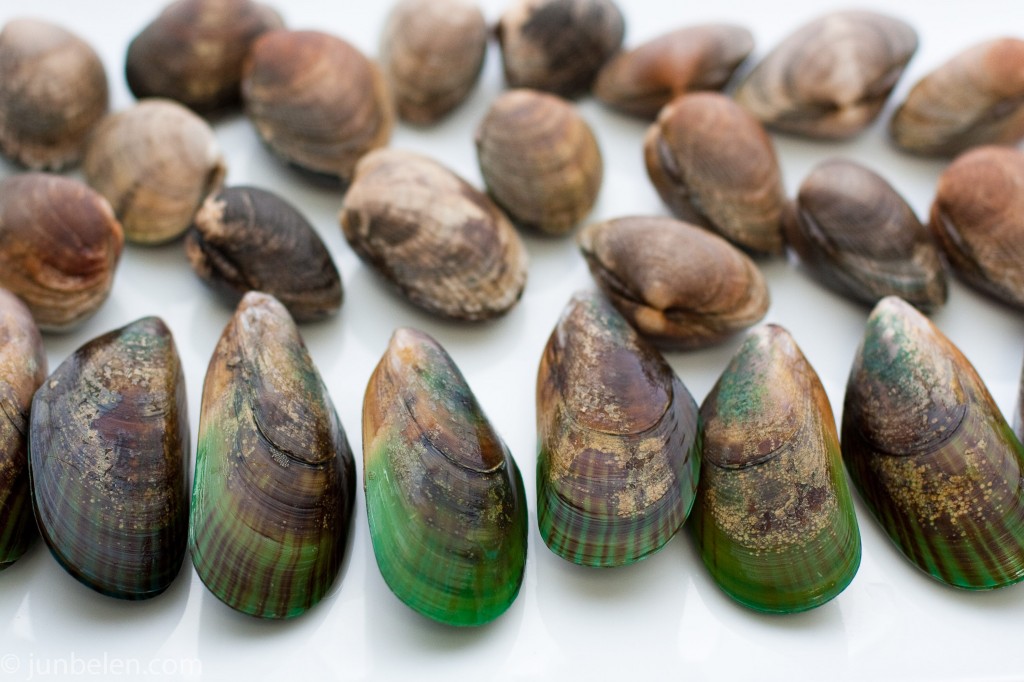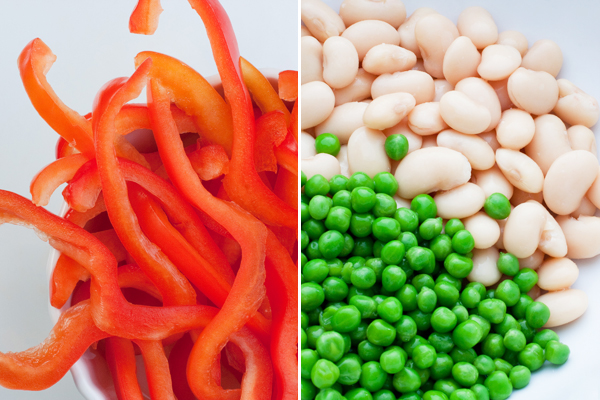 The excitement, unfortunately, turned quickly into frustration as I tested the recipe. I hate to admit it but I have a stubborn tendency to follow a recipe to a tee. If it says sear and poach for 5 minutes, I will sear and poach it for 5 minutes, nothing more, nothing less. I was too caught up in following the instructions — bring the mixture to a boil, simmer gently for 15 minutes, pour in the rice and cook over low heat for another 15 minutes — that I ended up overcooking the shellfish. The prawns, clams and mussels were rubbery and tough. The green peas were wrinkly. The red bell peppers were mushy. And the soccarat, the golden crust at the bottom of the pan, was far from golden. It was black. It was so disheartening.
Still paralyzed by the fear of overcooking the shellfish, I ended up not thoroughly cooking the rice on my second attempt. How can someone who grew up having rice three times a day, everyday not know how to cook rice properly, I thought. My confidence just fizzled away. I stepped back, composed myself and attempted yet again — we practically had paella for dinner for weeks during this entire ordeal. My third attempt was way better than my previous tries. What did I do differently? I added the prawns, clams, and mussels after I poured the rice into the pan. Instead of leaving everything in the pan while the rice is cooking, I ladled the shellfish out of the pan into a platter once they were cooked — the prawns had turned pink and the clams and mussels had opened — and then set them aside. Once the rice in the pan was cooked, I placed the shellfish back before serving.
At the dinner party, I made the perfect paella. Fourth time's a charm.
Seafood Paella Recipe,
Recipe adapted from Linda Tubby's Spanish Country Kitchen, makes 8 servings
15-inch paella pan
1/4 cup olive oil
1 chicken breast, skin and bones removed, cut into pieces
12 to 16 tiger prawns, unpeeled
12 to 16 manila clams, scrubbed
8 to 12 green-lipped or black mussels, scrubbed
1 red bell pepper, seeded and cut into long chunks
2 small hot chorizos (picante), skin removed, flesh cut into 1/2-inch pieces
2 tomatoes, peeled, seeded, and chopped
1 teaspoon sweet Spanish paprika (pimenton dulce)
pinch of saffron
5-1/2 cups chicken stock
1 cup cooked white Spanish beans (alubias) or butter beans
1 cup green peas
2 cups bomba or other short grain paella rice, unwashed
coarse sea salt
Heat the oil in the paella pan set over a large burner or a preheated outdoor grill. If the stove-top burner is not large enough, straddle the paella pan over two burners, making sure that the paella pan is constantly rotated. Add the chicken and sauté on all sides until golden. Set aside on a platter.
Add the red bell pepper and chorizo and sauté until chorizo is fragrant and slightly crispy. Add the tomatoes, paprika, saffron, and salt. Stir until combined, then add the stock. Bring to a boil, then lower the flame so it simmers gently for 15 minutes.
Add the Spanish beans or butter beans, and pour in the rice (traditionally in a form of a cross). Stir everything in the pan thoroughly. Once mixed thoroughly, do not stir again. Add the chicken, prawns, clams, and mussels. Once the seafood is cooked — prawns have turned pink and the shellfish have opened — ladle them out into a platter and set aside. Continue to cook the rice over medium to low heat. Add the green peas when very little liquid is left in the pan.
Increase the heat to high for a short time to create the golden crusty socarrat. Add the prawns, clams, and mussels back into the pan. Remove from the heat and leave for 5 to 10 minutes. It's important to serve the paella warm, not hot.
Cooking notes
1. If the stove-top burner is not large enough, straddle the paella pan over two burners, making sure to rotate the paella pan constantly.
2. To avoid overcooking the seafood, ladle them out into a platter and set aside once they are cooked and then add them back into the pan once the rice is cooked.
3. Cook the rice over medium to low heat until all the liquid is gone or very little is left.
4. Adjust the amount of green beans, fava beans, butter beans and green peas according to availability. Do the same with the seafood.
5. A good paella pan is one that is made of steel, not stainless steel, which needs to be seasoned with oil for proper care.
6. Use bomba or other short grain paella rice whenever possible. An excellent brand is Matiz.
7.  Seafood paella goes well with a delicious red Spanish wine like a Rioja or even with a white wine like an Albariño.