I vaguely remember the last time I had fresh calamansi in my kitchen.  It had been too long ago, I guess.  I certainly miss having these tiny citrus fruits close at hand for dipping sauces and marinades.  Soy sauce and calamansi juice, for example, make a simple yet flavorful marinade for meats.  My mouth waters whenever I smell soy sauce and calamansi gently caramelize as paper-thin slices of sirloin sizzle in a pan.  And so when my good friend, Moonglow Gardens called up and asked if I wanted some calamansi she picked up in Palm Springs, I quickly answered with an unwavering "yes!"
Figuring out what do with three pounds of calamansi was absolutely easy.  I rushed out and bought fresh whole tilapia, grilled them and squeezed calamansi all over their lightly charred skin.  I made my mom's chicken arroz caldo with lots of fried garlic, fish sauce and calamansi.  And I made my very first tart — calamansi tart with candied calamansi.  The tart is clearly reminiscent of key lime pie.  The calamansi bites but the subtle sweetness of the crust and whipped cream complements the delightful citrus flavor. It makes you pucker but in a wonderful way.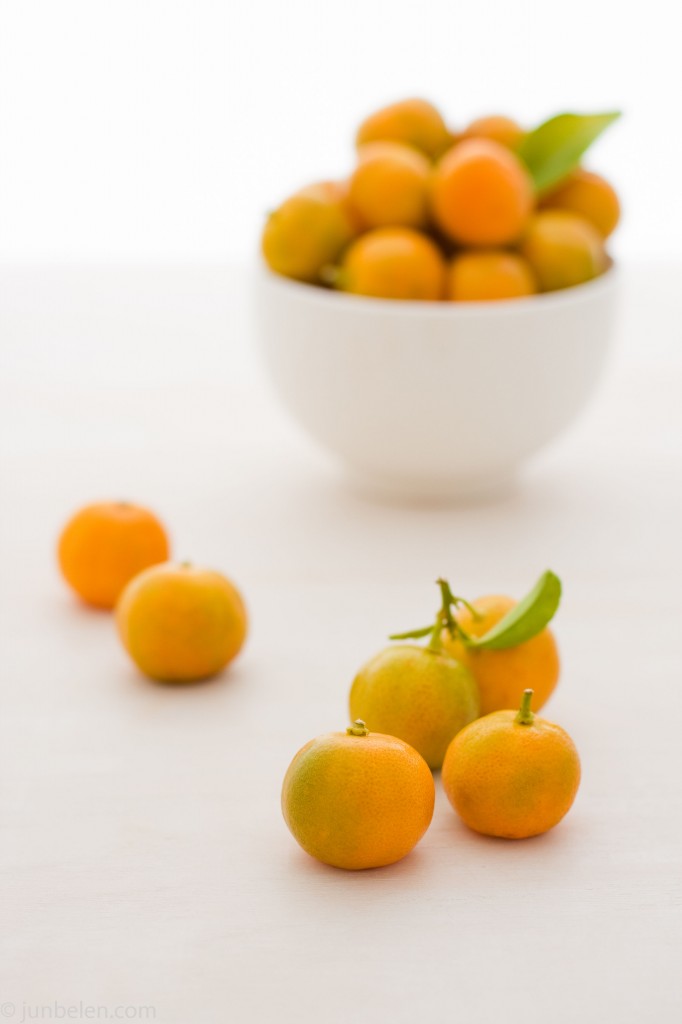 Calamansi Tart with Candied Calamansi Recipe
Recipe adapted from Maria Villar's the Franklin Avenue
For the crust
1/2 cup + 1 tablespoon unsalted butter, at room temperature
1/2 cup sugar
pinch of salt
2 large eggs, at room temperature
1-3/4 cup all-purpose flour
For the filling
5 ounces calamansi juice
3 large eggs
1 large egg yolk
3/4 cup sugar
pinch of salt
1 cup unsalted butter, at room temperature and cut into cubes
For the candied calamansi
1/2 lb calamansi
1 cup sugar
1 cup water
For the whipped cream
1 pint heavy whipping cream
sugar
vanilla
Making the crust
Combine butter, sugar, and salt and mix until smooth in the bowl of a stand mixer fitted with the paddle. Add eggs one at a time until smooth.  Scrape down sides of bowl.  Add flour all at once and mix on low speed until flour is just incorporated.
Shape dough into a disk, wrap with plastic wrap and refrigerate for 2 hours.
Preheat over to 375 degrees F.
Lightly flour the work surface. Roll out the dough into a 1/8-inch thick 12- to 13-inch round.  Transfer dough to 9-inch tart pan with removable bottom. Using a paring knife, trim off all but 1/2 inch or so of the dough overhang. Fold the overhang in, pressing the sides of the dough so that they come up 1/3-inch higher than the sides of the pan.
Freeze crust until firm, about 15 minutes.
Bon Appétit has a great slideshow showing step-by-step instructions on how to roll the dough and line the tart pan.  Here is a link to the slideshow.
Line crust with foil and fill with dried beans or pie weights. Bake crust until sides are set and begin to turn golden, about 25 minutes. Remove foil and beans. Continue to bake until crust is pale golden, 15 minutes longer.  Cool on rack for 30 minutes.
Making the filling
Combine calamansi juice, whole eggs, egg yolk, sugar and salt in a double boiler or a metal bowl set over a pot of simmering water. Whisk the ingredients together until the mixture becomes thick and the temperature rises to 180 degrees F. Let the filling cool to 140 degrees F. Incorporate the butter into the cooled filling using a whisk or an immersion blender.
Making the candied calamansi
Slice calamansi into 1/4- to 1/2-inch strips, making sure to remove the seeds. Combine sugar and water in a small saucepan. Bring to a boil then reduce heat to a simmer and continue stirring until sugar is completely dissolved. Add the calamansi slices and cook until they are translucent, about 10 to 15 minutes.
In a separate bowl, beat heavy cream and sugar with a wire whisk until peaks form.
Assembling the tart
Beat the whipping cream in a chilled bowl with chilled beaters at high or medium-high speed until thick. Add sugar and vanilla and beat to the desired consistency.
Pour the filling on the baked crust and top generously with whipped cream. Garnish with candied calamansi.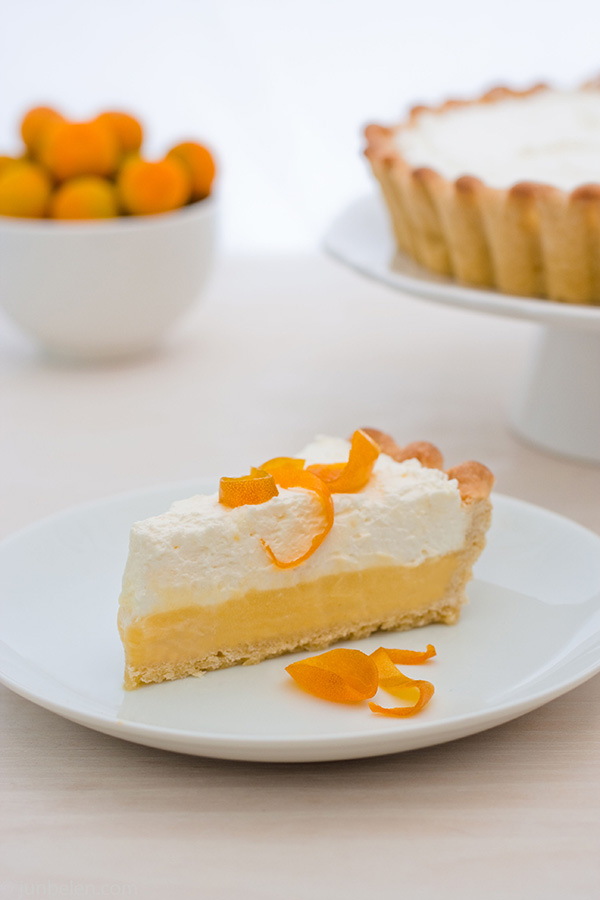 Cooking Notes
1. Use a 9-inch tart pan with a removable bottom. For those unfamiliar with blind baking, like myself, Bon Appétit has a great slideshow showing step-by-step instructions on how to roll the dough, line the tart pan, and bake it blind. Here is a link to the slideshow.
2. The recipe calls for an immersion blender when incorporating the butter into the citrus filling but vigorously whisking the butter into the filling works well, too.