As you peel off its red pinstriped wrapper, Choc-Nut almost always crumbles. The fragile milk chocolate confection has a subtly grainy texture and has a delightful nutty taste.  It is cocoa powder, milk powder, ground roasted peanuts and sugar mixed and molded into thumb-sized, ridged candy bars.
The Filipino chocolate bar is truly iconic.  Ask any Filipino you know and they'll instantly recognize the red pinstriped wrapper.  It has been a part of many Filipino childhoods and mine is no exception.  If I were to single out my favorite candy while growing up it would have to be the beloved Choc-Nut.  It was my go-to candy whenever I needed a jolt of sugar.  I spent many afternoons after school enjoying bar after bar of Choc-Nut bought from our local sari-sari store, the neighborhood Filipino convenience store where you can buy virtually everything from soup to nuts.  Scant change bought me happiness, which I happily washed down with thirst-quenching soda in a plastic bag.
My fond affection for Choc-Nut transcends time and distance.  Last weekend, I made Martha Stewart's chocolate crackle cookies but took the cocoa powder and brown sugar out and replaced them with crushed Choc-Nut bars.  I used TCHO bittersweet chocolate, 68% cocoa, and lots of confectioner's sugar.  The hints of Choc-Nut were delightful.  The cookies had the perfect size and sweetness — dark with notes of nuts.  Enjoy them by themselves or with a bowl of vanilla ice cream. Or even with soda in a plastic bag, in true Filipino fashion.
You can find my favorite childhood candy in most Asian grocery stores.
Choc-Nut Chocolate Crackle Cookies Recipe
Recipe adapted from Martha Stewart Recipes, makes about 4 dozen
8 ounces bittersweet chocolate, preferably around 70% cocoa
1 1/4 cups all-purpose flour
30 pieces Choc-Nut bars
2 teaspoons baking powder
1/4 teaspoon salt
8 tablespoons, 1 stick, unsalted butter, room temperature
2 large eggs
1 teaspoon pure vanilla extract
1/3 cup milk
1 cup confectioners' sugar, plus more for rolling
Melt the chocolate in a double boiler or in a metal bowl set on top of a pot of simmering water.  Set aside to cool.  Sift together flour, baking powder, and salt.
Using a fork, crush the Choc-Nut bars into crumbs.  In the bowl of a stand mixer fitted with the paddle attachment, beat butter and Choc-Nut crumbs.  Add eggs and vanilla, and beat until well combined.  Add melted chocolate.  Set the mixer speed to low and add the dry ingredients and milk until just combined.  Divide the dough into quarters, wrap with plastic wrap, and chill in the refrigerator until firm, about 2 hours.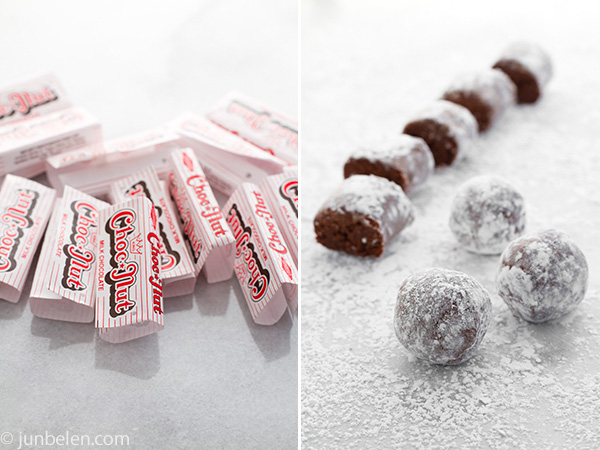 Preheat oven to 350 degrees F.
Sprinkle confectioner's sugar generously on a clean countertop.  Roll each portion of dough into a log approximately 12 inches long and 1 inch in diameter.  Sprinkle more confectioners' sugar to prevent the dough from sticking. Wrap logs in plastic wrap, and transfer to a baking sheet. Chill for 30 minutes. Unwrap the logs and cut each into 1-inch pieces, and toss in confectioners' sugar, a few at a time.  Using your hands, roll the pieces into a ball shape.  Roll the ball-shaped dough in confectioners' sugar to coat them completely.  Place the cookies 2 inches apart on a baking sheet. Bake until cookies have flattened and the sugar splits, 12 to 15 minutes.
Transfer from oven to a wire rack to let cool completely. Store in an airtight container for up to 1 week.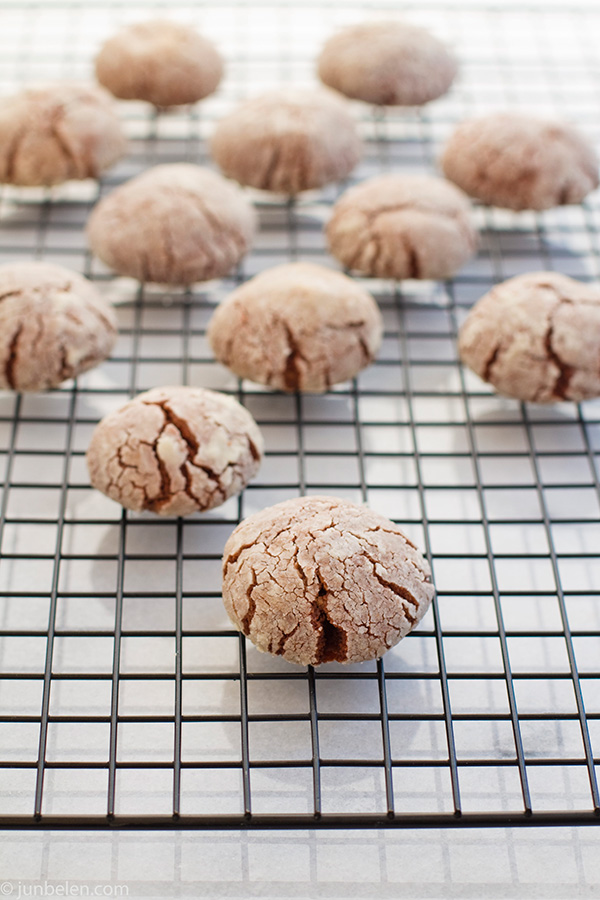 Cooking Notes:
1. The original recipe from Martha Stewart calls for 1/2 cup Dutch cocoa powder and 1-1/3 cup light-brown sugar, firmly packed.  Sift the cocoa powder with the flour, baking powder, and salt.  Beat butter with brown sugar until light and fluffy. Follow the directions as written above.
2. The dough is definitely sticky.  Make sure to chill the dough for at least a couple of hours until it is firm and cover your countertop with plenty of confectioners' sugar so that the dough wouldn't stick everywhere.