I watched the clock above the yellow china cabinet like a hawk.   It was two in the afternoon on another blistering summer day, very much like the day before. I was a bored eleven year old with nothing else to do. The heat left me at a loss for ideas to relieve my tenacious summer ennui.
I brushed the starched burgundy curtain aside and leaned forward to look outside the window.  The streets were all empty except for a frail, dark-skinned man who lugged a wooden cart packed with old soda bottles and newspapers piled high, hoping to get some change for an honest day's work. I didn't see anyone else outside, not even the four year-old who lived across the street — the kid who chased flea-ridden street mutts around.
The air was still. The wide quill-shaped leaves of our neighbor's trees remained motionless, not even a gentle quiver. Staying at home, sheltered from the intense heat, was the best thing to do. It was the smartest thing to do. I thought about an afternoon siesta but I was simply too restless to keep my eyes shut.
I retreated to my room upstairs, which always felt like a fiery kiln in the afternoons. I shared the room with one of my sisters. Two single beds flanked a clunky desk.  It was upsetting that I didn't have the room all to myself but it was upsetting even more that it didn't have air conditioning.  I opened the jalousie windows, hoping to let the faintest breeze in. I sat on my bed and turned on my radio recorder. I tore a piece off the morning paper, crumpled it carelessly into a tiny ball and crammed it inside the hole at the edge of a beaten-up cassette tape.  I dialed the radio and recorded every sappy sad song I could find.  Misery indeed loved company.
I glanced at the clock on the desk. Twenty minutes past two.  Only twenty contemptible minutes had passed.  It seemed so much longer than that.  As the heat of the summer sun radiated through the wooden walls, the thought that within the next hour or so our binatog [bee-nah-tog] vendor would be peddling down our street thrilled me.  He would be hawking boiled white corn with grated coconut and sugar from his cart.  If I could only wait a little longer I could kiss my boredom goodbye.
So I waited. I waited while Carole King crooned.  I waited while Barbra Streisand belted.
Before long, I heard the familiar sharp ting of a rusty bell.  I rushed down the stairs, galloped out the door, and hailed the cart off the street. Within minutes, I was in heaven. I was in binatog heaven.
Binatog Recipe
1 cup boiled white hominy
1 tablespoon salted butter, melted
1 tablespoon grated coconut
1 teaspoon sugar, more to taste
Mix the boiled white corn kernels, butter, coconut, and sugar in a bowl. Add more sugar to taste.
Hominy usually comes canned but the corn kernels also come dried.  Rinse canned hominy with water and boil in a pot until kernels burst open, about 10 to 15 minutes.  When cooking with dried hominy, soak dried kernels overnight in water. Rinse, place in a pot, and cover with water. Simmer for a few hours until kernels burst open.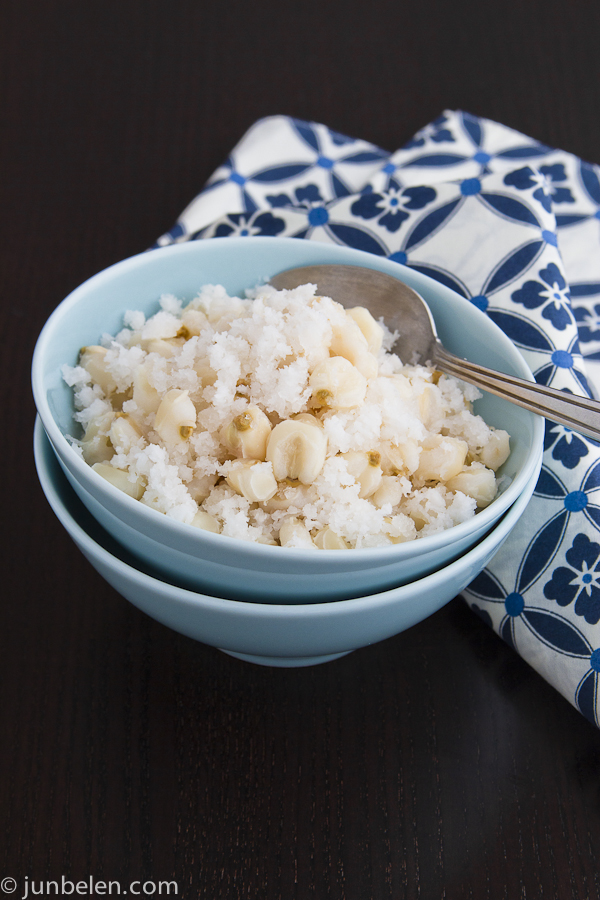 How to Make Binatog (Boiled White Corn with Coconut and Sugar) is my first entry to the Kulinarya Cooking Club, a friendly group of Filipino food lovers from all around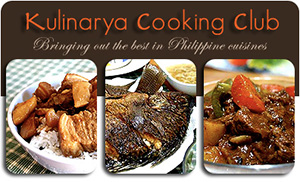 the world.  Each month the club assigns a theme to showcase a new Filipino dish. For the month of June, the challenge was to make something white. There's bangus paté, chicken embutido, chicken adobo, pork adobo, pancit, fish balls, and plenty of sweets like crepe with mango and coconut tapioca filling, white chocolate and mango sans rival, leche flan, ginataang mais, ginataang bilo-bilo, tofu tiramisu cheesecake, and cassava cake.  Visit the Kulinarya Cooking Club site and Facebook page to meet the club members.