Water steadily trickled through the web of pulp and seeds I carved out of the cantaloupe.  In the stillness of the morning, I could hear the stream of nectar dwindle into faint drops.  I watched the water slowly dribble down to my glass bowl, stripping away every ounce of  sweetness from the fragrant pulp.
I peeked through the window and noticed the heavy blanket of cloud that still lingered outside.  Overcast with a high of sixties or so was the forecast that day.  Typical for this time of the year when the intense heat inland propels and traps a thick layer of cool air along the coast in the mornings that burns off in the afternoons — if we're lucky.  The fact that it would still be warmer in Oakland than in the city that day comforted me.
San Francisco redefined summers for me.  Gone are the endless scorching summer days of my childhood.  Summers here and summers back home are clearly night and day.  When I first visited the city many years ago on a summer morning, I came miserably unprepared.  I was the classic San Francisco tourist.  Dressed in shirt and shorts with flip flops to boot, I froze on top of Twin Peaks.   The picturesque skyline was nowhere in sight and I felt incredibly duped.  So much for sunny California.
I held the halved cantaloupe with a firm grip.  Its hard, netted skin felt starkly different from its delicate flesh.  The ring that outlined its ribless rind was vividly green. The scent of the summer fruit reminded me of summers past.
I reached for my melon stripper, the tiny gadget my mom brought me from home, and started carving the ripe melon.  I deftly carved long, noodle-like strips.  With every stroke, juice dribbled out of the fruit and into my glass bowl.  My mouth watered.  I hurriedly poured myself a glass of the sweet melon juice and tossed in a few cubes of ice. With a fork, I fished out the sweet strips of cantaloupe.  Even on a chilly August morning, it tasted like the sweet summer back home.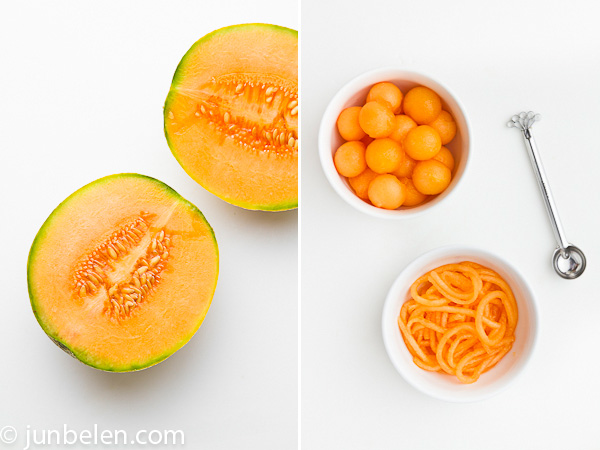 Melon Coolers Recipe, makes 4 to 6 servings

1 small cantaloupe
4 to 6 cups chilled water
sugar to taste
one or two calamansi limes
Halve the cantaloupe and carve out the seeds and pulp from its hollow center into a fine strainer fitted on top of a medium-sized bowl.  Pour the chilled water through the strainer while gently mashing the pulp and seeds with a fork.
With a melon stripper, carve the cantaloupe into long noodle-like strips.  The stripper is a handy Filipino kitchen tool for cutting long strips of cantaloupe and coconut.  The tiny gadget is very similar to a citrus zester.  It has a handle and a fan-like array of thin, sharp-edged metal strips shaped into quarter-inch rings.  The kind of stripper that my mom used when we were little had a wooden handle but the gadgets available nowadays are made of stainless steel and have a stripper on one end and a baller on the other.  Unfortunately, this handy kitchen tool is not available in North America.  Alternatively, cut and peel the cantaloupe into slices and grate them with a coarse grater.
Collect cantaloupe juice and strips in the bowl.  Add sugar to taste and mix well.  Squeeze one or two calamansi limes.  Transfer cantaloupe juice in a pitcher and serve chilled.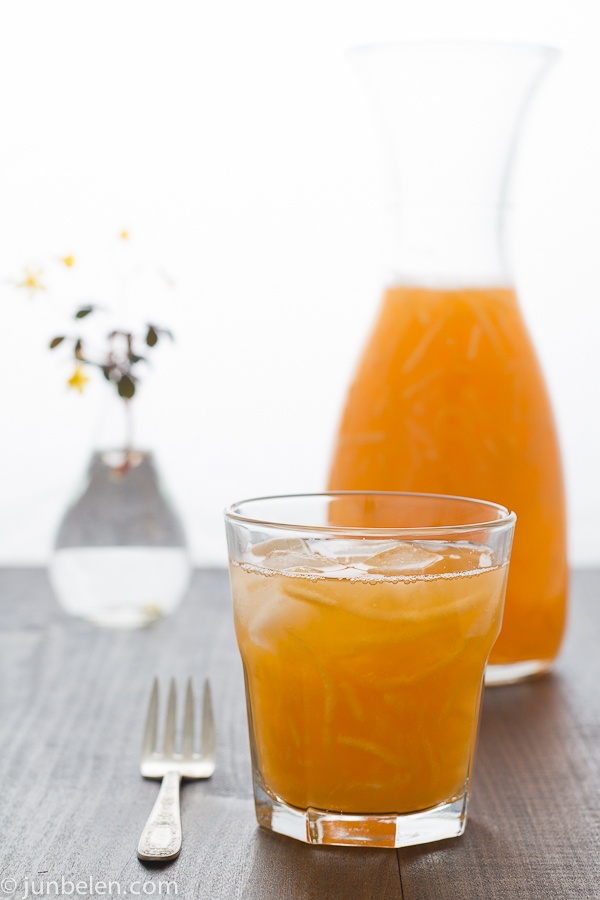 I want Jun-blog!

Jun Belen is the voice behind Jun-blog, a mouthwatering and heart-warming journal of Filipino home cooking nominated for Best Culinary Blog by the IACP. Subscribe to Jun-Blog and receive new posts by email.