Vinegar, garlic, bay leaves, salt, and black peppercorns. This is how I cook adobo. I marinate pork, chicken, or a combination of the two in vinegar and spices and let the flavors steep overnight. Then I slowly cook the meat in the same vinegar marinade until the meat is tender and I bring the cooking liquid to a boil and reduce it to a rich, pungent sauce.
This is the adobo my mom made when I was little, the adobo she makes when she visits. This is the adobo I pair with pancit, the adobo I eat cold with hot rice and sweet tomatoes mashed by hand and sprinkled with salt. This is the adobo I learned to make on my own after I moved to California, the adobo I make each time I long for home.
There are as many variations to adobo as there are islands in the Philippine archipelago. Differences in the landscape, in custom and culture from island to island, from town to town, from family to family translate to differences in technique and ingredients used as well as differences in taste and texture.
The differences start with the kind of vinegar — cane or coconut, apple cider or balsamic. Some add soy sauce, some add fish sauce, others even both. Gata, the cream and milk pressed from coconuts, is essential in Bicol-style adobo. Humba [hoom-bah], the pork stew from the Visayas, is sweet, sour, and salty all at once. The Visayan version uses soy sauce, brown sugar, and tausi: fermented black soybeans or tajure: fermented soybean cake, which are all Chinese influences. Potatoes and hard-boiled eggs are added to make adobo more substantial, enough to feed an extended family of lolos and lolas, titos and titas. The quintessential Filipino dish is a stew but the meat pickled in vinegar and spices can be fried, broiled, or grilled.
Adobo is a very personal dish. It is like the color of one's skin, the shape of one's eyes or the shape of one's nose. Recipes are handed from father to son, from grandmother to granddaughter, from neighbor to neighbor. They are borrowed and adapted then adjusted and fine tuned. The way one cooks adobo reveals where one was raised, where one has lived. It reveals one's roots. One's history. It tells one's unique story.
How do you cook adobo?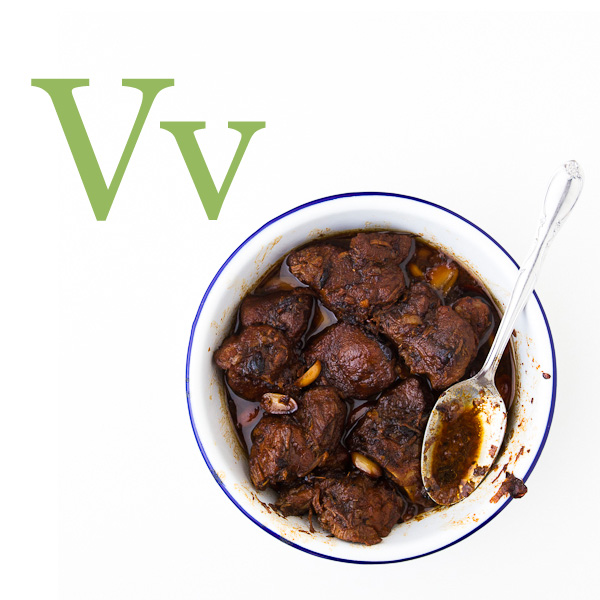 Humba Recipe
Recipe adapted from Reynaldo G. Alejandro's Authentic Recipes from the Philippines, makes four servings
1/2 cup cane or apple cider vinegar
1/4 cup soy sauce
1/3 cup brown sugar
2 cloves garlic, crushed
1/2 teaspoon dried oregano
1 teaspoon black peppercorns, cracked
2 bay leaves
2 pounds pork butt or pork shoulder, cut into large serving pieces
1/4 cup tausi or fermented black beans
1/3 cup toasted, unsalted peanuts, coarsely chopped
salt to taste
Whisk together vinegar, soy sauce, brown sugar, garlic, oregano, peppercorns, and bay leaves. Add marinade to pork in a bowl, cover the bowl with plastic wrap, and marinate for at least two hours or refrigerate overnight.
Place pork and marinade in a heavy saucepan and add water, just enough to cover the pork. Bring to a boil, reduce heat to medium to low, and simmer until pork is tender, about one hour.
Stir in black beans and peanuts. Raise heat to medium to high, simmer uncovered until sauce is reduced in half or desired thickness is reached. Season with salt. Serve hot with cooked rice.
Cooking Notes:
1. Traditional humba is made from pork knuckles or pork belly. I use pork butt or pork shoulder for less fat and more meat.
2. Tausi or fermented black beans is readily available in most Asian stores. Some use tajure or fermented soybean cake instead of tausi but tajure is more difficult to find.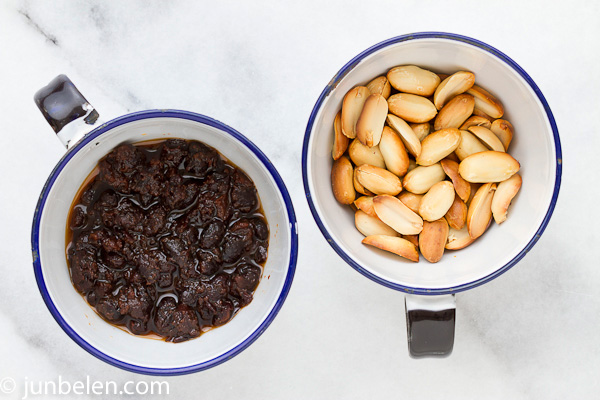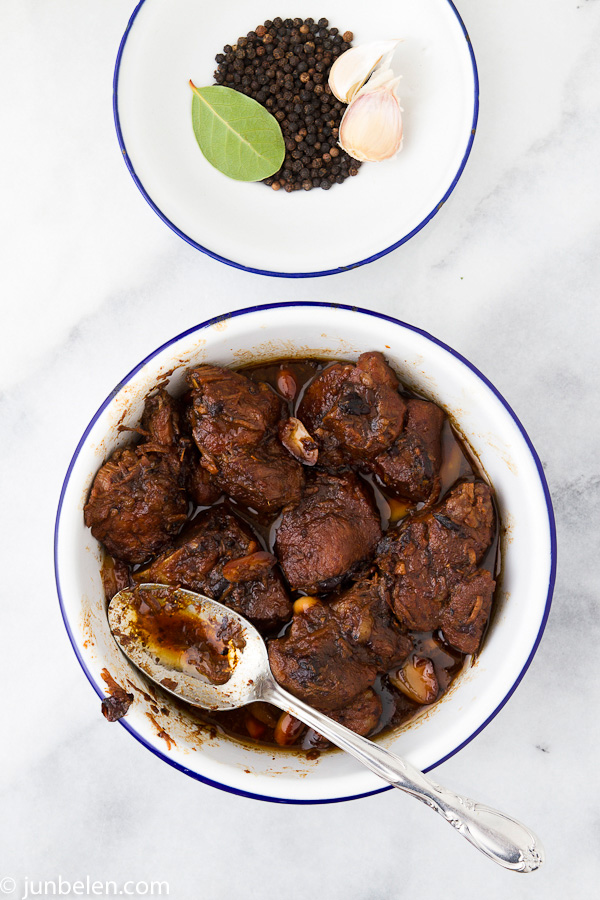 Learn the alphabet of Filipino food through our glossary. So much is lost in translation, I know, but I hope this glossary will help those unfamiliar with Filipino food become more informed.
A is for Achuete
B is for Barako Coffee
C is for Camarón
D is for Dinuguan
E is for Ensaimada
F is for Fish Balls
G is for Gata
H is for Himagas
I is for Itlog na Maalat
J is for Jackfruit
K is for Kamayan
L is for Longganisa
M is for Mani
N is for Noche Buena
O is for Omelet
P is for Pancit Palabok
Q is for Queso
R is for Relleno
S is for Sawsawan
T is for Tutong
U is for Ube
V is for Visayas