Fifty eight minutes to drive twenty six miles. The map on my phone that traced the route home glowed with reprehensible redness.  I spend practically a tenth of my day, Mondays through Fridays, on my car driving to and from work. That's a tenth of my day I could spend reading a book, making dinner, playing with the dogs, fiddling in the garden, going for a walk, or just plain doing nothing. But, alas, I get to spend it behind the wheel, behind this truck that just cut slyly right in front of me.
It could be worse, I consoled myself. I've been on traffic jams that took me well over an hour to get home when the freeways freeze into a standstill. Interstate 880 is notorious for such standstills on rush hours. I will never understand why there's always some sort of incident on the freeway everyday. Maybe a truck breaks down. Maybe a collision. Maybe an accident. And these incidents happen like they're destined to happen on the rush hour when everyone tries to get home, when everyone decides to slow down and rubberneck like it's their business to investigate. Can't we just all proceed carefully and move on with our lives?
When I lived back home, traffic was hopelessly worse. I traveled half the distance, between Quezon City, where I lived with my mom and dad, and Makati, where I worked, but miserably spent over an hour on EDSA that seemed to be permanently choked on traffic. I left at dawn everyday to avoid the morning mess then sat out the afternoon rush as late as I could to come home late at night, relieved that the bout with traffic for the day was over, only to be anxious about facing it once again the morning after.
I turned on NPR on the radio. Sometimes I listen to the news to while away the time. Sometimes I listen to an audiobook. Once a week I phone my mom for a chat. "Are you driving home?" She would always ask. "Yes, I'm on my way." I would say then complain about the ridiculousness of sitting on traffic.
I felt the beginnings of a headache. It could be because I was hungry. After all, it had been a long day. Or it could be those damn Republicans on the news! And so I quickly turned the radio off then remembered I had Skyflakes. The red, white, and blue wrapper crackled as I clumsily tore it open. These crackers have been a dependable companion on my commutes, tiding me over until I get home.  Skyflakes and I go way back, as far back as those days driving along EDSA.  I tore of a piece and savored every crunchy bite. I dialed my mom and waited for her to pick up. I was going to be stuck in traffic for a while, I thought.  I might as well enjoy it.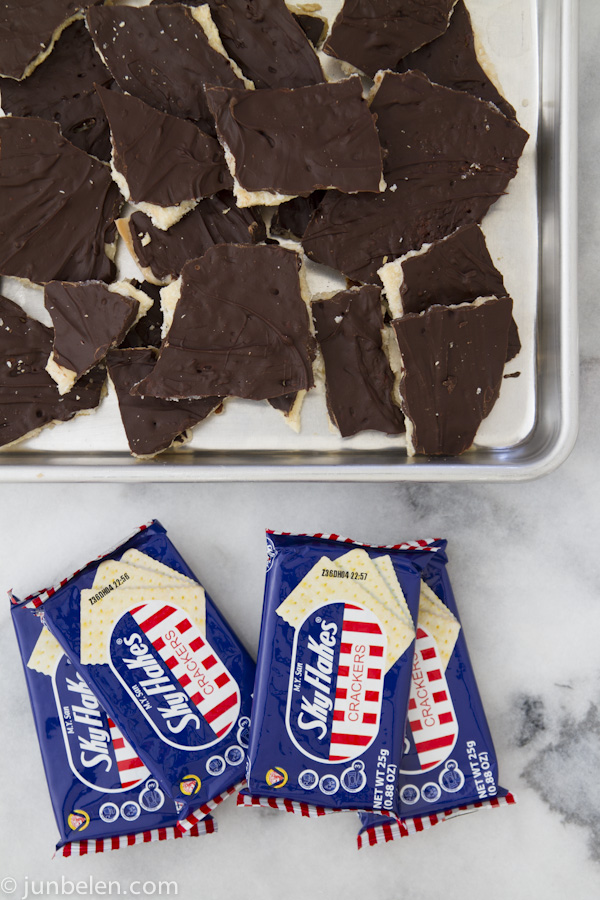 Skyflakes Brickle
Recipe adapted from The New York Times, makes two pounds
7 packages skyflakes, three crackers in each package
1 cup brown sugar
1/2 pound salted butter, two sticks
1 teaspoon vanilla
3 cups semisweet chocolate chips, one bag
Brickle is a confection made of saltine crackers, like Skyflakes, covered with a butter, sugar, vanilla and melted chocolate. Some people call it crack, rightly so because this sweet and salty snack is seriously addicting. You can run with this recipe and add toppings like toasted nuts and dried fruits.
Preheat oven to 350 degrees F. Line a sheet pan with heavy-duty aluminum foil. Arrange crackers side by side in a single layer on the foil. In a small saucepan, melt sugar and butter, stirring constantly until they bubble, about a few minutes. Remove from heat and quickly stir in vanilla. Pour over the crackers and spread to cover them evenly with a spatula.
Bake immediately until butter bubbles, about 7 minutes. Remove the pan from the oven and sprinkle the chocolate chips evenly over the crackers. Return to the top rack of the oven and bake until chocolate chips are melted, about a few minutes. Spread melted chocolate evenly over the crackers with a spatula.
Let it cool for 30 minutes then refrigerate for a few hours until set or overnight. Once set, peel off the foil and break the brickle into pieces. Keep refrigerated.