n our first trip to Cancun last year, despite warnings of crime-infested barrios, drug cartels, and bribing cops, Dennis and I ventured out to the countryside and explored Yucatan life outside the big city.  It was surprisingly safe and actually memorable.  We very much enjoyed what we did, what we saw, and, obviously, what we ate.
On our way back to Cancun, after marveling at the Chichen Itza ruins, we decided to hit the backroads and explore the Yucatan countryside.  Not far from the awe-inspiring Maya ruins, we discovered the old quaint colonial town of Valladolid [Bah-yah-doh-leed].  The fabled ruins of Chichen Itza were truly fascinating but walking around the dusty streets of Valladolid proved to be fascinating as well.  It was an interesting glimpse to Yucatan life that reminded me a lot about the simple life in the Philippine countryside.


The center of the hustle and bustle in this small town is in its main square, the El Centro, where kids gather after school and inseparable couples perambulate.  Mercados (crafts markets) selling huaraches (sandals), bags, and embroidered dresses abound around the square.   There's a local panaderia (bakery), carniceria (butcher shop), tlapaleria (hardware store), botica (drugstore), and cerrajeria (locksmith).  The local barberia (barber shop) had its own sastre (tailor) so you can have your haircut and your pants hemmed in one place.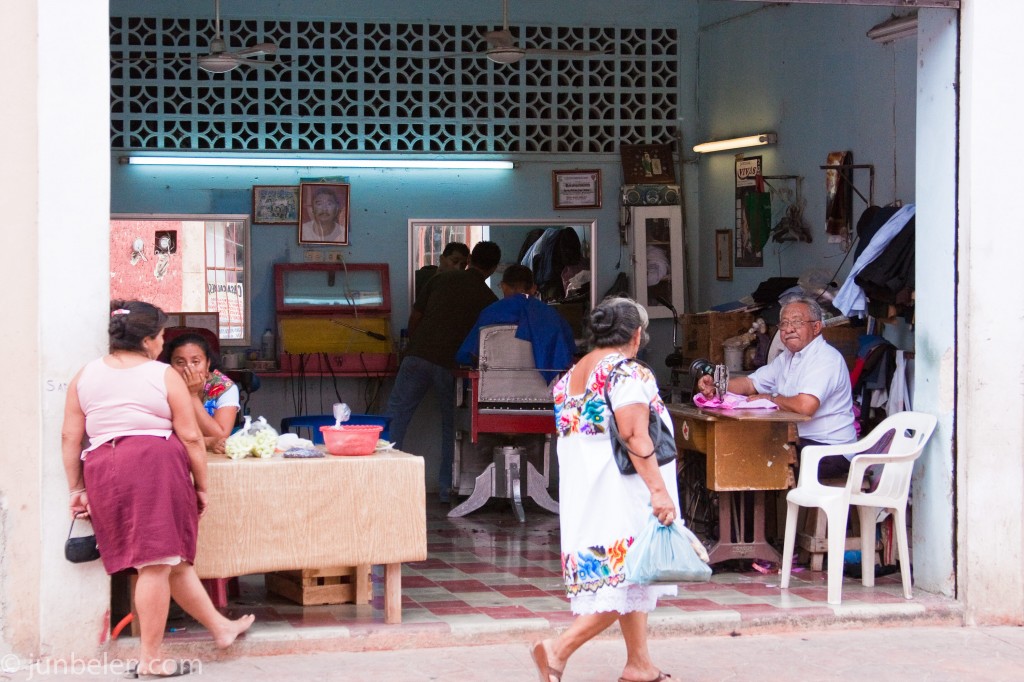 As we walked up and down the busy streets while photographing old buses and giant tequila bottles, we couldn't help but notice that the town was filled with women wearing traditional Maya dresses — white dresses embellished with colorful embroidery on the chest, shoulders and around the edge of the skirt.  They were going about their daily business: shopping, taking care of kids, chatting the hot Yucatan afternoon away, and selling produce at the curbside, just like in the Philippines.  They sat on wooden stools with their produce neatly arranged on tarp-covered wooden crates.  Brightly colored radishes in buckets. Bunches of cilantro. Jicama. Ripe bananas.  Mangoes that have been peeled, cut into wedges, sprinkled with salt and chili, and wrapped in plastic bags.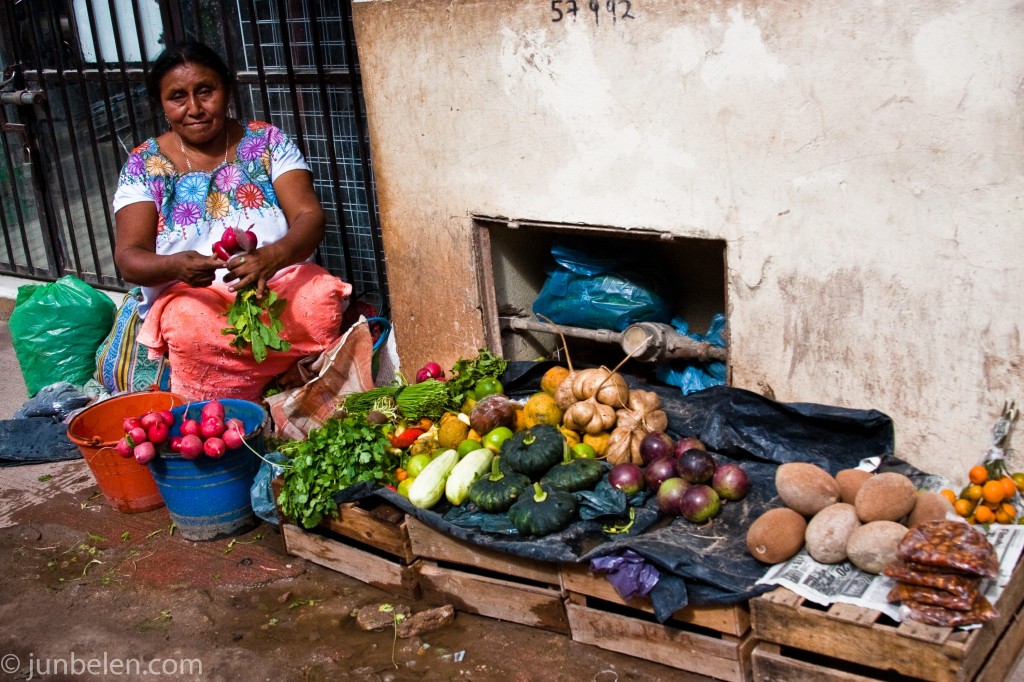 The sight of the good-looking produce quickly made us hungry.  It had been a long tiresome day for us after all and we were ready for a tasty Yucatan meal.  It was already too late in the afternoon to sample the locals' favorite tacos from the taco stands in the main square and so we decided to check out El Meson del Marques, a charming restaurant and hotel that sits on the main square's north side, across from the town's church, La Parroquia de San Gervacio.  The restaurant's lovely courtyard is adorned with lush hanging plants and beautiful bougainvilleas.  The cool afternoon breeze, the gentle trickle of water from the fountain, and a glass of cold cerveza were truly a delight to us, weary travelers.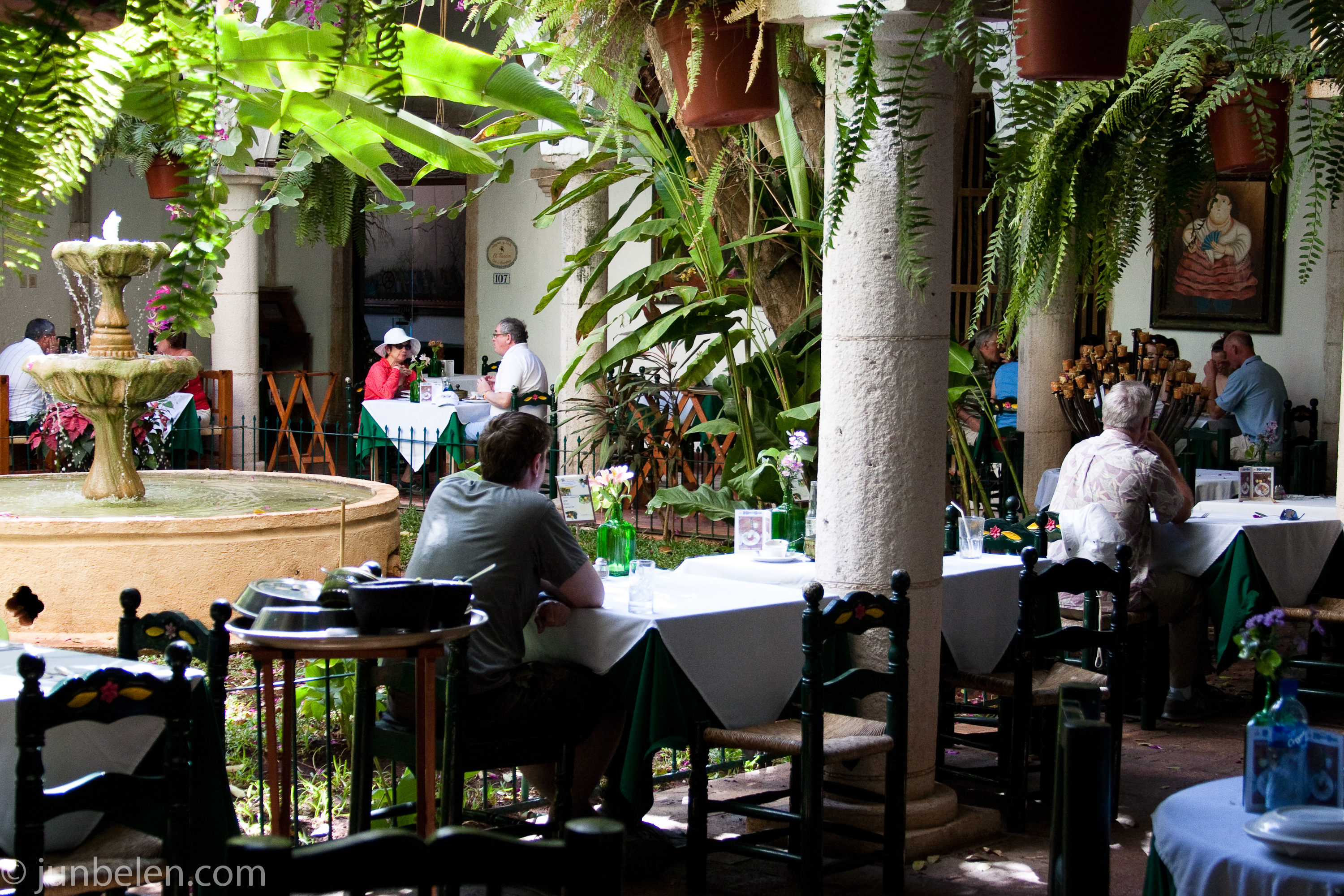 The food was a delight as well.  El Meson del Marques serves authentic and traditional Yucatan dishes.  We loved their cochinita pibil, pork marinated in achiote and sour orange juices, wrapped in banana leaves, and then cooked until the meat falls off the bone.  The pork was tender and bursting with color and flavor.  The wonderful red color of the meat comes from achiote derived from annato seeds that have a faint sweet and peppery taste.  Filipinos call achiote atsuete and stock their pantry, too with plenty of these red seeds for food coloring.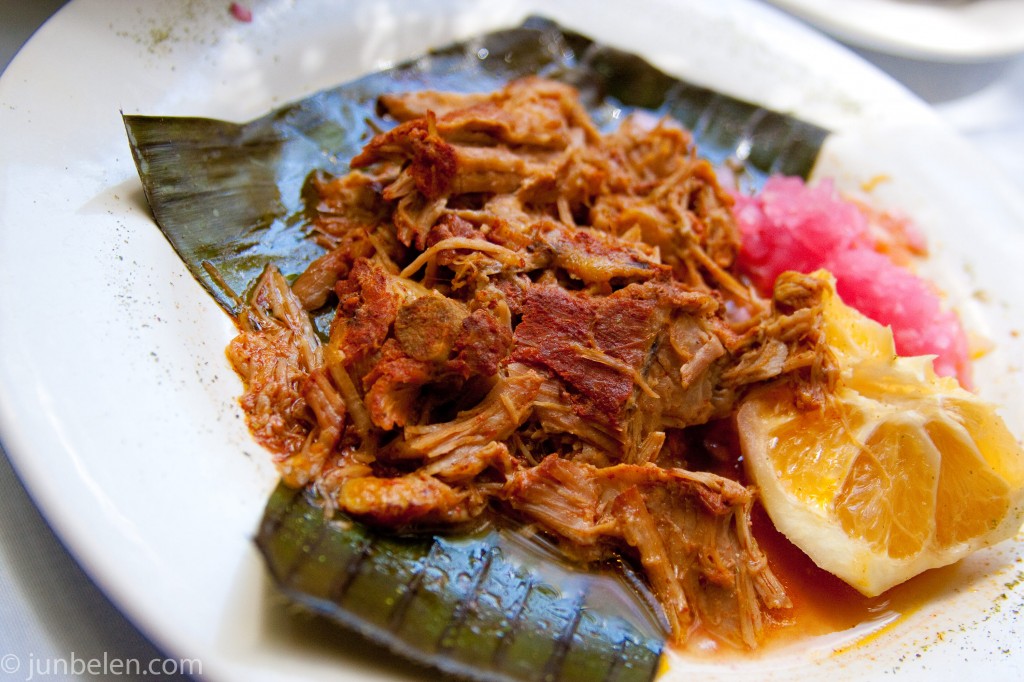 We also enjoyed their poc chuc, grilled pork marinated in sour orange juice.  The pork was likewise tender, well-seasoned, and perfectly grilled.  To complete our Yucatan dinner, we feasted on hot corn tortillas, spicy roasted habanero salsa, fresh guacamole, delicious black beans, and those ubiquitous pickled red onions.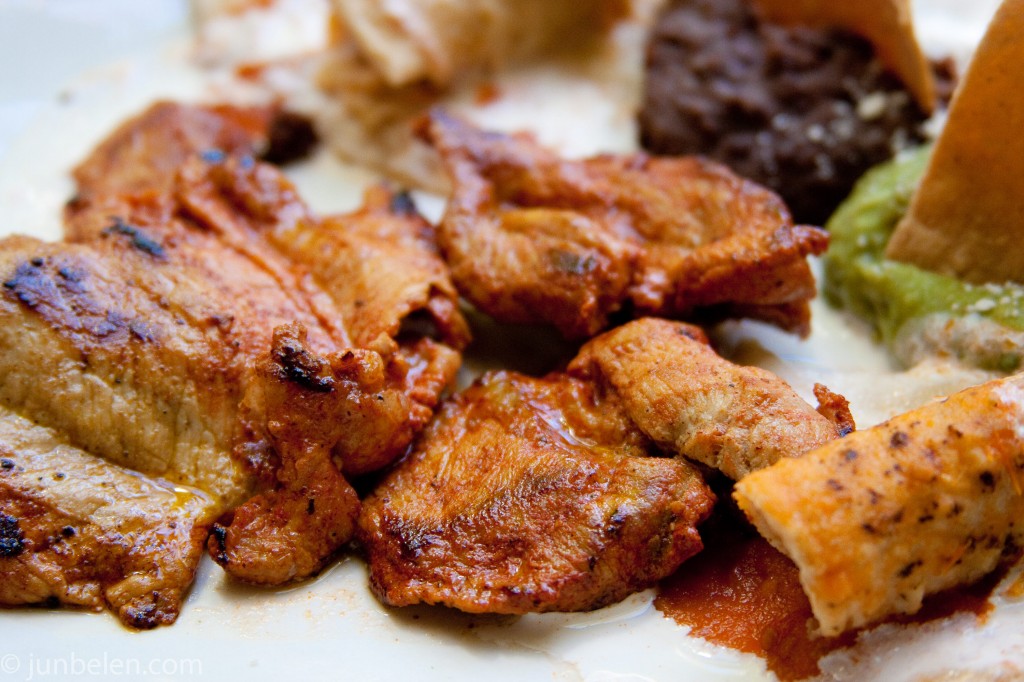 It had been a long but wonderful day and after splitting a slice of tres leches from the local pasteleria, we decided to get another slice before hitting the road back home.
To view more photos of our Cancun trip, follow this link or check out my flickr page.  To learn how to make poc chuc, follow this link.