For my birthday this year, Dennis graciously offered to bake me a tres leches cake. I'm actually very proud of Dennis and very proud of myself, too since I feel responsible for converting him. You see, Dennis is, or rather was, a strict chocolate only for dessert person. He loves chocolate and chocolate alone. But I have successfully managed to convince him that there is so much good stuff besides chocolate. Don't get me wrong, I love chocolate, too. But I also love carrot cake, pineapple upside down cake and I love tres leches.
Tres leches or Pastel de Tres leches is "three milk cake" in Spanish. It is a sponge cake or butter cake soaked in, you guessed it right, three types of milk: evaporated milk, condensed milk and heavy cream. The cake is very popular in many parts of Latin America. A popular variation is adding cajeta or sweetened caramelized milk, which makes it cuatro leches, or "four milk cake".
Making tres leches at home requires a bit of a time commitment. You need to bake the cake and then leave the cake refrigerated overnight to let it soak in the milk glaze before topping it with whipped cream. The recipe is taken from Alton Brown's Good Eats.   Note that the measurements are very precise, for instance, it's 6 3/4 ounces cake flour, not 7 but 6 3/4 ounces by weight.  Dry ingredients are by weight.  Liquids are by volume.  Note also that the recipe calls for a standard mixer.  It will make things easier but a big bowl and some brawn will be fine, too.

Tres Leches Recipe
Recipe adapted from Alton Brown's Good Eats

For the cake

vegetable oil to coat the baking pan
6 3/4 ounces (by weight) cake flour
1 tsp baking powder
1/2 teaspoon kosher salt
4 ounces unsalted butter, room temperature
8 ounces (by weight) sugar
5 whole eggs
1-1/2 tsp vanilla extract
For the milk glaze
1 12-ounce can evaporated milk
1 14-ounce can sweetened condensed milk
1 cup half-half
For the whipped topping
2 cups heavy cream
8 ounces (by weight) sugar
1 tsp vanilla extract
Preheat the oven to 350 degrees F. Lightly oil and flour a 13 by 9-inch metal pan and set aside.
Whisk together the cake flour, baking powder and salt in a medium mixing bowl and set aside.
Place the butter into the bowl of a stand mixer. Using the paddle attachment, beat on medium speed until fluffy, approximately 1 minute. Decrease the speed to low and with the mixer still running, gradually add the sugar over 1 minute. Stop to scrape down the sides of the bowl, if necessary. Add the eggs, 1 at a time, and mix to thoroughly combine. Add the vanilla extract and mix to combine.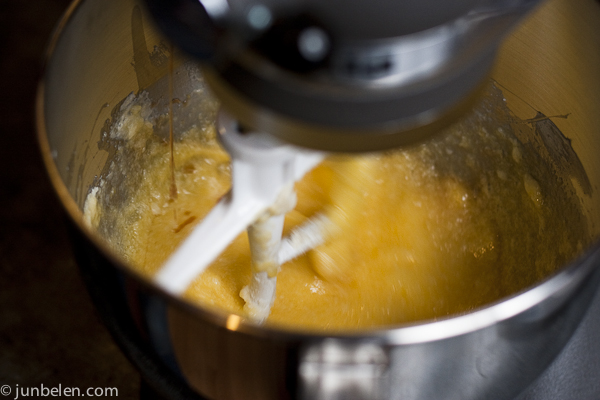 Add the flour mixture to the batter in 3 batches and mix just until combined. Transfer the batter to the prepared pan and spread evenly.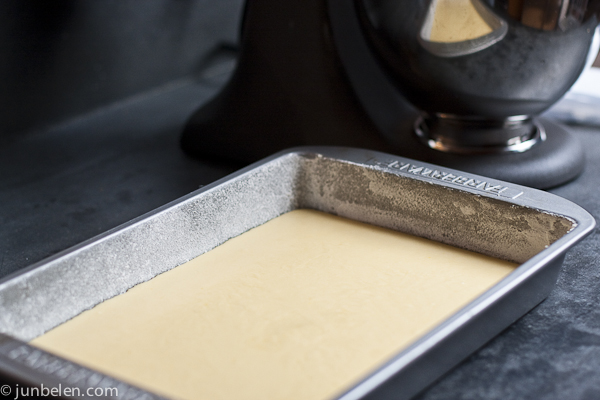 Do not panic if there appears to be a very small amount of batter.  It will rise and it will soak in the milk glaze later.
Bake on the middle rack of the oven for 20 to 25 minutes or until the cake is lightly golden and reaches an internal temperature of 200 degrees F.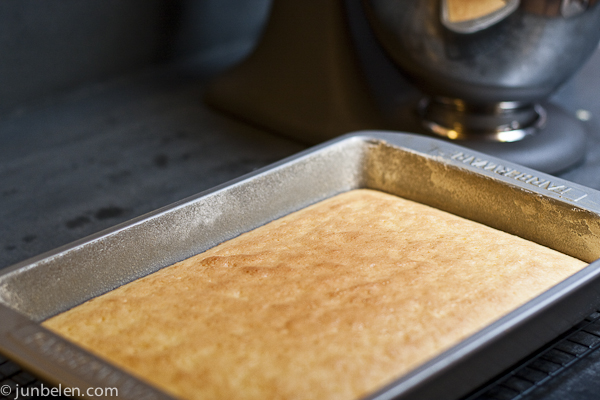 Remove the cake pan to a cooling rack and allow to cool for 30 minutes. Poke the top of the cake all over with a skewer or fork.  Allow the cake to cool completely and then prepare the glaze.
Whisk together the evaporated milk, sweetened condensed milk and the half-and-half in a 1-quart measuring cup. Once combined, pour the glaze over the cake.
Refrigerate the cake overnight. The tray will feel very heavy because of the milk glaze. Really heavy.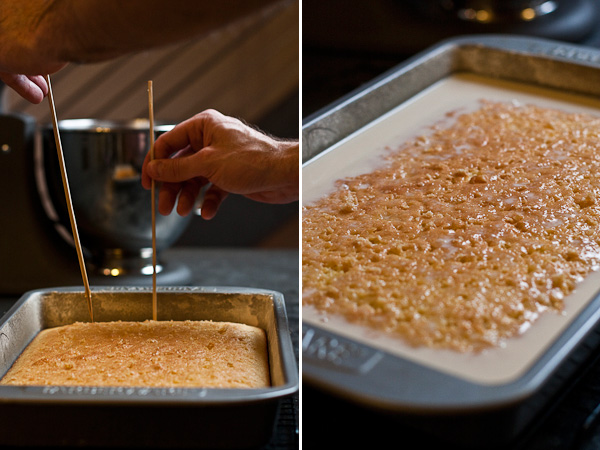 Place the heavy cream, sugar and vanilla into the bowl of a stand mixer. Using the whisk attachment, whisk together on low until stiff peaks are formed. Change to medium speed and whisk until thick.  The topping can also be made without a standard mixer. It can be done with just a large bowl, a whisk and a lot of stamina.  It's more difficult but it can be done.
Spread the topping over the cake and allow to chill in the refrigerator until ready to serve. For a more festive tres leches, add some color by sprinkling candy sprinkles generously over the whipped topping.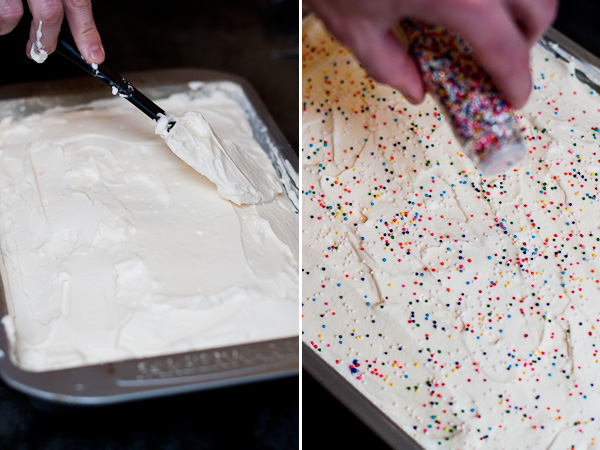 It may appear daunting to make tres leches at home but let me assure you that the rewards are great and tasty. It's creamy. It's moist. It's sweet. It's seriously delicious.