I'm a huge fan of tres leches.  Huge.  I cannot begin to write how much I love this cake.  It's the moistness.  The sweetness.  The creaminess.  On our trip to Cancun, while walking around Parque las Palapas after dinner, we got so excited, seriously so excited, when we discovered a young lady who sold tres leches in her cart.  It was good, not the best but tasty, nonetheless.  We also spotted tres leches in a pasteleria in Valladolid, which was much more moist than the one in Cancun.
Back in January, Dennis made me tres leches with whipped topping and candy sprinkles for my birthday using Alton Brown's fabulous recipe.  Today, I'm excited to share another fabulous tres leches recipe but this time it's from the great Rick Bayless.  Strawberry tres leches shortcake.  Again, I'm at a loss for words to describe how lovely and how amazingly good this cake is.  You just have to try it for yourself and pass it around.
This recipe makes one 8 x 8 shortcake that can be cut into four to five 3-1/2-inch shortcakes using a biscuit cutter.  The cake freezes well and so it can be made ahead of time.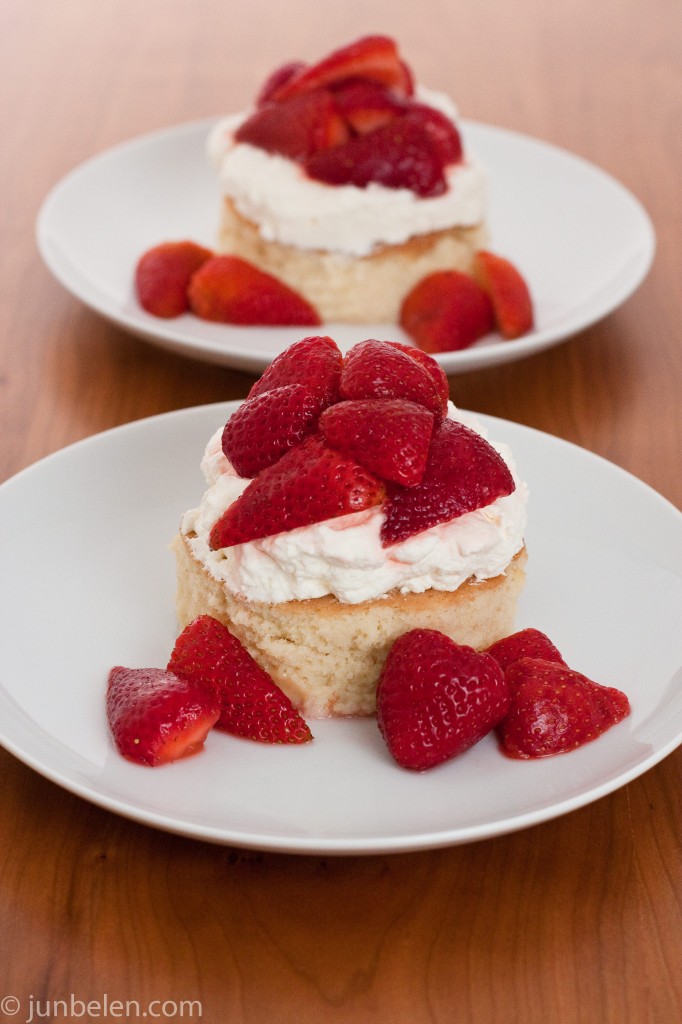 For the Shortcake
1-1/2 cups all-purpose flour
1/2 teaspoon baking soda
1/4 teaspoon baking powder
1/4 teaspoon salt
1 stick unsalted butter, softened to room temperature
1 cups sugar
2 eggs
1/2 teaspoon vanilla
1/2 cup buttermilk
For the Tres Leches
1/2 cup milk
1/2 can evaporated milk
1/2 can sweetened condensed milk
For the Whipped Cream
1 cup heavy cream, whipped to soft peaks
For the Strawberry Topping
1-1/2 pounds strawberries, cleaned, halved or quartered
1/4 cup sugar
1/4 cup orange juice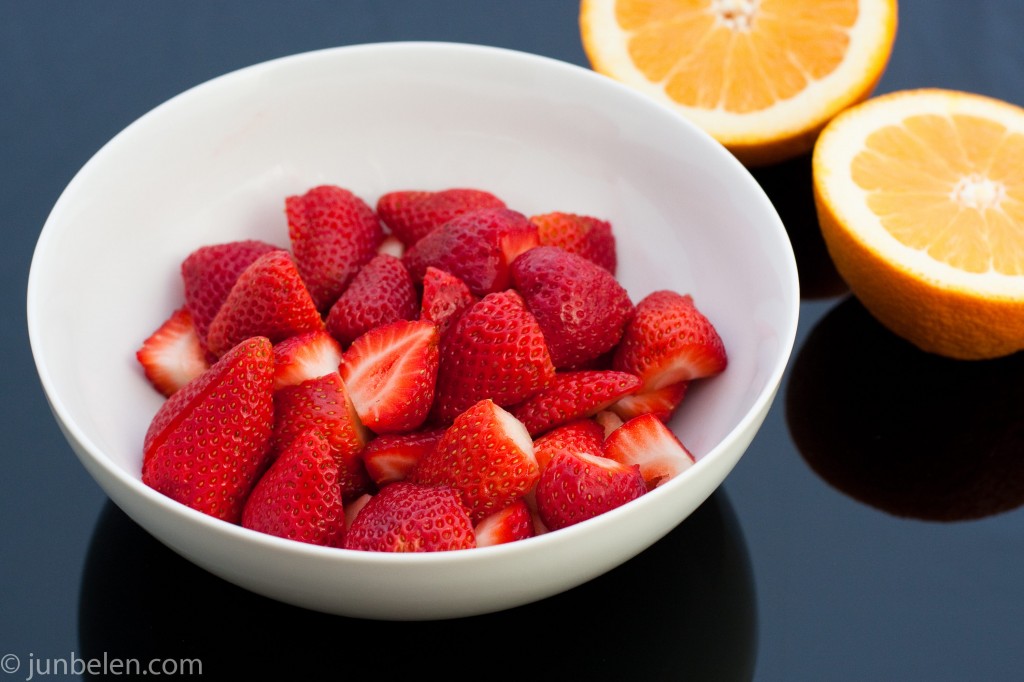 Making the Shortcake
Preheat the oven to 350 degrees.
Butter an 8 x 8 pan, then line with parchment paper and butter and flour the paper. If you're using a non-stick baking ban, there's no need to line it with parchment paper, just butter and flour the pan.
Whisk together the dry ingredients: flour, baking soda, baking powder and salt. Place the softened butter and the sugar in a mixing bowl. Using the paddle attachment of an electric mixer, beat on medium speed until light and fluffy. Add the eggs, one at a time, beating each until just combined. Mix in the vanilla. Add the flour mixture alternating with the buttermilk in three stages. Mix until each addition is well incorporated, taking care not to overbeat.
Scrape the cake batter into the prepared pan and smooth the top with a spatula. Place on the middle rack in the oven and bake for 30 to 35 minutes or until golden brown and the center springs back.
Let the cake cool in the pan for 20 minutes, then take it out let it cool some more on a cooling rack.
Once completely cool, cut out 3-1/2-inch circles using a biscuit cutter. Place the cake circles on a parchment lined rimmed baking sheet. This cake freezes well and so it can be made ahead of time, just wrap well before freezing.  Using a wooden skewer, poke holes all over the surface of the cake. This will help the cake absorb the tres leches mixture more evenly.

Making the Tres Leches
Combine the milk, evaporated milk, and sweetened condensed milk in an 8 x 8 baking dish. Dip each cake circle into the tres leches mixture.  Gently flip the cake to make sure that both sides have evenly absorbed the liquid. How long do you let it soak?  If you soak it for too long, the cake will be too soggy and fall apart.  But if you don't soak it long enough, the cake will not be moist enough.  We found that it was best to soak one side for no more than a minute.  It also helps that you poked the cake with enough holes.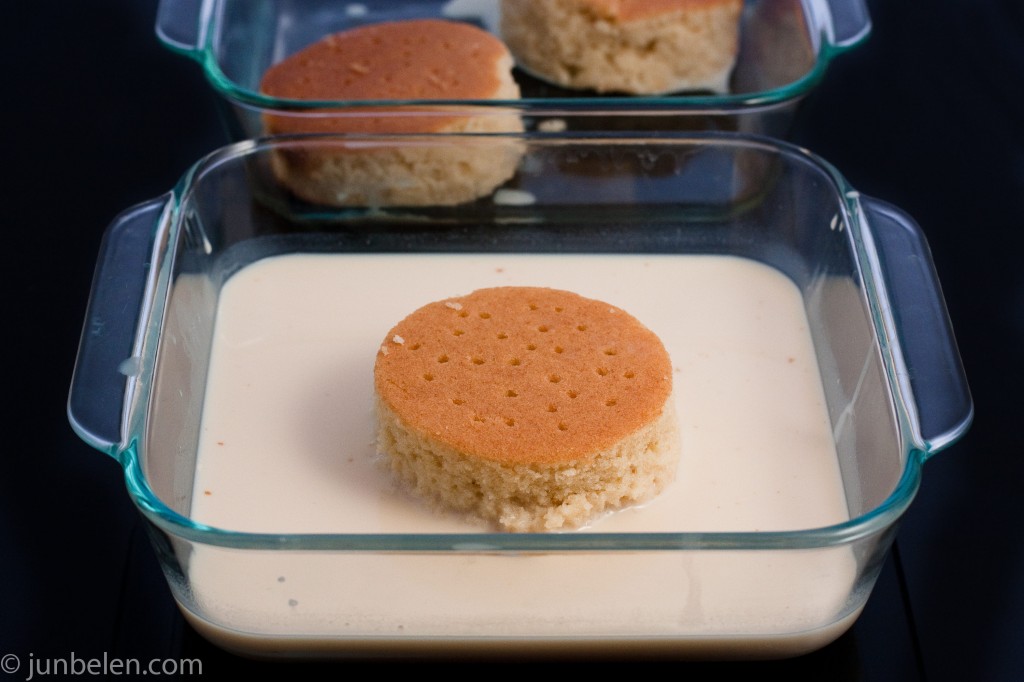 Place the soaked cake back onto the baking sheet until you're ready to assemble the dessert. This step can also be done ahead of time, just wrap well and refrigerate.
Making the Strawberries
In a bowl, sprinkle sugar over strawberries along with the orange juice and gently stir to combine.  Allow the strawberries to marinate for about an hour, stirring occasionally. Strain the strawberries, reserving the syrup separately.
Assembling the Shortcake

Using a metal spatula, transfer one of the cake circles onto a plate. Smear a dollop of whipped cream over the top, pile on the strawberries and drizzle with some strawberry syrup.