My ultimate comfort food is a plateful of fried chicken and doughnuts.
Back in January, I raved about Thomas Keller's buttermilk fried chicken at Ad Hoc in Yountville.  Those were the best fried chicken I have had so far.  The skin is crispy, the meat is moist, the chicken is perfectly fried with an incredible aromatic lemon flavor.  The chicken is brined overnight before it is coated in buttermilk and spices and then deep fried.  I was so in love with Ad Hoc and their fried chicken that I picked up a copy of Ad Hoc at Home, recreated it at home and the results were phenomenal.
Last weekend, we drove back to Yountville to indulge, not in fried chicken this time, but in brioche doughnuts from Thomas Keller's Bouchon Bakery.
I had heard about these doughnuts and had been planning a trek to Napa Valley to try them but these treats are truly elusive.  Bouchon only makes them in tiny batches on Saturday and Sunday mornings.  The brioche doughnuts, a creation by pastry chef Richard Capizzi, are so popular that they are typically gone within a few hours after the bakery opens at 7 in the morning.  Last Saturday, I thought Jun-Blog's first year anniversary was reason enough to finally try them.  We woke up bright and early at 6, walked Stanford and fed him breakfast, showered and hit the road at 7 to make sure we got a taste of those decadent doughnuts.
The bakery is pretty and quaint with a huge, brightly lit display full of macarons, muffins, eclairs, tarts, and bouchons — small chocolate brownie-like treats shaped like a cork.  But I had my eyes on only one thing and after I spotted them neatly arranged on a cake pedestal next to the croissants and baguettes, I got extremely excited.  It was 8:30 in the morning, there was only a couple of people in line ahead of me and I simply couldn't wait.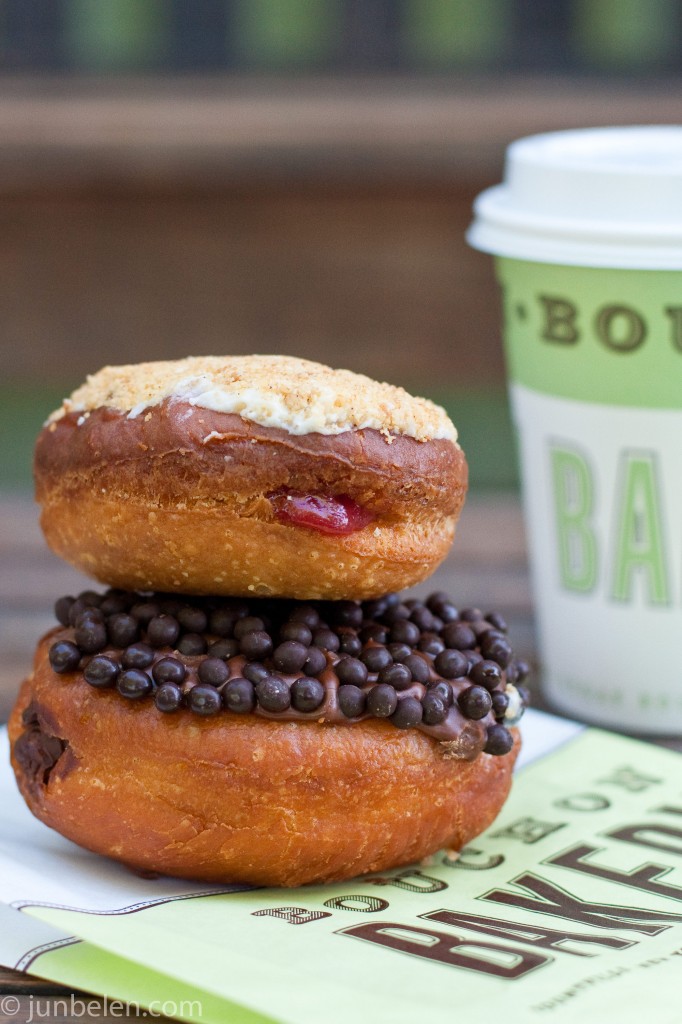 Sometimes, I wonder how I do it.  I wonder how I can keep myself from grabbing the doughnut or the bread pudding I am photographing.  I usually do.  But after spending a good half an hour trying out different shots I threw my lens aside and decided it was time to kick back and enjoy the doughnuts.  The seasonal fruit doughnut was strawberry rhubarb, which is topped with cheesecake frosting and shortbread crumbs.  Bouchon's weren't the typical light and fluffy doughnuts.  They were brioche-like.  Denser and richer.  More buttery.  The strawberry rhubarb filling was pleasantly not overly sweet, not overly tart.
But it was Bouchon's chocolate brioche doughnuts that made me fall in love with Thomas Keller even more.   They are filled with rich chocolate ganache, glazed with dark chocolate on top and generously covered with tiny dark chocolate covered rice puffs.  The decadent chocolate ganache filling simply blew me away.   And the wonderful crunch of those tiny spherical chocolate rice puffs totally knocked my socks off.  Those were the best doughnuts I have had so far.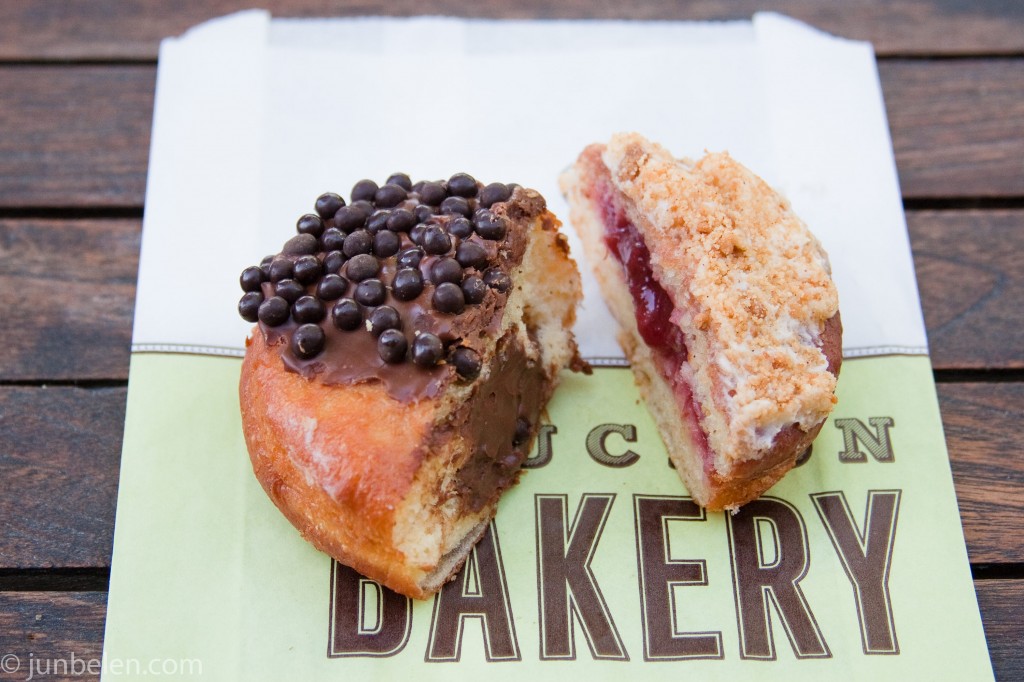 And of course, Stanford had his share of Bouchon bliss as well.  We figured, he was wondering why it was Saturday and we totally abandoned him early in the morning and so we brought home a couple of foie gras biscuits for the corgi.  Foie gras, bacon, ketchup and cornmeal.  No wonder, Stanford inhaled them in two seconds.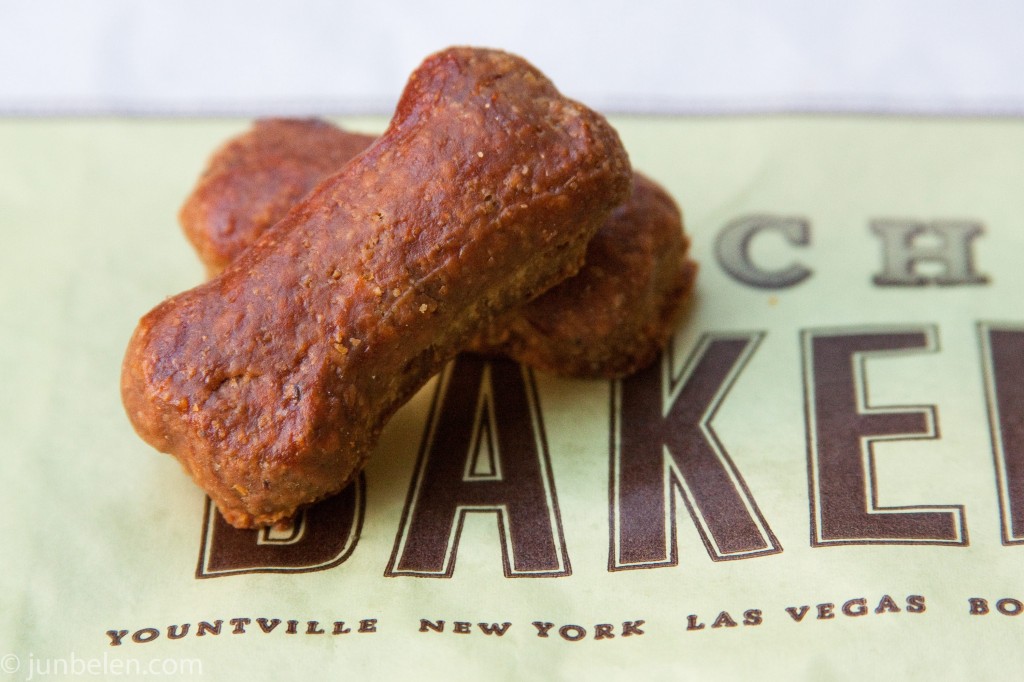 Bouchon Bakery
6528 Washington Street
Yountville, CA 94599
707.944.2253