My very first Thanksgiving dinner was at Carrows, off the Strip in Las Vegas. I was a penniless graduate student at the time, fresh off the boat — fresh off the Greyhound bus, in fact — and the $11.99 eat-all-you-can special sounded so enticing. So irresistibly good.
My very first turkey was, sadly, as dry as a bone and forgettable but it was the turkey stuffing that made my first Thanksgiving in America memorable.  Perfectly cubed white bread, loaded with butter, flecked with onion and celery bits, and soaked in gravy.  I went for seconds and greedily scraped off the top of the pan under the heating lamps to score the crunchiest parts.   I've always made the same simple stuffing for Thanksgiving year after year ever since — baked in a pan — until I met Dennis, who introduced me to stuffing balls, his childhood favorite.  He fondly remembers growing up back in Ohio making stuffing balls by hand with his mom while the turkey is roasting.
Shaping the stuffing into balls roughly the size of a kid's clenched fist is plain genius.  It has the perfect crunch-to-moisture ratio.  It's lightly toasted on the outside but inside it's wonderfully moist.  It reminds me of the stuffing I had at Carrows that fateful night many years ago but infinitely better.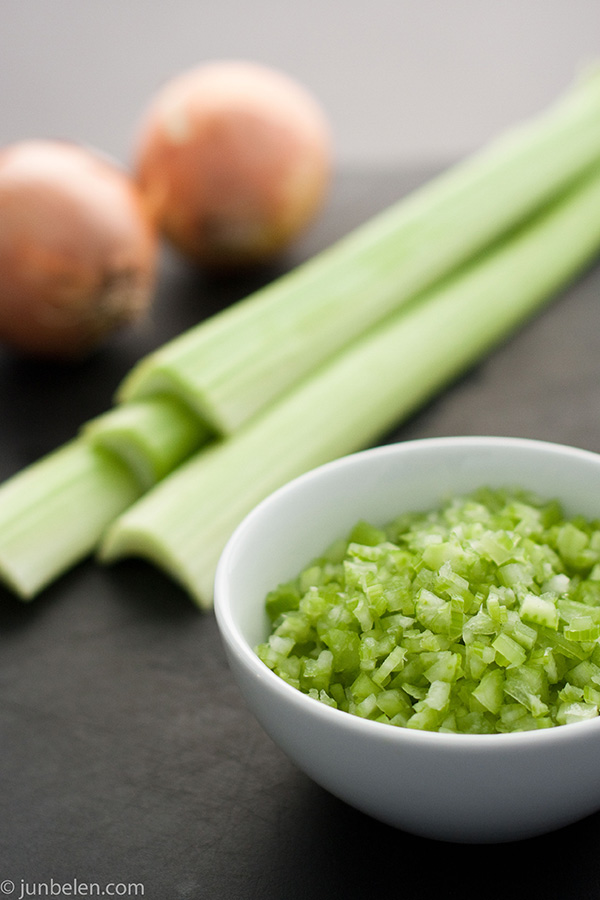 Thanksgiving Turkey Stuffing Balls Recipe, makes 15 balls
4 tablespoons butter
1 medium onion, finely chopped, about 1 cup
4 stalks celery, finely chopped, about 1 cup
1 loaf white bread, dried and torn into 1-inch pieces
1 tablespoon poultry seasoning
salt and freshly ground black pepper
2 cups chicken stock
1 egg
Preheat the oven to 375 degrees F.
Sauté onion and celery in butter until onions are translucent, about 5 minutes, and spoon over the torn pieces of white bread.  Dust with poultry seasoning, salt and pepper.  Whisk an egg in the chicken stock and pour over the stuffing until it is moist enough to form balls that hold together. Form the stuffing into 3-inch balls.
Bake until golden brown, about 15 minutes.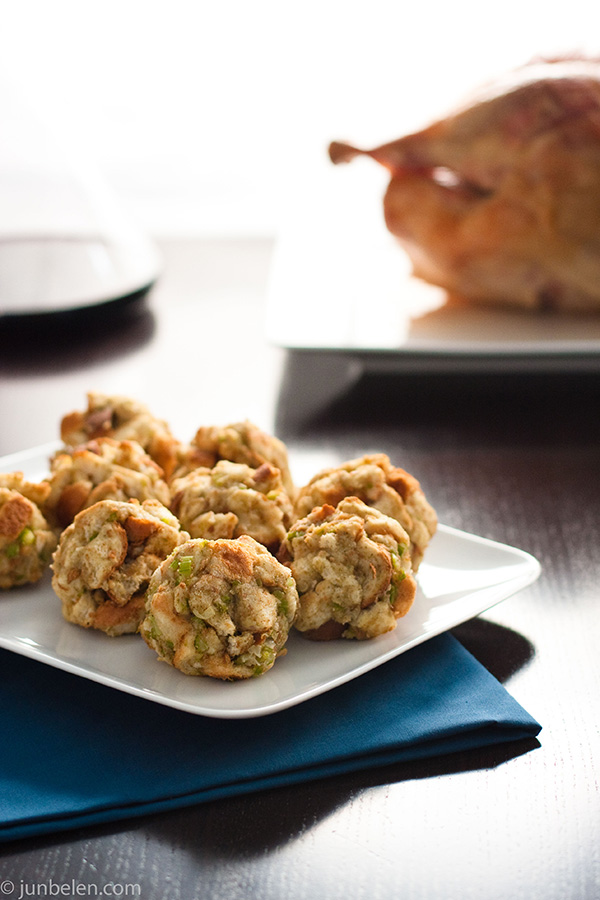 Year after year, Dennis and I make Thanksgiving the same exact way. We celebrate with roast turkey and a spread of stuffing balls, mashed potato and gravy, cranberry sauce, sweet potato casserole, and pumpkin pie for dessert. I hope this finds you and your family well on this delicious American holiday.
The taste of sweet potato shines in this simple New York Times recipe for sweet potato casserole. Sweet potato is topped not with cloyingly sweet marshmallow but with butter, brown sugar, and crunchy pecans.
This is a classic Alice Waters recipe for pumpkin pie made from scratch. Waters recommends using sweet pumpkin varieties like Sugar Pie, Long Pie, or Cinderella to make the pumpkin purée. Most pumpkins are for carving, not for eating, and their flesh is too watery and flavorless to make a good purée, she writes. Butternut squash can be used for the purée as well. The recipe for pie dough is another classic taken from The Joy of Cooking.