Everything that could possibly go wrong went wrong that day.  It may sound overly dramatic but it certainly did feel that way.  As soon as Stanford unknowingly knocked down my tripod and my Canon crashed to the hardwood floor, my heart sank even deeper.  I helplessly yelled at Stanford while he fearfully retreated to his corner underneath the stairs.  He cowered and wondered what he could have possibly done wrong.   I honestly felt bad for the poor guy.  If there was someone who had to be blamed for what happened it should be me and not him.  It was one of those days when I hoped for a break but all I got was a bigger blow.
This past year has been extremely challenging.  Switching careers is tough, to say the least, but figuring out which path to take to get the balance between fulfillment and financial reward is even tougher.  Does such a balance exist, in the first place, I have always wondered.
There have been mornings — plenty, in fact — when I wake up feeling anxious and defeated by self-doubt.  I was never a cockeyed optimist, you know. I am the negative thinker who always sees the glass half empty.  With this gloomy outlook in life, you may wonder how I even survived this past year.  I owe everything to Dennis.  He is the optimist who sees the good in everything, even in cameras crashing to the floor.  He has this remarkable calming effect on me.  He never fails to encourage, always reminding me of my victories, however small, and constantly reassuring me that everything will be fine.  I simply can't imagine going through what I have gone through without him and as I move forward I know everything will fall to its proper place.  For him, I am truly thankful.
Thanksgiving is Dennis' favorite holiday — he loves turkey, with a side of stuffing balls of course, and he loves pumpkin pie.  There are three sweet things he just cannot live without: chocolate, peanut butter and pumpkin pie.  Dennis is the optimistic pie-maker in the family but this year I volunteered to bake his favorite pie from scratch.  It is my humble gesture of giving thanks for everything he has done.
Pumpkin Pie Recipe
Recipe by Alice Waters from The Art of Simple Food
, makes one 9-inch pie
1 9-inch single pie crust
1 2-pound sweet pumpkin (Sugar Pie, Long Pie or Cinderella pumpkin varieties or butternut squash), equivalent to roughly 15 ounces (1-1/2 cups) pumpkin purée
1 cup cream
2 teaspoons flour
3 eggs
1/4 cup brown sugar
1 tablespoon granulated sugar
1 teaspoon ground cinnamon
1/4 teaspoon ground cloves
1/4 teaspoon ground ginger
1/2 teaspoon salt
pinch of fresh-ground black pepper
freshly whipped cream
Cut the squash in half and scoop out the seeds. Place the halves cut side down on an oiled or parchment-paper-lined baking sheet. Bake in a 350 degree F oven until the squash is tender throughout, about 45 minutes to one hour. The time will vary depending on the type of squash you have chosen. Remove from the oven, let cool, and then scoop the flesh from the peel. Purée in a food mill or mash with a spoon or potato masher.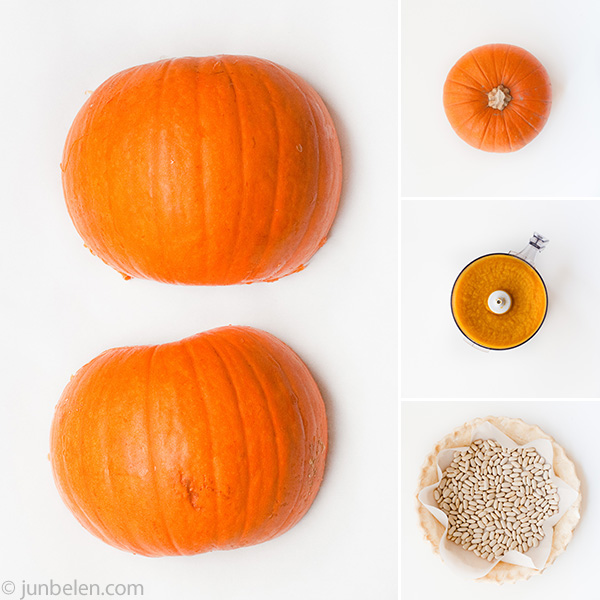 Soften pie dough at room temperature. Roll out the dough into a 12-inch circle.
Line a 9-inch pie pan with the pastry. Refrigerate for at least 1 hour. Preheat the oven to 375 degrees F.
Prick the bottom all over with a fork. Line the shell with a piece of foil or parchment paper and fill with a layer of dried beans reserved for this purpose (or other pie weights). bake in a 375 degree F oven for 15 minutes, or until lightly golden around the edge. Take the tart out of the oven; remove the foil and the weights. Return to the oven and cook for another 5 to 7 minutes, until the tart is even light golden brown. Set aside to cool.
In a small saucepan whisk together 1/4 cup cream with the flour. Heat the mixture over low heat until it comes to a boil and thickens. Slowly whisk in the rest of the cream. Continue whisking until the mixture returns to a boil. Remove from the heat.
Measure 15 ounces of pumpkin purée. Whisk the purée and eggs together in a medium bowl. In another bowl combine the brown sugar, granulated sugar, cinnamon, cloves, ginger, salt and pepper. Stir the sugar and spice mixture and the thickened cream into the pumpkin mixture.
Pour into the prebaked pie shell and bake for 45 to 50 minutes, until the center us almost set. If the edges are browning too quickly, fit a ring of foil around the rim. let cool completely on a rack before cutting.
Serve with a dollop of freshly whipped cream.
Cooking Notes:
1.  Waters recommends using sweet pumpkin varieties like Sugar Pie, Long Pie, or Cinderella to make the pumpkin purée.  Most pumpkins are for carving, not for eating, and their flesh is too watery and flavorless to make a good purée, she writes.  Butternut squash can be used for the purée as well.
2. The time for baking squash will vary depending on the type and size.  I used a two-pound Sugar pie pumpkin and the baking time was 45 minutes.
3. Waters also suggests adding 1-1/2 teaspoons of brandy to the pumpkin filling.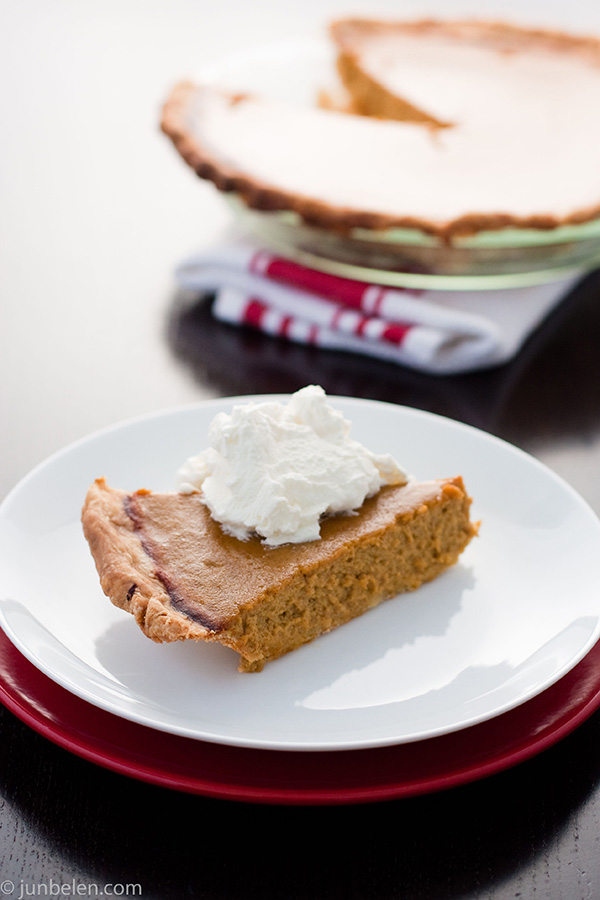 Pie Dough Recipe
Recipe adapted from Irma Rombauer's the Joy of Cooking, makes one 9-inch double crust
2-1/2 cups all-purpose flour
1-1/4 tsp salt
3/4 cup chilled lard or vegetable shortening
3 Tbsp cold unsalted butter
6 Tbsp ice water
Sift the flour and salt together. Mix the chilled shortening and butter.
There are two steps in making pastry dough by hand. First, cut the fat into the dry ingredients and, second, bind the dough with water.
Cut half of the shortening mixture into the flour mixture with a pastry blender or work it in lightly with the tips of your fingers until it has the consistency of cornmeal. Work it in lightly and do not overwork the dough because it will become dense and greasy. Cut the second half of the shortening mixture into the dough until it is pea-sized. If you don't have a pastry blender, you can use a fork. Leave it in firm, separate pieces, some fine and crumblike and the rest the size of peas.
Sprinkle the dough with ice water. Blend the water gently into the dough until it just holds together. You may lift the ingredients with a fork, allowing the moisture to spread. If necessary add another teaspoon to a tablespoon of ice water to hold the ingredients together. It is important to add only enough water to make the dough hold together but be careful not to put so much as to cause excessive gluten to develop, which would make the pie crust hard or chewy and breadlike. As a rule of thumb, the flour and fat mixture should be moistened only to the point where it forms small balls that hold together when pressed with your fingers.
Wrap the dough in plastic wrap and refrigerate. Chilling the dough up to 12 hours tenderizes it, helps keep it from shrinking during baking, and makes it easier to handle. If the dough has been chilled longer than 30 minutes, let it stand until it feels firm yet pliable, like modeling clay, when pressed. If it is too cold, the dough will crack around the edges when rolled.
Making freshly whipped cream, adapted from Irma Rombauer's the Joy of Cooking
1/2 pint heavy whipping cream
sugar
vanilla
Beat the whipped cream in a chilled bowl with chilled beaters at high or medium-high speed until thickened. Add sugar and vanilla and beat to the desired consistency.
Year after year, Dennis and I make Thanksgiving the same exact way. We celebrate with roast turkey and a spread of stuffing balls, mashed potato and gravy, cranberry sauce, sweet potato casserole, and pumpkin pie for dessert. I hope this finds you and your family well on this delicious American holiday.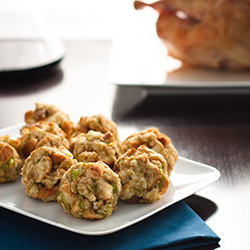 Thanksgiving Turkey Stuffing Balls Recipe
Shaping stuffing into balls roughly the size of a kid's clenched fist is plain genius. It has the perfect crunch-to-moisture ratio. It's lightly toasted on the outside but inside it's wonderfully moist. These almost famous balls have been featured in KCRW's Good Food with Evan Kleiman. Check out the link and listen to my interview about my first Thanksgiving and these beguiling balls.
The taste of sweet potato shines in this simple New York Times recipe for sweet potato casserole. Sweet potato is topped not with cloyingly sweet marshmallow but with butter, brown sugar, and crunchy pecans.