My heart sank as soon as Dr. Liz mentioned Stanford's cataracts. She was examining him before his routine rabies shots when she noticed the cloudiness in his otherwise cheerful eyes. It was the first time anyone had mentioned anything about cataracts.
"Is it something serious? Something we need to be concerned about?" I worriedly asked.
"There is absolutely nothing to be worried about for now," she assured me. "It's normal for dogs to develop cataracts as they age but it's a good idea to start paying close attention to his eyes."
"Would these cataracts mean that Stanford's a little older than we think he is?"
"Not necessarily," she replied while she handed him treats, which he obligingly wolfed down. "It's difficult to tell exactly how old he is. Some dogs develop cataracts early when they're still young while for some they come later in life."
We've always wondered how old Stanford is. We think he is either six or seven, and now that he's started to develop cataracts he may even be older. It's one of those things, I guess, that we'll never really figure out — like why he has that nick in his right ear and that tiny scar near his left eye. Dennis believes he wrestled with a bear when he was out in the woods in Utah before he got rescued, which makes me actually proud to think that my little boy can stand up and defend himself. But it seriously breaks my heart whenever I picture Stanford out in the cold, in the dead of winter, prowling for food and searching for a warm place to sleep.
It's been three years since we adopted Stanford and since we're not sure when his real birthday is, we pegged his adoption day as his birthday. I fondly remember the flight to Salt Lake City, the overnight stop in Winnemucca, and the long drive back to San Francisco. I remember driving across the Bay Bridge with a rescued corgi in the backseat. Stanford has this uncanny ability to lift my spirits up, even with a broken camera on the floor. His handsome face never fails to light up a room. Many say Stanford's one lucky pooch but I think it's the other way around. Dennis and I are the lucky ones to have found him — nicks, scars, cataracts, and all.
To celebrate his birthday and our three years together I made Stanford blueberry pupcakes. Yes, judge all you want. I made my little boy cupcakes. Liz Palika's The Ultimate Dog Treat Cookbook: Homemade Goodies for Man's Best Friend has a great recipe for blueberry cupcakes, which she calls pupcakes. She combines ground kibble with Jiffy blueberry muffin mix, which I replaced with whole wheat flour, baking powder, and honey. The pupcakes contain blueberries, which are an excellent source of antioxidants for your dogs.
Here is a link to a recipe for another tasty dog treat, peanut butter oatmeal dog treats.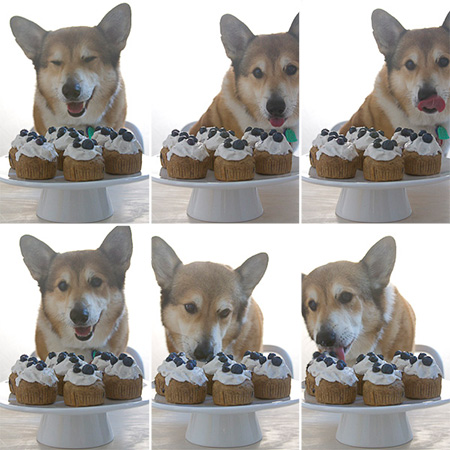 Making Blueberry Birthday Pupcakes Recipe
Recipe adapted from Liz Palika's The Ultimate Dog Treat Cookbook: Homemade Goodies for Man's Best Friend, makes 12 pupcakes
1/2 cup ground dry dog food kibble, use a mortar and pestle or a food processor to grind the kibble
1-1/2 cups whole wheat flour
1 tablespoon baking powder
2 tablespoons honey
2 large eggs
1 cup low-fat milk
1 cup fresh blueberries or frozen ones that have been thawed, washed, and drained
6 ounces light cream cheese
1/3 cup fresh blueberries or frozen ones that have been thawed, washed, and drained
Preheat the oven to 350 degrees F.
Combine the ground dog food kibble, flour, baking powder in a medium bowl until thoroughly mixed. Add honey, eggs, milk and a cup of blueberries and mix until well combined. The batter should be slightly grainy.
Grease or line muffin cups with paper baking cups. Avoid using foil baking cups. Paper ones are digestible in case your dog wolfs down the pupcakes before you take the paper cups off. Bake until a cake tester or wooden skewer inserted in the center comes out clean, 15 to 20 minutes. Let the pupcakes cool on a cooling rack.
Whip cream cheese with 1/3 cup blueberries. Frost the pupcakes with a thin layer of whipped cream cheese and top with a few blueberries. Remove the paper baking cups before serving the pupcakes.