As we were driving home last weekend after a doughnut feast at Bouchon Bakery, with a bag of foie gras treats for Stanford, I realized I have never baked anything for my little boy.  We always make him boiled chicken and rice whenever his tummy is upset but we've never baked him any special treats.  And this corgi certainly loves his treats.  The smell of bacon, peanut butter and, more recently, foie gras, drives him crazy.  Absolutely crazy.  He would enthusiastically perform one trick after another — from "sit" to "down" to "roll over" then do it all over again — just to win his coveted prize.
As we continue our countdown to Jun-Blog's first anniversary, I made peanut butter oatmeal dog treats for the corgi who has captured our hearts since that fateful winter day in Salt Lake City.  His handsome face and ears that perk up and greet us every morning are constant reminders of how lucky we are for finding each other.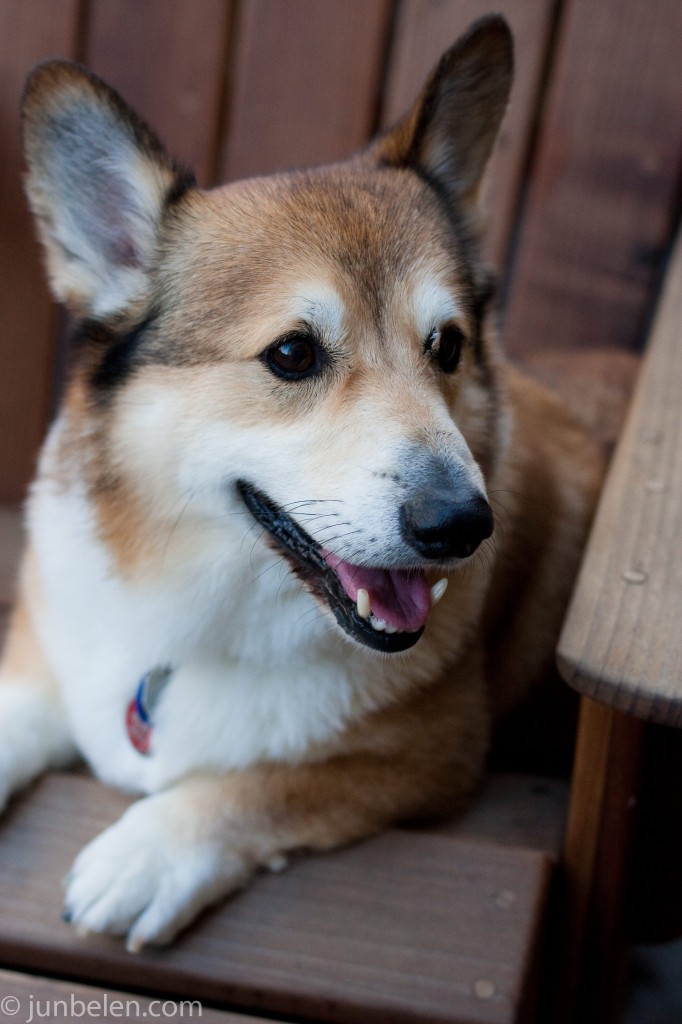 Thank you to the lovely blog, Shared Sugar, for the wonderful dog treat recipe.  And as I was photographing the treats for the blog, Mr. Stanford was busy sniffing and prancing back and forth, waiting for me to finish the shoot, waiting for me to give him his reward for being the good boy he has always been.
Here is a link where you can read more about how we rescued Stanford back in 2008.
Peanut Butter Oatmeal Dog Treats Recipe
Recipe by Shared Sugar
1/2 cup peanut butter
1/4 cup honey
1 tablespoon olive oil
1 cup chicken broth
1 cup rolled oats
1 cup whole wheat flour
1 cup unbleached all-purpose flour
Preheat the oven to 350 degrees F.
In a medium bowl, whisk together peanut butter, honey, oil and chicken broth. In a separate bowl, combine the flours and oatmeal. Mix the wet ingredients into the dry ingredients.
Place the dough on a clean surface lightly dusted with flour and then roll the dough out to about 3/8" inch thick.  Add more flour if the dough is a bit moist and sticky.  Use a cookie cutter to cut out the cookies. Roll out leftover scraps and cut out as many treats as possible.  Place the cut-out cookies on a parchment lined baking sheet. Bake for 14 to 16 minutes. Transfer to a cooling rack.