One of my lofty goals in life is to write a memoir. It's probably not as lofty as my other goals like owning a bed and breakfast or a corgi farm in the country but a good friend of mine used to tease me, "do you think your life is colorful enough for a book?" Of course, my life's colorful enough for a book, I argued!
Ever since I started chronicling my seemingly colorful life through food in my blog, I've entertained this romantic notion of writing a memoir told through a collection of recipes — told through a cookbook. So when I learned about Dianne Jacob's five-week cookbook writing class in the Bay Area I signed up for a seat without any second thoughts. I met the fabulous Dianne Jacob — published author, accomplished writer, and mentor — in Seattle during a food blogger conference in the Fall. I remember being so thrilled to meet her and to have her sign my copy of Will Write For Food, her immensely useful guide to all things food writing.
Writing a cookbook is a walk in the park but getting it published is an entirely different story. I learned a lot from those five weeks with Dianne, from writing engaging headnotes to developing compelling book proposals. Dianne is a terrific teacher but it was her honest advice on finding my voice that I found most helpful. Know your audience first then develop your voice, she stressed. Voice is key to successful writing, be it a memoir, a cookbook, or a blog. It's the writer's unique point of view that keeps readers engaged.
One of my favorite food writers is Molly Wizenberg of Orangette. Molly writes with a distinctly warm, welcoming and whimsical voice, which I admire a lot. I first fell in love with Molly when I read A Homemade Life, her memoir told through a collection of stories and recipes.  Stories about her father whom she fondly calls Burg, and his potato salad. Stories about her first love and her first tarte tatin in Paris. Stories about her late Uncle Jerry and Aunt Mia and the Hoosier Pie that her cousin Sarah makes every Thanksgiving to remember them by.   Stories about love and loss told with such a strong, clear voice.  These are the kinds stories I want to tell.
And so when Dennis and I finished the last piece of our Thanksgiving pumpkin pie, I whipped out the leftover pie dough from the freezer and made our very first Hoosier Pie — pecan pie with chocolate and Bourbon.  As the cold rain poured outside, the oven once more warmed the kitchen.  I sat on the couch with a corgi, a cup of coffee, and a piece of pie.
And then I started to write another chapter in my memoir.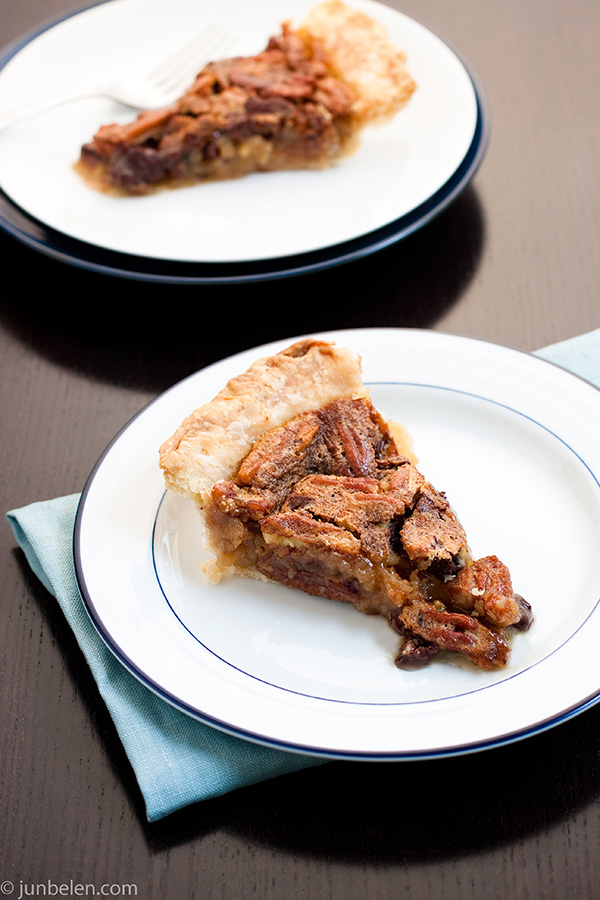 Hoosier Pie Recipe
Recipe by Molly Wizenberg from A Homemade Life
1 10-ounce disk pie dough
4 tablespoons (2 ounces) unsalted butter, at room temperature
1 cup sugar
3 large eggs
3/4 cup light corn syrup
1 teaspoon vanilla extract
1/4 teaspoon salt
2 tablespoons bourbon
1/2 cup chocolate chips, preferably bittersweet
1 cup pecan halves
Soften pie dough at room temperature. Roll out the dough into a 12-inch circle.
Line a 9-inch pie pan with the pastry. Refrigerate for at least 1 hour. Preheat the oven to 375 degrees F.
In a medium bowl, beat the butter on medium-low speed until soft and creamy. Gradually add the sugar, beating all the while. When the sugar is fully incorporated, add the eggs one at a time, beating well after each addition. Then add the corn syrup, vanilla, and salt. Beat well. Beat in the bourbon. The batter should be pale and fairly thin.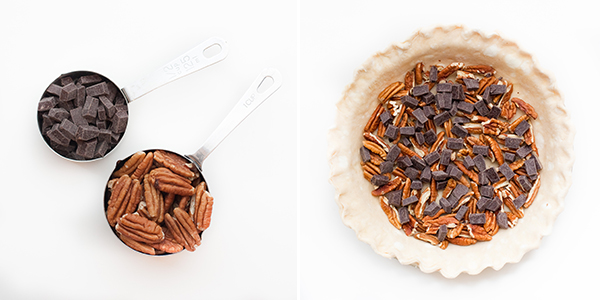 Remove the prepared pie plate from the refrigerator. Scatter the chocolate chips and nuts evenly over the base of the crust; then pour in the batter. Bake for 35 to 45 minutes, checking every 5 minutes after the 30-minute mark. The filling will puff gently as it bakes. The pie is ready when the edges are firm, the top is deep brown, and the center seems set but jiggles ever so slightly. Transfer the pie to a wire rack to cool to room temperature. The filling will firm up as it cools.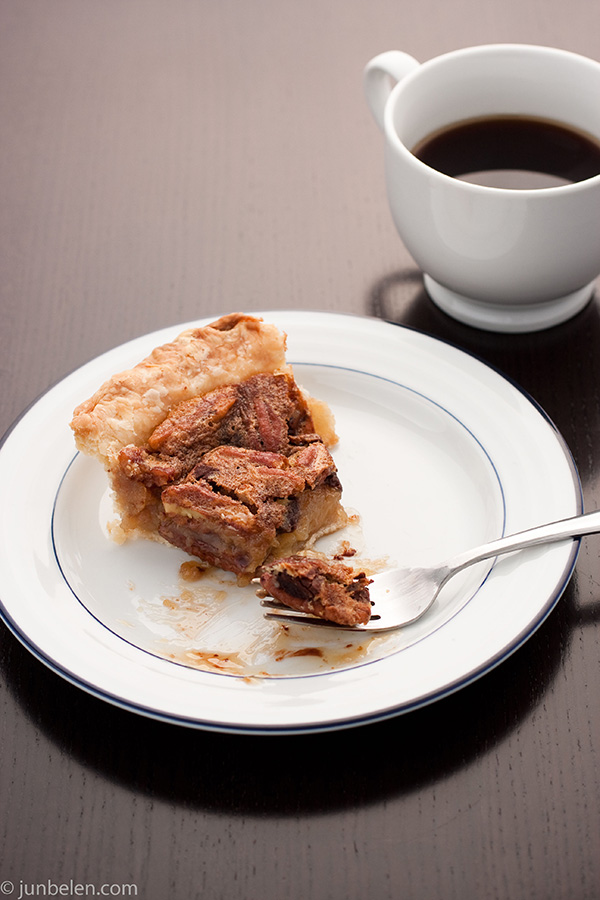 Cooking Notes:
1. I love a gooey pecan pie but I found this pie to be too gooey. If you love a nuttier pie, I recommend using 1-1/2 cups of pecans.  Bittersweet chocolate goes well with the pecans.  I used 62% cocoa chips.
2. Wizenberg notes that when wrapped in plastic wrap, the pie will keep at room temperature for up to 3 days.
Pie Dough Recipe
Recipe by Irma Rombauer from the Joy of Cooking
2-1/2 cups all-purpose flour
1-1/4 tsp salt
3/4 cup chilled lard or vegetable shortening
3 Tbsp cold unsalted butter
6 Tbsp ice water
Sift the flour and salt together. Mix the chilled shortening and butter.
There are two steps in making pastry dough by hand. First, cut the fat into the dry ingredients and, second, bind the dough with water.
Cut half of the shortening mixture into the flour mixture with a pastry blender or work it in lightly with the tips of your fingers until it has the consistency of cornmeal. Work it in lightly and do not overwork the dough because it will become dense and greasy. Cut the second half of the shortening mixture into the dough until it is pea-sized. If you don't have a pastry blender, you can use a fork. Leave it in firm, separate pieces, some fine and crumblike and the rest the size of peas.
Sprinkle the dough with ice water. Blend the water gently into the dough until it just holds together. You may lift the ingredients with a fork, allowing the moisture to spread. If necessary add another teaspoon to a tablespoon of ice water to hold the ingredients together. It is important to add only enough water to make the dough hold together but be careful not to put so much as to cause excessive gluten to develop, which would make the pie crust hard or chewy and breadlike. As a rule of thumb, the flour and fat mixture should be moistened only to the point where it forms small balls that hold together when pressed with your fingers.
Wrap the dough in plastic wrap and refrigerate. Chilling the dough up to 12 hours tenderizes it, helps keep it from shrinking during baking, and makes it easier to handle. If the dough has been chilled longer than 30 minutes, let it stand until it feels firm yet pliable, like modeling clay, when pressed. If it is too cold, the dough will crack around the edges when rolled.