When I'm worried and I can't sleep
I count my blessings instead of sheep
And so the Irving Berlin ballad goes. Crosby crooning with Clooney in the Hollywood Christmas classic. The sentimental song has been on my mind lately, ever since the whirlwind of buying our first home started.
In a little over a week, we'll all be gathering around in the warmest room in the house to roast turkeys and to bake pumpkin pies. To give thanks for the food on our table and for the people we share the food with. I am too foolish to even doubt, to clutter my mind with worry. I have so many things to be thankful for. So many blessings to count, both big and small. So many blessings, enough for peaceful, restful nights.
When I'm worried and I can't sleep
I count my blessings instead of sheep
And I fall asleep
Counting my blessings
I wish you and your family a delicious Thanksgiving.
Spiced Pumpkin Cheesecake Recipe
Recipe from America's Test Kitchen, makes one 9-inch cake, serves 12 to 16
For the crust
5 ounces graham crackers or 9 whole crackers, broken into large pieces
3 tablespoons granulated sugar
1/2 teaspoon ground ginger
1/2 teaspoon ground cinnamon
1/4 teaspoon ground cloves
6 tablespoons unsalted butter, melted
For the filling
1 15-ounce can pumpkin, unsweetened canned pumpkin and not pumpkin pie filling
1 1/3 cups granulated sugar
1 teaspoon ground cinnamon
1/2 teaspoon ground ginger
1/4 teaspoon ground nutmeg
1/4 teaspoon ground cloves
1/4 teaspoon allspice
1/2 teaspoon table salt
1 1/2 pounds cream cheese, cut into 1-inch chunks and left to soften at room temperature, about 30 minutes
1 tablespoon vanilla extract
1 tablespoon lemon juice
5 large eggs, at room temperature
1 cup heavy cream
Making the crust
Adjust oven rack to lower-middle position. Preheat the oven to 325 degrees F. Grease a 9-inch springform pan and set aside.
Pulse graham crackers, sugar, and spices in food processor until evenly and finely ground. Transfer crumbs to medium bowl, drizzle with melted butter, and mix with rubber spatula until evenly moistened. Spread crumbs into an even layer into greased springform pan. Use the flat bottom of a drinking glass to press crumbs evenly into the bottom of the pan, then use a spoon to press crumbs into the edges. Bake crust until fragrant and beginning to brown, about 10 to 15 minutes. Cool on wire rack while making filling.
Making the filling
Bring a kettle of water to a boil.
Drain or strain any liquid from pumpkin. Take pumpkin and place on several layers of paper towels. Gently squeeze out as much liquid as you can from the pumpkin. Discard the paper towels.
Whisk sugar, spices, and salt in small bowl and set aside.
In stand mixer fitted with the paddle attachment, beat cream cheese at medium speed until smooth, about 1 minute. Scrape down the bowl and beater well with rubber spatula.
Add about one third of sugar and spices and beat at medium-low speed until combined, about 1 minute. Scrape bowl and beat in remaining sugar in two more additions, scraping bowl after each addition. Add pumpkin, vanilla, and lemon juice and beat at medium speed until combined, about 1 minute. Scrape bowl. Add eggs, one at a time, and beat at medium-low until combined, about 1 minute. Scrape bowl. Add heavy cream and beat at low speed until combined, about 1 minute. Scrape bottom and sides of bowl and give final stir with a rubber spatula.
Set springform pan with cooled crust on 18-inch-square double layer heavy-duty foil and wrap bottom and sides with foil and set wrapped springform pan in roasting pan. Carefully pour filling into springform pan. Set roasting pan in oven and pour enough boiling water into roasting pan until it reaches about halfway up the sides of the springform pan. Bake until center of cheesecake is slightly wobbly when pan is shaken, and center of cheesecake registers 150 degrees on instant-read thermometer, about 1 1/2 hours.
Set roasting pan on wire rack and use paring knife to loosen cake from sides of pan. Cool cheesecake while still in the water bath until water is just warm, about 45 minutes. Take springform pan out of the water bath, discard foil, and set on wire rack. Continue to cool until barely warm, about 3 hours. Wrap tightly with plastic wrap and refrigerate until chilled, at least 4 hours or up to 3 days.
To unmold cheesecake, wrap a kitchen towel moistened with hot water around the springform pan and let it sit for 1 minute. Carefully unlock the springform and lift off the sides. Let cheesecake stand at room temperature about 30 minutes before serving. To make slicing the cheesecake easy and neat, use a knife with a narrow blade, such as a carving knife. Between slices, dip the blade into a pitcher of hot water and wipe it clean with paper towels.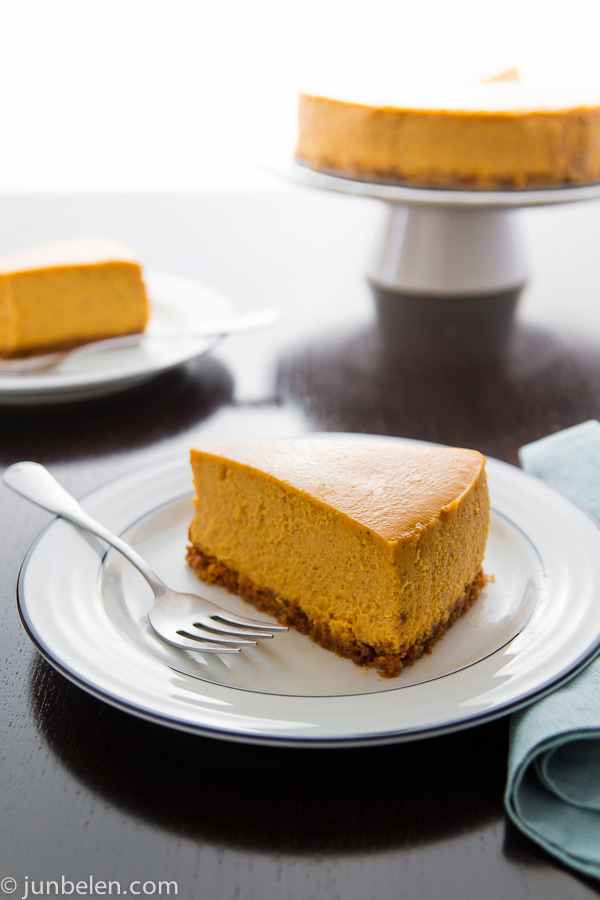 Year after year, Dennis and I make Thanksgiving the same exact way. We celebrate with roast turkey and a spread of stuffing balls, mashed potato and gravy, cranberry sauce, sweet potato casserole, and pumpkin pie for dessert. I hope this finds you and your family well on this delicious American holiday.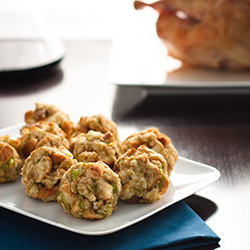 Thanksgiving Turkey Stuffing Balls Recipe
Shaping stuffing into balls roughly the size of a kid's clenched fist is plain genius. It has the perfect crunch-to-moisture ratio. It's lightly toasted on the outside but inside it's wonderfully moist. These almost famous balls have been featured in KCRW's Good Food with Evan Kleiman. Check out the link and listen to my interview about my first Thanksgiving and these beguiling balls.
This is a classic Alice Waters
recipe for pumpkin pie made from scratch. Waters recommends using sweet pumpkin varieties like Sugar Pie, Long Pie, or Cinderella to make the pumpkin purée. Most pumpkins are for carving, not for eating, and their flesh is too watery and flavorless to make a good purée, she writes. Butternut squash can be used for the purée as well. The recipe for pie dough is another classic taken from The Joy of Cooking.
The taste of sweet potato shines in this simple New York Times recipe for sweet potato casserole. Sweet potato is topped not with cloyingly sweet marshmallow but with butter, brown sugar, and crunchy pecans.