Father and son sat comfortably next to each other in the living room — Dennis with his Diet Dr. Pepper and Art with his Glenlivet, neat.  World's Deadliest Catch was on and the two watched Captain Phil and his crew haul crab pots in the icy Bering Sea.
Meanwhile, Carol and I worked diligently on a puzzle on the dinner table.  Aided by a bright floor lamp and a desk lamp we borrowed from the guest room, we sorted through the puzzle pieces carefully, hollering excitedly whenever we found a piece.  We nailed the puzzle's fish market and boardwalk fairly quickly but it was the spotless sky and the confusing blue sea that proved challenging.
We chatted about Warren in the winter and exchanged Christmas stories while we snacked on Carol's sugar cookies and church windows.  Her holiday cookies and candies are always a huge hit with the grandkids.  And the grownups, too.  I actually had never had church window candies before and I was instantly smitten.  Colorful marshmallows coated with chocolate and coconut that looked like — you guessed right, church windows!  We made plans to grab hotdogs and fries for lunch at the Original Hotdog Shoppe the next day and then have our last dinner together at the local Red Lobster before Dennis and I head back to San Francisco.
That was three Christmases ago when Dennis took me home for the holidays to meet Art and Carol, and the rest of his family.  I remember feeling a bit anxious about meeting everyone.  I knew very well they would like me.  What's not to like, right?  Yet, there still was a tinge of worry in the back of my mind.  I'm Mr. Half-Glass-Empty, remember? But thanks to the jigsaw puzzle and those toothachingly sweet church windows for helping break the ice.  And even though it didn't snow on Christmas Day as I hoped it would, Christmas in Ohio turned out to be a lovely one indeed.  A lovely holiday with my new family.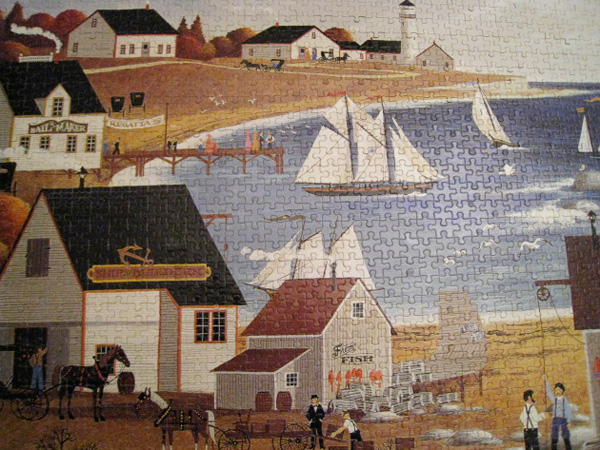 Church Windows Recipe
1 12-ounce bag semisweet chocolate chips
5 cups multicolored mini-marshmallows
1 stick or 1/2 cup butter
1 cup coarsely chopped dried coconut
Place the chocolate chips in a double boiler or a metal bowl and set the bowl over a pot of simmering water. The metal bowl should be big enough so that it sits on top of the pot without touching the water. Stir the chocolate from time to time. Once the chocolate is completely melted, add the stick of butter.  Stir well until completely melted and smooth.  Remove the bowl from the pot.
Fold in the marshmallows and combine well using a rubber spatula until the marshmallows are completely coated in chocolate. Add more marshmallows if there is a lot of melted chocolate left in the bottom of the bowl.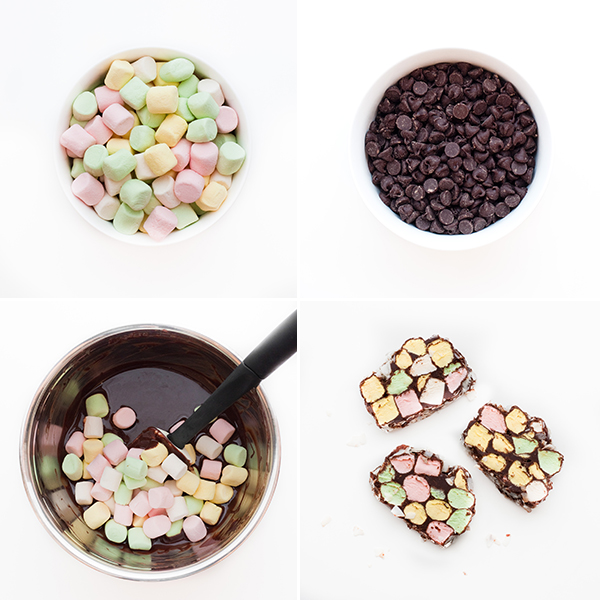 Take a piece of aluminum foil about 18 inches long.  Sprinkle a quarter cup of coconut evenly to form a 12-inch-by-3-inch rectangular bed at the center of the foil.  Spoon half of the chocolate and marshmallows on top of the coconut to form a log.  Sprinkle a quarter cup more of coconut evenly on top and along the sides of the chocolate-marshmallow log.  Wrap the log in the foil, folding the ends snugly.  Refrigerate for at least two hours, preferably overnight.
Make another log with the remaining chocolate, marshmallows and coconut.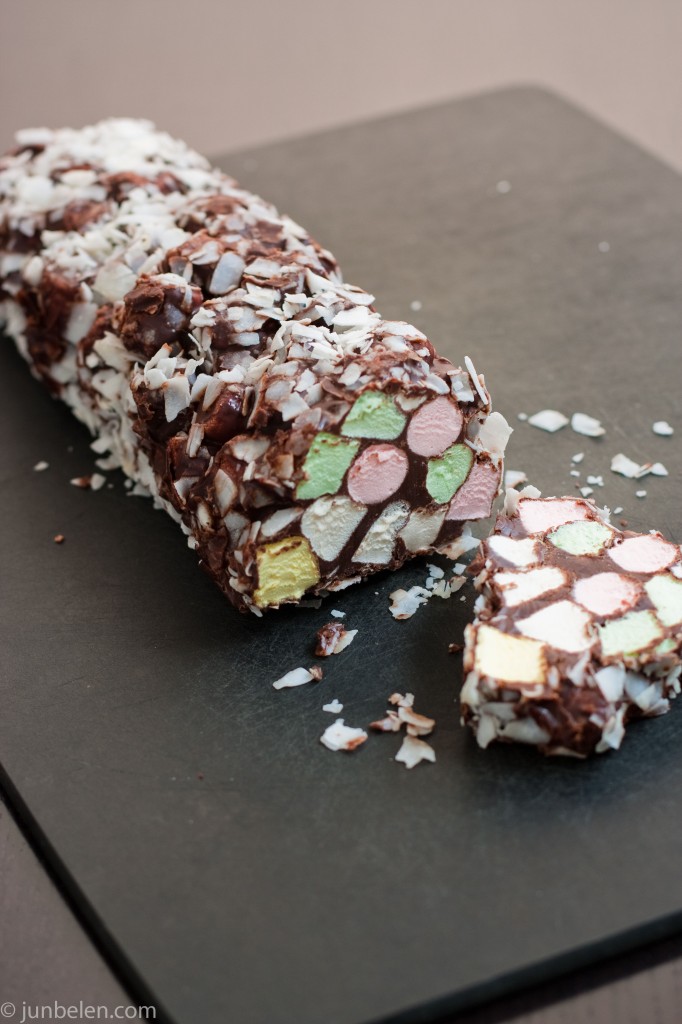 Once chilled, unwrap the chocolate-marshmallow log carefully and cut into 1/2-inch slices crosswise. Enjoy chilled or at room temperature. When stored in an airtight container in the refrigerator, the candies will keep for up to two weeks, if they don't get eaten.
Cooking Notes:
1. I visited six grocery stores in the city before I finally found a bag of multicolored mini-marshmallows. Regular-sized marshmallows would be too big but white mini-marshmallows would work but it would not look as pretty as the multicolored ones.
2. Be careful not to fold in the marshmallows when the melted chocolate is too hot. It would, obviously, melt the marshmallows.
3. You can substitute crushed peanuts for the coconut. Or maybe use crushed oreos or cornflakes for some crunch.