Having spent so many Christmases away from home, I should no longer be vulnerable to fits of nostalgia by now.  But, alas, I just cannot help but miss home whenever Christmas comes.  I am a sentimental kind of guy and my sappiness just gets multiplied a thousandfold during the holidays.
I must say though that I am not as homesick as I was twelve years ago when shortly after a quick quarter in school I packed my bags and rushed back to Manila to spend Christmas break with my family.    Things have improved — greatly improved, in fact.  But as soon as the Indian summer starts to fade and the leaves start to fall, I start to reminisce about Christmases past.  Freshly roasted chestnuts in brown paper bags.  Bibingka nestled in banana leaves.  Fruit cakes wrapped in crackling cellophane.  Jamón and queso de bola.  Piping hot chocolate.  All these deliciousness in the middle of all the craziness of shopping and exchanging presents.
My connection with my family has sadly changed through the years.  It has been reduced to weekly twenty-minute phone calls with my mom and two-week visits every other year.  Folks get older.  Kids grow up.  Birthdays, weddings, anniversaries, and milestones get celebrated.  Years fly by.  I know fully well that I signed up for this when I decided to live thousands of miles away but I always get reminded by this sad fact during the holidays.  I have my own life now.  My own family.  But wouldn't it be great if I could share it with my family beyond hurried phone calls or crammed visits?  Wouldn't it be great if I could enjoy the holidays with my family without the pressure of lost connections and mounted expectations? Yes, it would be great, indeed. But would it be ever possible?
I don't mean to be overly sentimental.  I blame it on the rain and on the bibingka baking in the oven.  When I think of Christmas I think of the beloved bibingka — rice cakes in banana leaves baked traditionally in clay ovens over and under hot coals.  The cakes are moist and mildly sweet and the sliced salted eggs on top and the grated coconut with sugar give them a distinctly delightful flavor and texture.  In this recipe, I use tart pans and ramekins lined with banana leaves.  From the rice flour to the salted eggs, all the ingredients for these gluten-free rice cakes are readily available in most Asian grocery stores.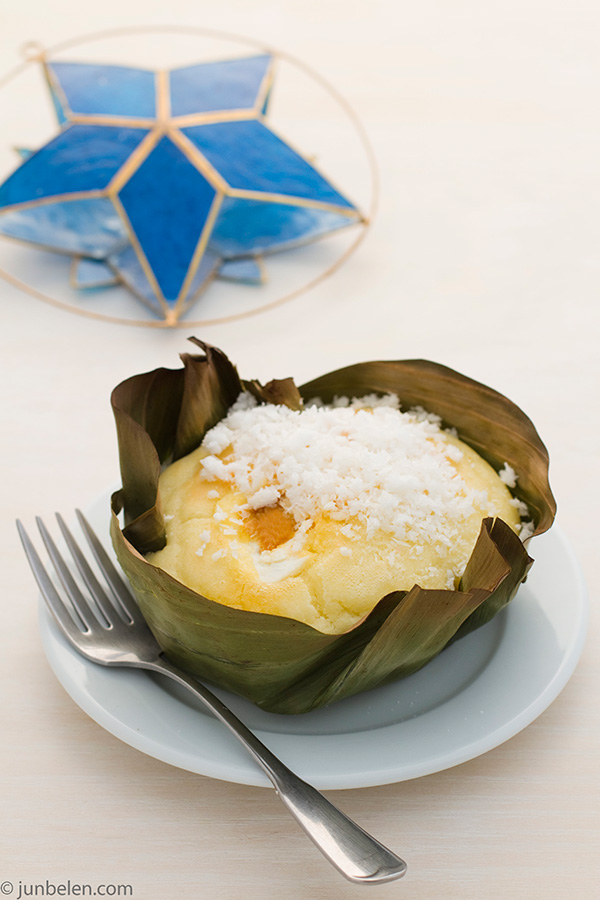 Bibingka Recipe, makes four 6-inch cakes
2 cups rice flour
1/2 cup glutinous rice flour
1 tablespoon baking powder
1 teaspoon salt
3 eggs
3/4 cup sugar, more for sprinkling on top of the cakes
1-1/2 cup coconut milk
1/3 cup butter, melted, and more for brushing cakes
4 pieces banana leaves cut into 8-inch circles
1 salted egg, sliced into 1/4-inch-thick slices
2 tablespoons grated coconut (optional)
2 tablespoons grated Edam or cheddar cheese (optional)
Preheat oven to 350 degrees F.
Line four tart pans or ramekins with banana leaves.
Whisk together rice flour, glutinous rice flour, baking powder, and salt in a bowl. 
Beat eggs in a bowl. Add sugar and beat well. Add butter. Alternate adding flour and coconut milk. Beat until just blended. Do not overbeat the batter.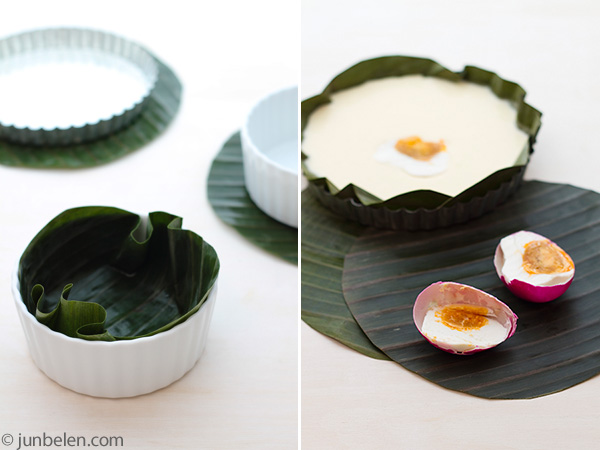 Divide the batter equally into the four pans.  Lay slices of salted egg on top and set the cakes on the top rack of the oven. Bake until the cake is cooked through,  20 to 25 minutes.  Turn the broiler to low and broil the cakes to brown the top for about a few minutes. Watch cakes carefully to keep them from burning.
Brush the cakes with butter and sprinkle with sugar, grated coconut, and grated cheese. Serve warm. 
Cooking notes:
1.  For the rice and glutinous rice flour, I recommend using the Thai brand commonly found in most Asian grocery stores.
2.  Use either tart pans or ramekins lined with banana leaves cut into circles.  The cakes baked in 6-inch pans more closely resemble the traditional ones.  The cakes baked in 4-inch ramekins are thicker and take longer to bake.
3.  Instead of a sliced salted egg, the cakes can be topped with slices of Edam or Gouda cheese.
4.  When using frozen grated coconut let the grated coconut thaw then place the thawed coconut on paper towels to soak up the extra moisture.  Place them on a baking tray and lightly toast them for about a few minutes with the broiler turned on low.  Use grated coconut and NOT grated young coconut.