It was a chilly Saturday morning. The steam billowing out of my hand-me-down rice cooker kept my cold, clammy hands warm. The rice was cooking while the pork was simmering slowly in a delicious vinegar bath teeming with garlic and black peppercorns.
It would be another thirty minutes or so before my pork adobo would be ready.   There was plenty of time to start another load of laundry and make my bed upstairs.  Instead, I decided to put them off and enjoy some quiet time in the kitchen.  The past couple of weekends had been terribly taxing because of the flurry of barbecues and welcome dinners.  A lazy, slow Saturday would be perfect, I thought.  I stood by the kitchen window with a fresh cup of coffee and gazed intently at the squirrels frolicking outside.   I watched them scurry up and down the pine tree in our front yard, which I found immensely entertaining.  I had never seen squirrels before. Not in Manila.
I lived in an old on-campus apartment that I shared with two Midwesterners.  Jeremy, who grew up in Ohio, was an Engineering graduate student like myself and James was from Chicago and was a Biology major.  We called ourselves the three J's.  Both of them had never met, let alone lived with a Filipino before, and had never been outside America's heartland at all, which struck me as very odd.  I wasn't a globe-trotting traveler by any means but I had visited Jakarta and Hong Kong, and found those trips truly fascinating.  But the most fascinating trip of them all was my move to California to attend graduate school at Stanford.  It was, by far, the biggest trip I had taken. The biggest change I had made in my life.
That was twelve years ago.  I can't believe it has been that long. I finished school, got a job, went back to school, got another degree.  I lost my father. I fell in love, rescued a corgi and moved to San Francisco.  I got my green card, finally!  I switched careers, not once but twice.  A lot has happened in the last twelve years but I can still remember that Saturday morning in my kitchen perfectly well.  I remember how much I missed home.  Terribly missed home.  I remember how much I worried about making friends and starting over.  About living with my two American housemates.
And I can still remember how much that plate of pork adobo, steamed rice, and sliced tomatoes splashed with fish sauce tasted so amazingly good.  I remember how it instantly transported me back home, even for just a fleeting moment. How it reassured me that everything was going to be just fine.
Food nourishes and gives comfort, whenever you need it most. It reassures. It encourages.  I made my mom's pork adobo the other day, the same, exact way I made it that Saturday morning twelve years ago. I marinated the pork in vinegar, salt, pepper and plenty of garlic.  I simmered it slowly.  I poured it on top of a generous heap of steamed rice.  I shared it with Dennis while Stanford nosed around.
Everything will work out, I reminded myself. It always does.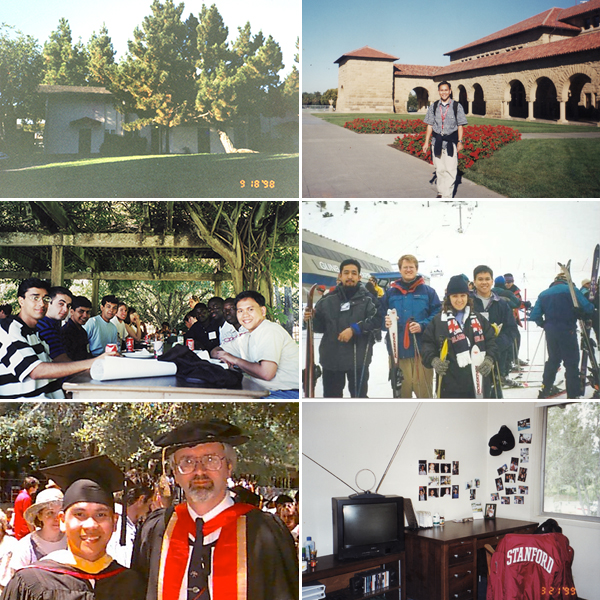 Pork Adobo Recipe
1 lb pork shoulder or pork butt
1 lb pork belly
1/2 cup vinegar
6 cloves garlic, crushed
2 bay leaves
1 tablespoon coarse sea salt
12 whole black peppercorns
Cut the pork into 1 to 2-inch cubes. In a large bowl, combine pork, vinegar, garlic, bay leaves, sea salt and peppercorns. Cover with plastic wrap and let the pork marinate in the refrigerator overnight.
Transfer pork and marinade to a medium pot and bring to a boil. Reduce heat to medium-low and simmer covered until pork is cooked and tender, about 45 minutes to an hour. Remove the cover and continue to cook until the sauce is thickened.
Cooking notes
1. I almost always use cane vinegar when making pork adobo. Datu Puti is a reliable brand available in most Asian stores. Rice vinegar or cider vinegar works, too.
2. They say authentic Filipino adobo does not have soy sauce. Pork, chicken, or beef is marinated in vinegar, garlic, bay leaves, salt, and peppercorns. But there are so many ways of making adobo, as many as the islands of the archipelago. Some add soy sauce. Others add coconut milk. Some use cane vinegar. Others use cider vinegar. All are equally good.