My head was stuck in indecision. I straddled the fence as I melted the drops of dark chocolate in the hot metal bowl.  Should I ladle the hot chocolate rice porridge into bowls as soon as the rice is done? Or should I wait and let the porridge chill in the fridge until it gels into a sweet rice pudding?  Difficult decisions.
I grew up enjoying steaming hot champorado for breakfast.  My mom would make them when the temperature dipped a little, right around the Holidays and after the New Year, before the start of the long scorching hot spell of summer.  She would serve them with buttered pan de sal and fried salted herring.  The intensely salty fried fish beautifully complements the richly sweet rice porridge.  But I grew up enjoying chilled champorado, too.  Chilled chocolate rice porridge drowned in evaporated milk was a favorite after-school snack.  The milk dilutes the thick porridge and delightfully transforms it into a milky chocolate treat.
And so, I found myself terribly indecisive once more when I made champorado last weekend.  It was a cold Winter day.  The sun was out but it remained chilly.  Piping hot champorado would be perfect for breakfast, I thought.  But, instead, I practiced a little patience and, in turn, got myself rewarded with my favorite milky chocolate childhood treat.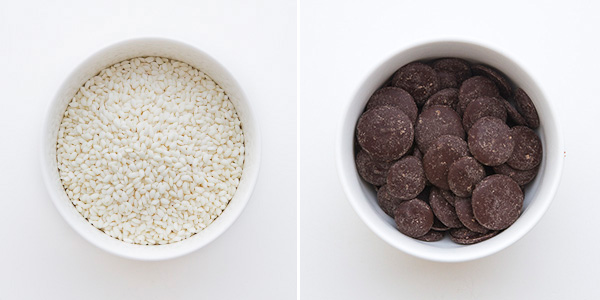 Making Champorado Recipe, makes six servings

1 cup sweet sticky or glutinous rice, rinsed and drained
5 cups water
6 ounces dark semisweet chocolate, preferably 60% cocoa
1/3 cup sugar
1 can evaporated milk, or a cup of whole or low-fat milk
Melt the chocolate in a double boiler or in a metal bowl set on top of a pot of simmering water.
Meanwhile, bring rice and water to a boil in a medium saucepan over high heat. Reduce the heat to medium-to-low and let the rice simmer gently.   After 15 minutes, add melted chocolate and sugar and whisk vigorously until everything is thoroughly combined.  Let the rice simmer for a while longer until it is cooked, another five minutes or so.
Serve either hot or chilled with a generous drizzle of milk.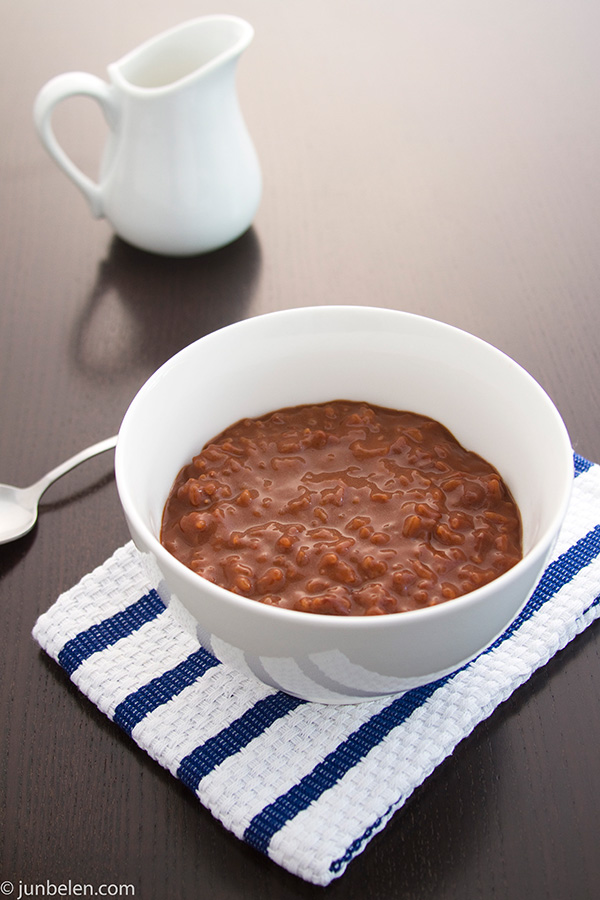 Cooking Notes:
1. In this recipe, I veer away from tradition and use dark chocolate instead of the round blocks of Filipino cocoa called tablea. I suggest using chocolate with 60% cocoa.
2. Cocoa powder can be used instead of chocolate. Use 1/2 cup cocoa powder for every cup of sticky rice. For the more traditional champorado made from tablea, use about eight chocolate tablets for every cup of sticky rice. Crush the tablets in a mortar and pestle and whisk the powdered chocolate in the simmering rice as you would the melted chocolate.
3. Whole or low-fat milk can be used instead of evaporated milk.
4. The porridge is fairly thick, just the way I like it, but it can be made thinner by adding a cup or two more of water when cooking the rice.
5. The chocolate rice porridge will keep in the refrigerator for up to a week. The sticky rice will, however, soak up most of the water and thicken when chilled.  Add water or milk and reheat on the stove or enjoy them chilled with a generous helping of milk.