As I was making corned beef hash the other day, I wistfully realized that I would have to drive over 12 miles outside the city, toward the coast, to the city of Pacifica if I wanted fresh-out-of-the-oven hot pan de sal to go with my corned beef.  I suddenly missed home.
Pan de sal is the classic Filipino bread.    It is actually not Spanish in origin, but Portuguese.  Pan de sal means salted bread but it is actually sweeter than it is salty.  It is traditionally served as a breakfast roll — buttered and dipped in coffee — but it has made its way to the dinner table.  Savory pan de sal sandwiches always hit the spot: corned beef, fried spam, fried egg, fried tocino, or mini-pizza with sweet spaghetti sauce.  Or it can be a sweet treat: butter with sugar, sweetened condensed milk, peanut butter with jelly, strawberry jam, mango jam, coconut jam, ube jam, or homemade ice cream sandwiches.  Buttered pan de sal also goes well with a hot bowl of champorado.  The possibilities are endless.
A key thing to remember when making pan de sal is patience.  Be patient, let the bread rise, and you will be rewarded with light and fluffy rolls.
Pan de Sal Recipe
Recipe adapted from Kulinarya: a Guidebook to Philippine Cuisine, makes 30 to 40 rolls
Activating the yeast
1 package active or instant yeast, about 2-1/4 teaspoon
1/4 cup warm water
1 teaspoon sugar
Dissolve yeast in warm water with a temperature anywhere between 100 and 110 degrees F. To proof yeast, add sugar and let stand for 10 minutes. If the mixture doubles in volume then yeast is active.
It is very important to make sure that yeast is active.  Water that is too hot kills the yeast so make sure that the water temperature is around 100 to 110 degrees F.
Making the dough
5-1/2 cups (750 grams) bread flour, more for dusting
1/2 cup (100 grams) sugar
1-1/2 cups warm water
1 teaspoon salt
1/2 cup (90 grams) shortening
canola oil for greasing a large bowl
1 cup breadcrumbs
Combine flour, sugar, warm water, salt, and shortening in a large bowl and mix until well combined. Add yeast. If the mixture is too wet, add more flour and mix until well combined.
On a clean surface dusted with flour, knead the mixture into a smooth elastic dough, for about 10 minutes. To test the dough if it's ready, pinch a piece and stretch it into a square. The dough is ready if it's elastic enough to be stretched into a translucent sheet of dough. If it tears continue kneading. The dough can be kneaded by hand or in a mixer fitted with a dough hook.
Grease a large bowl with canola oil. Place the dough in the bowl, cover the bowl with plastic wrap and let the dough rise to about twice its size.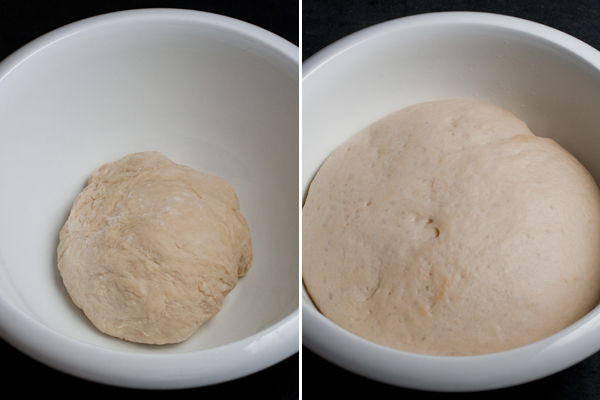 Punch the dough, knead again to redistribute the yeast, and divide the dough into two pieces. Roll each piece of dough into a rectangular sheet and then roll the sheet into a log, about 20 inches long and 2 inches in diameter. Let the dough rest for an hour.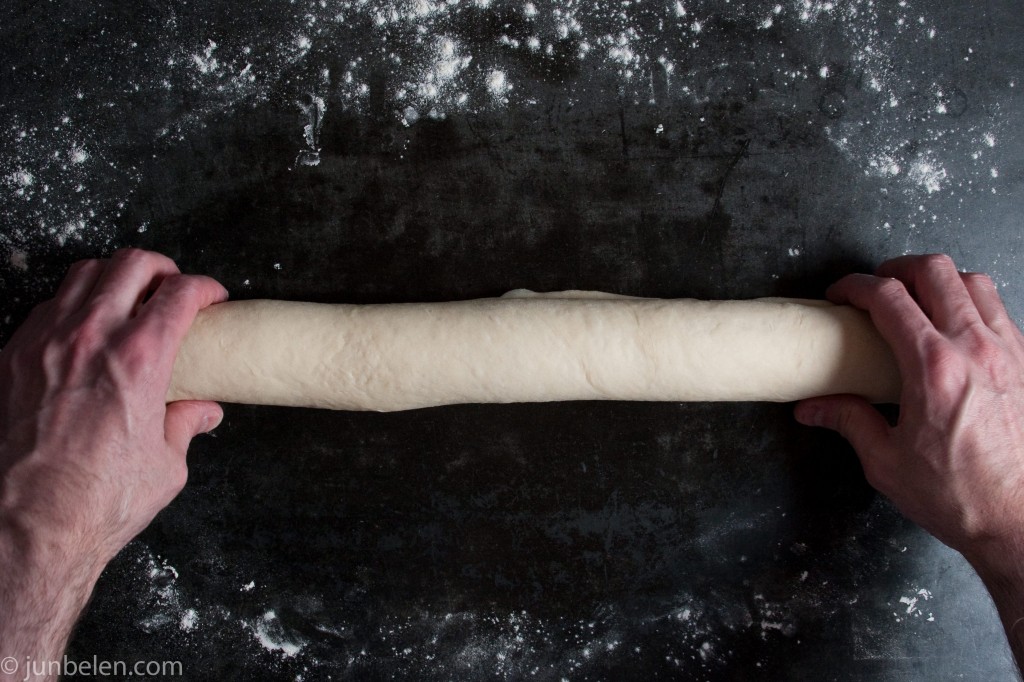 Using a dough cutter or a flat knife, cut the log into 1-inch thick pieces. Roll each piece in breadcrumbs, place on a baking tray with the cut side up. Make sure there is enough space, about two inches, between pieces. Sprinkle dough with more breadcrumbs and let the dough rest for one more hour before baking. Meanwhile, preheat the oven to 350 degrees F.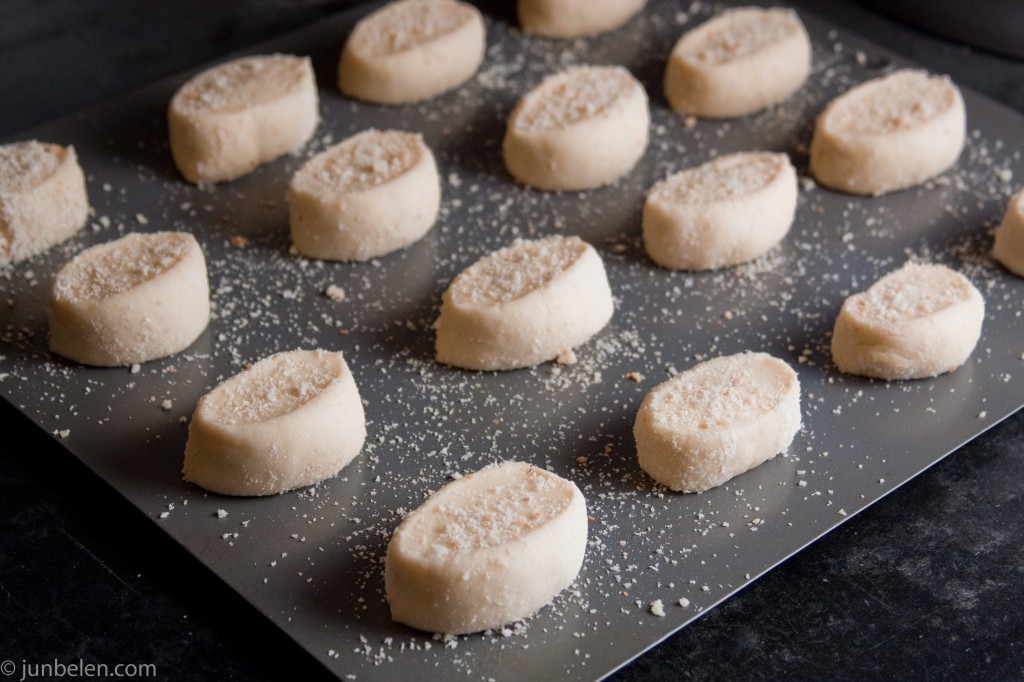 Bake the bread for 20 minutes or until the pan de sal becomes lightly toasted. Pan de sal is best enjoyed straight from the oven but these rolls freeze really well. Place rolls in a freezer bag and store in the freezer for up to a month. To reheat them, toss frozen rolls in the microwave or toaster oven.