"Why is it sweet?" Dennis asked with a puzzled look in his eyes.  "And why is there hot dog in the sauce?"
It was his first plate of Filipino-style spaghetti and I couldn't tell right off the bat if he liked it or not. He didn't give a look of curious fascination nor a look of what-on-earth-are-you-feeding-me either, like when he tried halo-halo for the first time. He got a kick out of mixing everything together into one big delicious hodgepodge of sweets but he tediously picked the sweet adzuki and kidney beans out of the bowl because he thought they tasted a bit strange. Dennis is no picky eater. In fact, his adventurous palate is one the many things I love about him.
"So why did you think it tasted strange? " I curiously asked. "I guess, I grew up enjoying beans in bowls of savory chili and never sweetened in sugar," he replied.
He picked up his fork, took another bite from his plate of sweet spaghetti, and furrowed his brow once more.  I always get that furrowed brow whenever I introduce Filipino-style spaghetti to anyone who has never tried it. It has a tomato-based meat sauce, like the Italian Bolognese and the American-style spaghetti sauce, but the Filipino version is sweetened with banana ketchup — the infamous Filipino ketchup made with mashed bananas, sugar, vinegar and spices.  To make it even more uniquely Filipino, the sauce is lavished with slices of hot dog.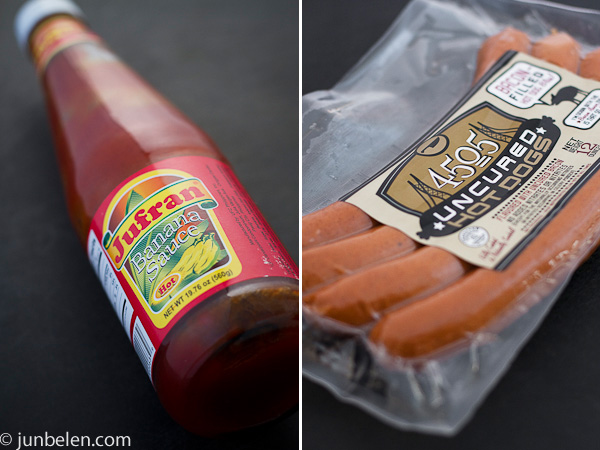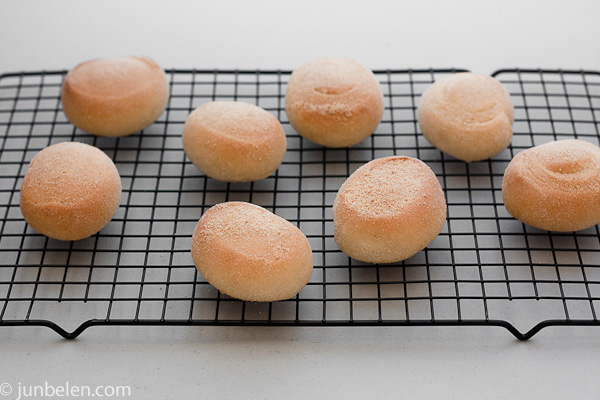 The sweet spaghetti sauce is typically ladled over noodles but I've always loved how my mom mixes everything together — noodles, spaghetti sauce and lots of grated cheddar cheese — in her kawali, a big pan. She would serve her spaghetti with freshly baked pan de sal that she buttered with no restraint. And for leftovers, my mom would always make pan de sal pizza — a treat that's always a hit with her grandkids. She would spread the sweet spaghetti sauce on sliced rolls, top them with grated cheese, and toast them for a few minutes in her tiny toaster oven until the cheese melts and bubbles.
"I think the sweetness is growing on me," Dennis said the other day when I made pan de sal pizza. "It reminds me a lot about Sloppy Joe." Sometimes, all it takes is to make something that seems foreign a little more familiar.
Making Filipino-Style Spaghetti Sauce, makes six servings of spaghetti or 12 servings of pan de sal pizza
1 to 2 cloves garlic, finely chopped
1 small onion, finely chopped, about 1/3 cup
1 tablespoon canola oil
1/2 lb ground 85% lean grass-fed beef
1/2 lb ground pork
1 15-ounce can tomato sauce
1/2 cup water
1/2 cup banana ketchup
2 tablespoons brown sugar
salt and freshly ground black pepper
1/2 lb hot dog, thinly sliced
parmesan cheese, grated
parsley, finely chopped
1 lb spaghetti or 12 pieces of pan de sal
Sauté garlic and onions in oil in a large pan over medium to high heat. Brown the beef in the pan then add the tomato sauce, water, banana ketchup and brown sugar. Let the sauce simmer over medium to low heat until it thickens, 10 to 15 minutes. Add the hotdog slices and continue to cook until they are heated through.
Ladle over spaghetti noodles or spread over sliced pan de sal. Garnish with lots of grated parmesan cheese and chopped parsley.
Cooking Notes:
1. My mom likes to mix ground beef and pork in making her spaghetti sauce but you can cook with either one. She also likes to add slices of ham and bacon.
2. Adjust the sweetness of the sauce to your liking by using more or less brown sugar.
3. You can find banana ketchup in most Asian grocery stores in the Filipino aisle. Jufran is my brand of choice.
4. 4505 Meats has the tastiest hot dogs in the city. If you live in the Bay Area and you haven't tried Ryan Farr's zilla-style hot dog with chicharrones at the Ferry Plaza Farmers' Market then you're clearly missing out.