The plane touched down and the entire cabin broke into thunderous applause. The group of balikbayan nurses in the last row cheered "Merry Christmas!" while the lady seated next to me teared up and gestured the Sign of the Cross. As we taxied to the gate, I gazed at the dawn sky breaking outside. Festive lanterns and lights were still blinking frenziedly throughout the city that was beginning to wake up.
I couldn't believe I was back in Manila. Not too long ago, I was at the same airport, on a crowded China Airlines flight bound for Taipei then California. "You're on your own now," my mom said as she tried to hold back her tears in a bittersweet sendoff. "Take good care of yourself and always remember that we love you." I told her and my dad how much I love them and promised to give them a call once I land in Los Angeles. "I will see you in two years," I said as I bade them farewell.
But it didn't take two years before I returned. I was back after only four short months. Four short months that seemed like forever. It wasn't about graduate school. I breezed through my first quarter effortlessly with gleaming A's. It was starting over on my own that proved far too difficult. My plan was to save as much money as I could and to return home after graduation. But after spending my first Thanksgiving in California I was wrought with homesickness and I was determined to ditch the plan. I couldn't face the thought of spending Christmas alone. At least, not just yet.
I spent the next couple of weeks madly scouring through travel agencies for the most inexpensive ticket to Manila. Sadly, nothing fit my miniscule budget. I was even willing to fly as an air courier in exchange for a cheap ticket. I was ready to quit until I met Linda. She worked for a travel agency in the city that I chanced upon in a local paper. She was a Filipino mother of three who juggled booking flights to the Philippines with two other jobs, one in Macy's selling linens and the other in a law firm downtown greeting guests and running errands. "Living here is tough," she said. "A single job isn't enough. I hardly have time to be with my kids." She confided in me like we were long-lost friends.
Linda had to place me on a wait list because all the flights to Manila were overbooked.  She promised to call as soon as something came up, even something beyond my budget. I waited for the phone to ring.  Everyday, I waited for the call. By a stroke of luck, a window seat in an Asiana flight bound for Manila the day after the last day of fall quarter opened.  Eight hundred and ninety three dollars plus some change.  The fortuitous plane ticket cost me a fortune but it was the best Christmas present ever.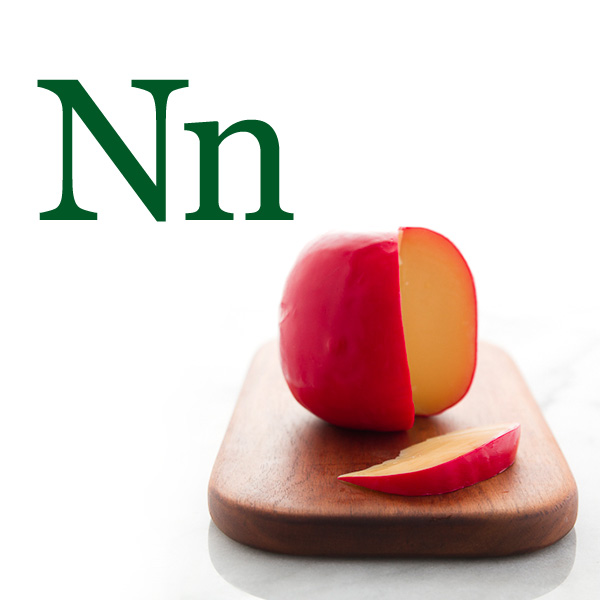 "Merry Christmas," the man in the counter greeted me as he stamped my passport. "Welcome back home."
"Merry Christmas to you, too," I said. I reveled in another inked mark in my passport to add to my collection.
The terminal was bustling with repatriates and their boxes heavy with pasalubong. I barely had the time to shop but still managed to pack a few bottles of Oil of Olay for my mom, a pack of Marlboro for my dad, and boxes of See's candies for the kids. I spotted my balikbayan box on the snail-paced carousel surprisingly quickly and was relieved it arrived in one piece.
As I inched my way to meet my family waiting outside, thoughts of Christmases past lingered in my mind. I remembered the time when I was little and I handed out bags of cotton balls and bottles of astringent as presents for my sisters. I remembered the time when my youngest sister got married and my dad, my mom, and I spent a quiet Noche Buena together, the first time with just the three of us.
I remembered shopping for bargains in Divisoria and burning paychecks in midnight markets. I remembered the relentless carolers. Our fake Christmas tree.  The paról my brother-in-law made.  Simbang Gabi and Noche Buena. Rice cakes in toasted banana leaves. Fruitcakes in cellophane. Red delicious apples in cardboard crates.  Suman and tsokolate. Jamón and queso de bola.
"Jun, we're over here!" My sister waved and hollered loudly from across the sea of well-wishers. Next to her was my mom grinning from ear to ear and behind her was my dad wearing his favorite baseball cap.
The long journey was finally over. I was happy to be home.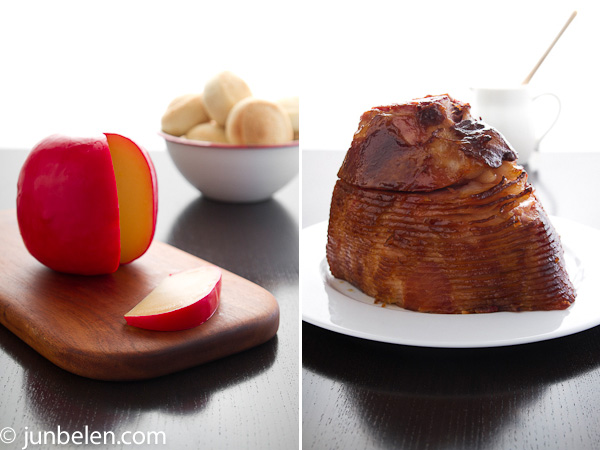 Pineapple, Brown Sugar, and Star Anise Glaze Recipe
1 cup pineapple juice
3/4 cup brown sugar
1 to 2 pieces star anise
Combine pineapple juice, brown sugar, and star anise in a saucepan and bring to a boil. Simmer until reduced in half.  The glaze will thicken as it cools. Brush ham generously with the pineapple glaze near the end of cooking it.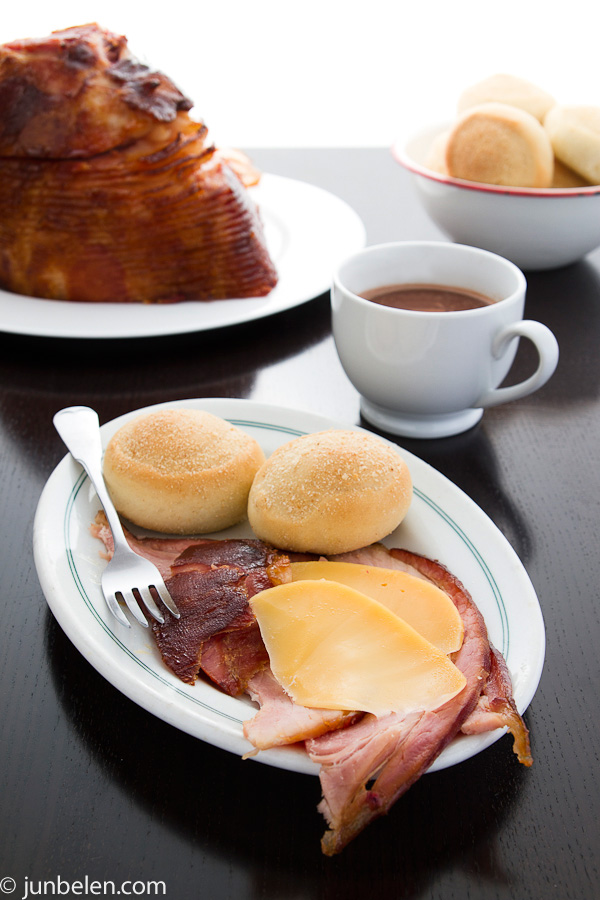 Noche Buena is the Filipino feast on Christmas Eve. After the traditional Misa de Gallo, my family shares a simple meal together. The menu changes from year to year but there will always be jamón and queso de bola with pan de sal and hot cocoa. The following morning, on Christmas day, my mom and my sisters cook an even bigger feast for Christmas lunch when my extended family gathers together to eat and exchange presents. Nothing compares to a Filipino Christmas. It's all about family, friends, traditions, and good food.
When I think of Christmas I think of the beloved bibingka — rice cakes in banana leaves baked traditionally in clay ovens over hot coals. The cakes are moist and mildly sweet and the sliced salted eggs on top and the grated coconut with sugar give them a distinctly delightful flavor and texture. In this recipe, I use tart pans and ramekins lined with banana leaves. From the rice flour to the salted eggs, all the ingredients for these gluten-free rice cakes are readily available in most Asian grocery stores.  And by the way, this recipe was recently featured in the San Francisco Chronicle.
The biggest challenge in making homemade pan de sal is making it light and fluffy and not at all dense. The trick is to make sure that yeast is active and dough is kneaded well. A key thing to remember when making pan de sal is patience. Be patient, let the bread rise, and you will be rewarded with light and fluffy rolls.
My mom's recipe uses a dozen egg yolks. Everyone does flan differently. Using only yolks gives a denser and richer flan similar to tocino del cielo, another classic dessert. Adding whites makes the flan lighter. My mom uses both evaporated and condensed milk but whole milk can be used as well.
Fruit Salad with Creme Fraiche Recipe
I remember so many birthdays and Christmases spent enjoying bowl after bowl of my mom's creamy fruit salad — a wonderful hodgepodge of canned fruit cocktail, thick strands of fresh young coconut, and chewy cubes of sweet nata de coco dressed with cream and condensed milk. She would drain the thick, heavy syrup, which I obligingly drank, and would mix the peaches, pears, maraschino cherries, and nata de coco with freshly shredded young coconut she bought from the farmers' market. She would add table cream and sweet condensed milk, mix everything together, and chill before serving. It was delicious.
Learn the alphabet of Filipino food through our glossary. So much is lost in translation, I know, but I hope this glossary will help those unfamiliar with Filipino food become more informed.
A is for Achuete
B is for Barako Coffee
C is for Camarón
D is for Dinuguan
E is for Ensaimada
F is for Fish Balls
G is for Gata
H is for Himagas
I is for Itlog na Maalat
J is for Jackfruit
K is for Kamayan
L is for Longganisa
M is for Mani
N is for Noche Buena