The tiny seeds, wrinkled and stripped off any trace of moisture, bled beautifully into the thick pool of oil. The color isn't red. It's orange. It's deep, very deep, bloody orange. It's quite remarkable how the seeds from a fruit that looks so otherworldly because of the stiff hairs that completely cover its skin can be used to color and flavor food. The brilliant achuete isn't originally Filipino. Annatto or achiote is from South America. Thanks to the Galleon Trade between Manila and Acapulco hundreds of years ago, the ships that bravely sailed across the Pacific introduced the natural food dye to the Filipino pantry and made it even more colorfully diverse.
As soon as the achuete seeds and garlic cloves started to sizzle in the hot oil, I took the pan off the heat and let the color bleed for a while longer. As the deep orange hue and and peppery flavors steeped, I happily dreamed of sotanghon soup and kare-kare — a stew of oxtail and tripe with ground rice and peanuts, vibrantly colored with achuete. Besa and Dorotan's versatile achuete oil works incredibly well in sautés, soups and stews as well as grills and roasts. Use achuete oil in place of vegetable oil whenever you need a warm burst of orange color. The oil, when refrigerated, will keep for up to two weeks.
A is for achuete is the first in a series of posts about Filipino food words. So much is lost in translation, I know, but I hope this glossary will help those unfamiliar with Filipino food become more informed.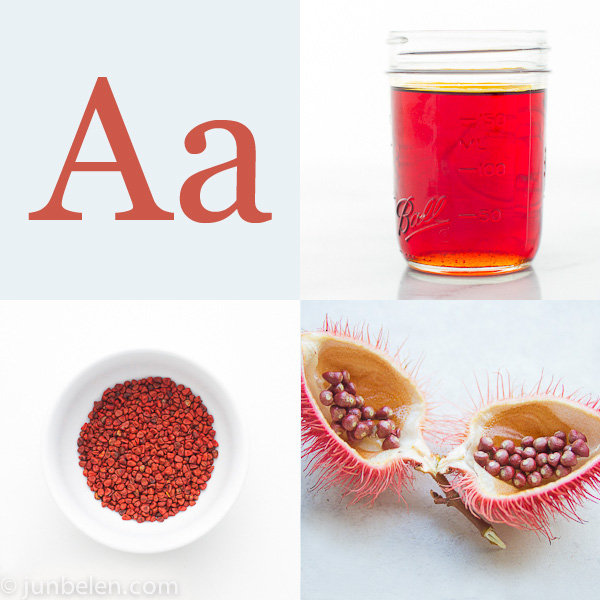 Achuete Oil Recipe
Recipe by Amy Besa and Romy Dorotan from Memories of Philippine Kitchens
2 cups vegetable oil
1/2 cup achuete seeds
6 whole garlic cloves
2 bay leaves
2 ancho chilies, crushed, stemmed and seeded
Warm the oil and the remaining ingredients over medium heat. When it begins to bubble, turn off the heat and allow the mixture to steep for at least 1 hour or up to 2 hours. Strain the oil through a fine mesh strainer and let cool. Store in an airtight container and refrigerate.