I am torn.  I cannot quite figure out why I fancy this piece of grilled chicken so much.  Mind you, it isn't just any grilled chicken.  It is chicken inasal [ih-nah-sal], Amy Besa and Romy Dorotan's version of the iconic Ilonggo dish from the islands of the Visayas. Inasal is skewered chicken — breast with wing or leg with thigh — grilled over hot coals, marinated and basted with achuete oil, and served with chili-spiked vinegar.
Is it its color?  The appetizing orange hue of its beautifully blistered skin.  The nearly ruddy glow that only a lavish basting of fragrant achuete oil can give.
Or its taste? The lush layers of citrus, vinegar, lemongrass, garlic, and ginger that meld in my mouth with every voracious bite of the bird's moist meat.
Or the memories of college life back home?  Wild jeepney rides along the tree-lined oval that circled the campus.  Solitary strolls and afternoon naps at the sunken garden.  Lunches with friends at the infamous Shopping Center, which everyone fondly called S.C. for short.
I remember the hole-in-the-wall next to the bookstore and their fresh-off-the-grill chicken inasal served with rice on banana-leaf-lined plastic plates.  And, of course, how can I forget the bounty of street food waiting outside. Green mango, the kind that makes you pucker in utter delight, sliced, skewered, and dipped in salty shrimp paste. Fishballs swimming in hot oil. Chicken feet grilling over hot coals. Saba bananas rolled in lumpia wrapper, covered with sugar, and deep fried to a golden crisp. A whole lot of good eats for not a whole lot of money.
Or the memories of Rowena, my very good friend from Bacolod? I remember the first time I met her when Jasmine, another very dear friend, introduced us at the steps by the Engineering lobby. She was timid but very sweet and her smile was infectious. Rowena takes her inasal seriously. Very seriously. You definitely have to visit my hometown in Bacolod someday if you want to taste the best inasal — the real inasal! Her voice was emphatic and her case convincing. She told me about the nuances in flavor and ingredients, which differed from town to town and from household to household. Inasal in Manila or anywhere else is nothing compared to the grilled chicken back home. I was sold.
If only I could jump on a plane and fly to Bacolod, it would be great to see Rowena again and catch up. So much has happened since the last time we saw each other. It was graduation, on a humid April day many years ago. So much has changed. I left for California while she returned to Bacolod. But, for now, I would have to settle for memories of our simple lives back then and a plate of my own chicken inasal to remember those sweet memories by.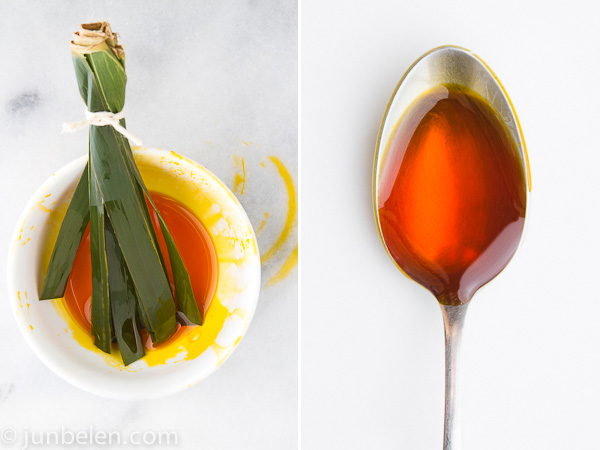 Chicken Inasal Recipe
Recipe by Amy Besa and Romy Dorotan from Memories of Philippine Kitchens, serves six to eight
1/4 cup achuete oil
3 garlic cloves, finely chopped
1 stalk lemongrass, trimmed and finely chopped
3 tablespoons freshly squeezed calamansi or lime juice
2 tablespoons red wine, cane, or cider vinegar
1 tablespoon sugar
2 teaspoon salt
1 teaspoon finely chopped fresh ginger
1/4 teaspoon freshly ground black pepper
1 3-1/2 pound chicken, cut into pieces
In a large nonreactive bowl, combine all the marinade ingredients. Add the chicken pieces, cover tightly with plastic wrap, and refrigerate for at least 2 hours or overnight.
Chicken inasal is best grilled but can also be roasted in the oven. When roasting, preheat the oven to 375 degrees F. Transfer the chicken to a foil-lined baking sheet, reserving the marinade. Roast the chicken, basting occasionally with the reserved marinade, until the chicken is cooked through, about 45 minutes.