Queso [keh-soh] is cheese in Spanish. It's the same word in Filipino but spelled phonetically. Keso is one of many Filipino words derived from Spanish like lamesa for table and plato for dish. The Filipino word for fork is tinidor from the Spanish tenedor, and for spoon, it's kutsara from cuchara.  I still tell time in Spanish every now and then. That was how I first learned how to do it.  A las tres y media is half past three, which meant it's my favorite time of the day — merienda, another Filipino word borrowed from the Spaniards.
When I was little I wasn't particularly fond of cheese.  I ate it but didn't crave it. I never turned down rice cakes topped with slices of queso de bola or the soft and creamy kesong puti, the Filipino queso fresco made with carabao's milk, but I never really cared for the cheese itself. I think it's the tartness of kesong puti that I didn't fancy. It was too sour for my palate that was heavily skewed toward sugar and salt.
I also wasn't a big fan of cheddar. The kind that came processed and wrapped in a foil inside a box — the only kind I grew up with! I wasn't fond of cheese pimiento, too. My mom even bribed me with cheese sandwiches made with crustless white bread decked out with pastel pink and green swirls, which I found pretty to look at but sadly not at all appetizing. I'd rather have my oven-fresh pan de sal slathered with butter and sugar. Or with Lily's peanut butter, if you twist my arm.
There was, however, one exception to my cheese rule: queso ice cream.
Cheddar cheese ice cream on a hot summer day is pure, simple joy. Heck, even if it is cold and miserable outside I wouldn't mind getting lost in the salty bits of cheese strewn all over. Queso ice cream makes me happy. The kind of happiness that's salty and sweet.
I love it when cheese ice cream is piled up high with scoops of very purple ube on top of a crunchy sugar cone. Or when it is sandwiched between hot, freshly baked pan de sal. I never forget to tear a piece of bread to try to soak in every ounce of precious melted ice cream on my plate.
¿Qué hora es? Anong oras na? Is it half past three yet?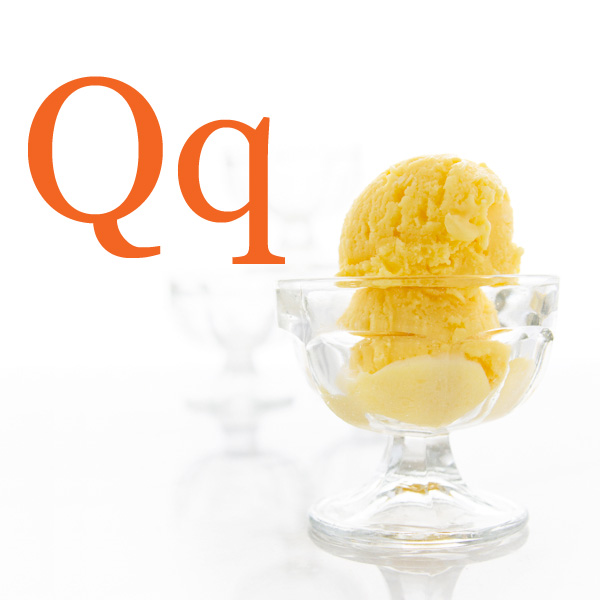 My homemade queso ice cream marks my foray into ice cream making at home. After three dozen eggs and a little help from a friend, a very talented Filipino pastry chef to boot, I finally got the flavor and texture right. It was so good that I am now very worried that I just unknowingly opened an entirely new Pandora's Box.
I see purple ice cream in my future.
Cheddar Cheese Ice Cream Recipe
Recipe based on David Lebovitz's Goat Cheese Ice Cream Recipe from his Perfect Scoop, makes about 3 cups
1-1/2 cups whole milk
2/3 cup sugar
6 large egg yolks
8 ounces mild cheddar cheese
Warm the milk and sugar in a medium saucepan over medium heat. While the milk is warming, grate the cheddar cheese into a medium bowl.
Whisk together the egg yolks in a separate medium bowl. Slowly pour the warm mixture into the egg yolks, whisking constantly, then scrape the warmed egg yolks back into the saucepan.
Stir the mixture constantly over medium to low heat with a heatproof spatula, scraping the bottom as you stir, until the mixture thickens and coats the spatula. Pour the custard through a strainer into a bowl. Add 3/4 of the grated cheese into the custard and stir until the cheese is melted and mixture is smooth.
Chill the mixture thoroughly in the refrigerator. Keep the remaining grated cheese cool in the refrigerator, too.
Once the mixture is chilled, fold the remaining grated cheese into the mixture then freeze it in your ice cream maker according to the manufacturer's instructions.
Serve cheese ice cream with peanut brittle.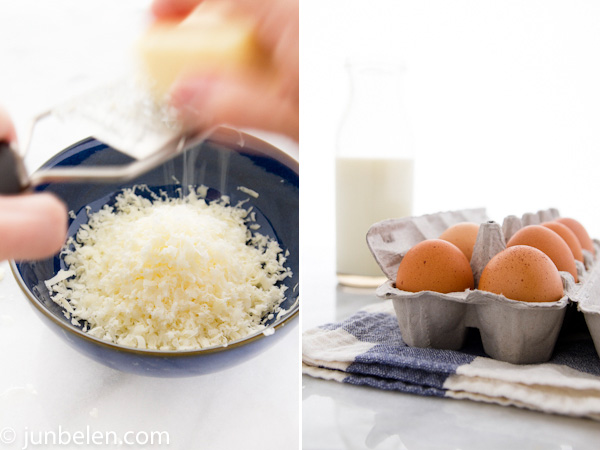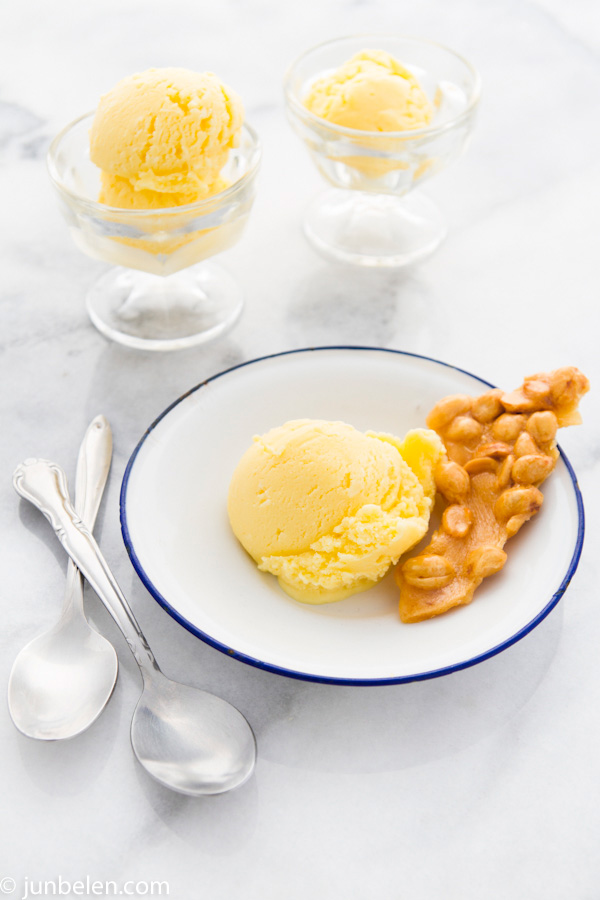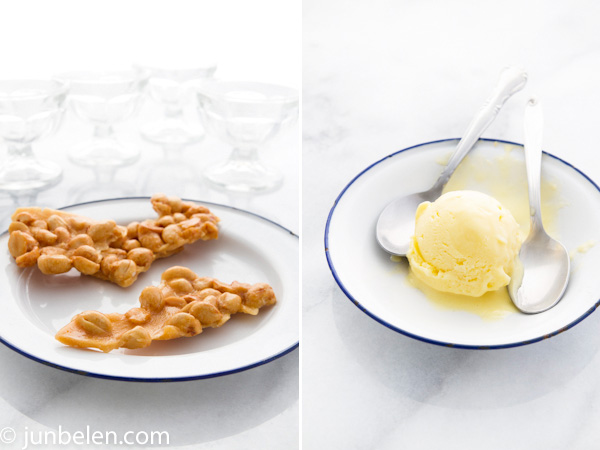 Peanut Brittle Recipe
Recipe from Elisabeth Prueitt and Chad Robertson's Tartine
3/4 cup plus 2 tablespoons sugar
1/4 cup water
1/3 cup light or dark corn syrup
3/4 teaspoon salt
1-1/2 cups raw peanuts
1 tablespoon unsalted butter
1/2 teaspoon vanilla extract
1/2 teaspoon baking soda
Line a baking sheet with aluminum foil and oil lightly, or line with a nonstick liner.
In a heavy, deep saucepan, combine the sugar, water, corn syrup, and salt over low heat. Stir with a wooden spoon until the sugar dissolves. Raise the heat to high, bring to a boil, and cook without stirring until the mixture registers 264 degrees F on a thermometer. This will take 5 to 8 minutes. Immediately add the peanuts to the syrup and stir constantly until the mixture registers 310 degrees F on the thermometer.
Remove from the heat and stir in the butter and vanilla until incorporated. Then add the baking soda and stir quickly, making sure you incorporate the baking soda evenly throughout the mixture. Pour the mixture onto the prepared baking sheet, spreading it with the back of an oiled spoon or offset spatula. Let cool just until you can handle it (it helps if you wear rubber gloves), and then pull from sides until the brittle has a shiny, "lacy" appearance. This incorporates air bubbles into the candy, making it more crisp. Let the candy cool completely.
Break the brittle into pieces. They will keep in an airtight container in a cool, dry place for up to 2 weeks.
Learn the alphabet of Filipino food through our glossary. So much is lost in translation, I know, but I hope this glossary will help those unfamiliar with Filipino food become more informed.
A is for Achuete
B is for Barako Coffee
C is for Camarón
D is for Dinuguan
E is for Ensaimada
F is for Fish Balls
G is for Gata
H is for Himagas
I is for Itlog na Maalat
J is for Jackfruit
K is for Kamayan
L is for Longganisa
M is for Mani
N is for Noche Buena
O is for Omelet
P is for Pancit Palabok
Q is for Queso