It feels like only yesterday when I was standing on the tips of my toes on a rocking kitchen stool, holding on to my mom's shoulders while craning my neck until I get a glimpse of the flour she's toasting in her deep kawali. The warmth of the flame. The clang of the spatula. The scent of flour browning. The scent of pinipig toasting. All these are so dearly familiar.
If I had a penny for every polvoron [pol-voh-ron] I've had since I was little I would be a rich man, I kid you not. It's the sweet grit that I love. It's the milky mouthful that I can never get enough of.
Polvoron comes from the Spanish polvo, which means powder. The dearly loved Filipino treat and popular pasalubong is a version of the Spanish polvoron, which is a crumbly shortbread made of flour, sugar, milk, and nuts. The Filipino polvoron is not baked but it is simply toasted flour mixed with powdered milk, sugar, and melted butter, then pressed into round, crumbly morsels. Filipino favorites like pinipig and cashew nuts are toasted and ground, then added to polvoron for another layer of flavor. Ube, queso, and cacao are popular variations, too.
It's been years since the last time I made polvoron with my mom but the pleasures of making them from scratch remain so vivid to this day. Toasting flour. Pounding pinipig. Melting butter. I remember pressing them into oval shapes using those one-of-a-kind, uniquely Filipino molds. Wrapping them in delicate papel de Japon, in shiny red, blue, yellow, and green cellophane. Wrapping them daintily and delicately, but only to unwrap them soon after to let them crumble in my fingers and let them melt in my mouth.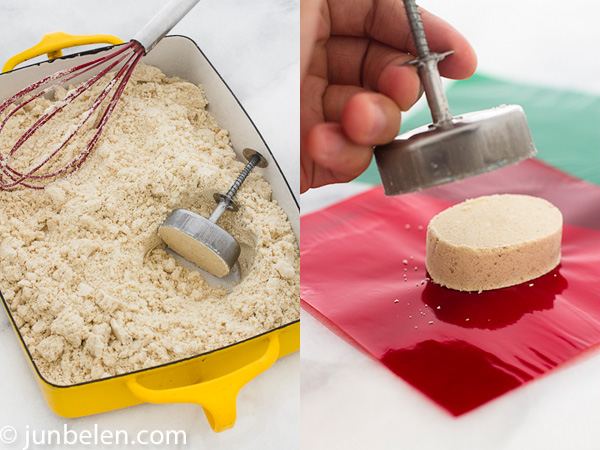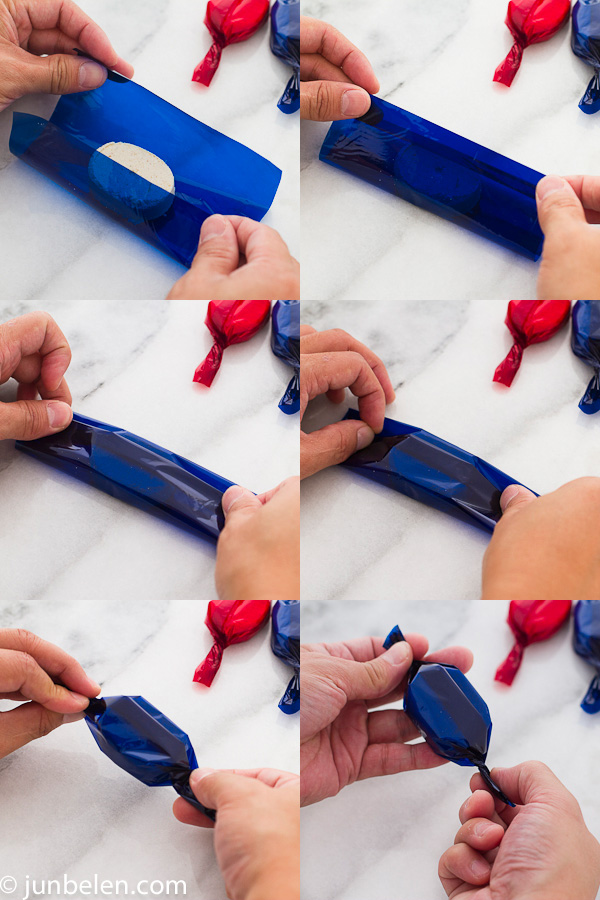 Pinipig Polvoron Recipe
Recipe adapted from The Maya Kitchen's The Complete Guide to Baking, makes 2 dozen polvoron
1/2 cup salted butter
1/2 cup pinipig
2 cups all purpose flour
1 cup powdered milk
1/2 cup sugar
Melt butter in a saucepan over medium heat. Set aside. Toast pinipig in a skillet over medium heat until they pop and turn brown, about ten minutes. Remove from heat and let it cool. Grind toasted pinipig in a mortar and pestle until coarsely ground. Set aside. Toast flour in a skillet over medium heat until lightly brown, about twenty minutes. Remove from heat.
Whisk toasted pinipig, toasted flour, powdered milk, and sugar together in a bowl until well combined. Add melted butter and continue whisking until well combined.
Place powdery mixture in a flat tray like a baking pan and press into oval-shaped candies using a polvoron mold. Wrap in cellophane or papel de Japon wrappers. Refrigerate for up to a month.