I nervously merged onto the freeway from the quiet roundabout then craned my neck toward my blind spot to switch lanes. I had never driven in California before and the freeway felt so dauntingly wide. I was used to driving at a snail's pace on perennially over-packed highways back home. As we sped past sixty-five, the glovebox started to rattle. The car obviously had seen better days. It had over two hundred thousand miles with a chip the size of a kidney bean on its windshield. The paint had mostly faded and there were dings and scratches here and there.
"The batteries are fairly new and I got new tires just this past fall," Noel said while he tinkered with the glovebox. I met him through a common friend in school and we instantly hit it off. He graduated from the same Stanford program I was in, two classes ahead of mine.  He had just returned from a quick stint in Texas and was trying to sell everything he owned before moving permanently back to Manila.
"I badly need a car," I sighed heavily. "Nothing fancy. I just need something that works."
I was getting tired of all the walking I had been doing. I loved my solitary leisurely walks around campus but walking home from the grocery store a mile away with plastic bags full of diet soda, rice, and eggs wasn't my idea of leisure at all. I had thought about getting a bicycle instead but — I say this with embarrassment and hesitation — I didn't know how to ride one!
And I was getting tired, too, of the food choices around Palo Alto. The closest to Filipino food I could find that was within reasonable walking distance from my apartment was the sad egg rolls and chow mein from the very American Jing-Jing off University Avenue. I longingly craved for lumpiang Shanghai [loom-pee-yang shang-hahy] and pancit palabok [puhn-sit pah-lah-bohk]. Dishes too complicated for me to attempt making in my tiny graduate student kitchen.
I rolled down the window and a gust of cold wind whipped my face. The strength of the wind exhilarated me. The speed thrilled me. I imagined the convenience of having my own car. I imagined all the possibilities. The freedom and the flexibility.  "You won't feel homesick as much anymore if you had a car," Noel said and I totally agreed.
I bought Noel's Mazda 626 that same afternoon. Apart from my thankfully short-lived buyer's remorse and my sticker shock from the ridiculous insurance premiums, I did enjoy my Mazda a lot and I still remember it fondly to this day. It served me well throughout graduate school. I drove it up north to Santa Rosa when I interned there for the summer. I drove it along the winding California coast.  I drove it through the towering redwoods by the Russian River  and through the romantic vineyards in Napa Valley.  I drove it up and down San Francisco's hills and to Daly City whenever I fancied a palabok fix, far too many times.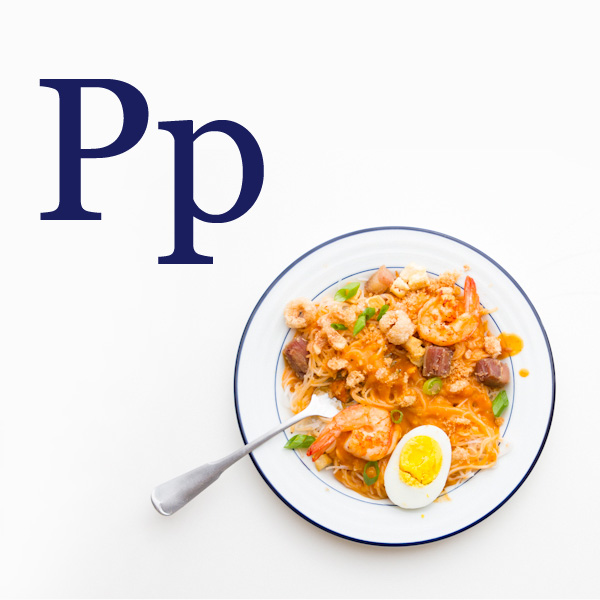 Palabok means garnishing — fried pork belly, fried shrimp, fried tofu, crushed chicharrón, smoked fish, hard boiled eggs, and green onions — everything that's laid on top of the bed of rice noodles doused with shrimp-flavored achuete-colored sauce. Pancit palabok is pancit luglog, which is noodles shaken in hot water and not stir-fried like pancit bihon [bee-hon]. Luglog [loog-log] means to dip and shake in water. Rice noodles that can be as thin as vermicelli or as plump as egg noodles are first soaked in water so they can soften. Then they are doused in hot water for a quick minute immediately before the pancit is served.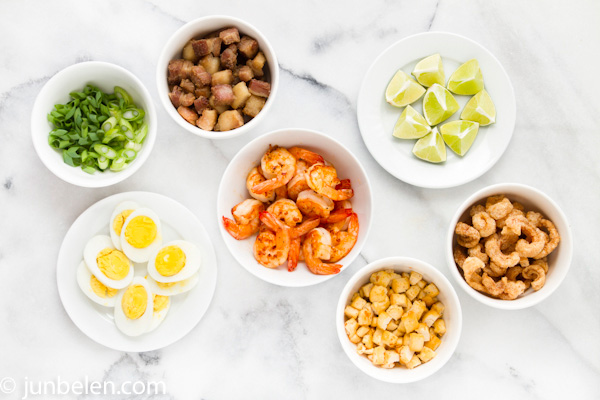 Pancit Palabok Recipe, makes 4 to 6 servings
2 tablespoons achuete
8 ounces bihon or rice noodles
3/4 pound medium-sized heads-on shrimp, about 16 pieces
1 pound pork belly, boiled and cut into 1-inch cubes
4 cloves garlic, crushed
1/4 cup all-purpose flour
2 tablespoons fish sauce, more to taste
salt and freshly ground black pepper to taste
4 ounces tofu, cut into 1/2-inch cubes
1/2 cup chicharrón, crushed
1/2 cup tinapa (smoked fish) flakes
2 eggs, hard boiled and sliced
2 stalks green onions, green and white parts chopped
4 calamansi or limes, halved
Soak 2 tablespoons achuete in 1/4 cup water. Stir seeds vigorously with a spoon for about two minutes and let the orange color bleed into the water for about 30 minutes. Strain and toss seeds and set aside achuete water.
Soak rice noodles in 2 quarts water in a bowl for about 15 minutes. Drain noodles and set aside.
Remove the shrimp heads and shells but keep tails intact.  Do not toss shrimp trimmings but keep them to make shrimp stock. Devein and clean shrimps with running water and set aside.
Place shrimp heads and shells in a pot and add water, enough to just cover the trimmings, about 3 to 4 cups. Bring to a boil, reduce heat and let it simmer for 15 minutes, stirring trimmings occasionally.  Crush heads with a wooden spoon to extract the flavor.  Skim and discard any foam that rises to the top of the liquid. Strain the heads and shells. Measure 3 cups of shrimp stock, add achuete water and set aside.
Fry pork belly in a deep pan over high heat. Stir constantly until nicely browned, about 10 minutes. Transfer to a plate and set aside. Pour off all but 2 to 3 tablespoons of pork fat. Reduce heat to medium. Add and saute garlic until lightly browned, about 2 minutes. Stir in flour and cook, stirring constantly, until thoroughly browned and fragrant, about 5 minutes. Whisking constantly, gradually add shrimp stock. Pork or chicken stock can be used in place of shrimp stock. Bring to boil. Reduce heat to medium-low and add fish sauce. Add salt and freshly ground black pepper to taste. Simmer, stirring occasionally, until thickened about 15 to 20 minutes. Set aside shrimp sauce.
Fry shrimp in pork fat or oil. Season with salt and freshly ground black pepper. Stir constantly until just cooked, about 4 minutes, and set aside. Fry tofu in pork fat or oil. Season with salt and freshly ground black pepper. Stir constantly until nicely browned, about 7 minutes, and set aside.
Bring 2 quarts of water to a boil in a large pot. Drop soaked rice noodles in boiling water. Stir constantly until cooked, about 1 minute. Drain noodles.
Place rice noodles on a plate. Ladle shrimp-flavored sauce on top and garnish with fried pork belly, fried shrimp, fried tofu, chicharrón, smoked fish, hard boiled eggs, and green onions. Sprinkle with calamansi and serve with fish sauce.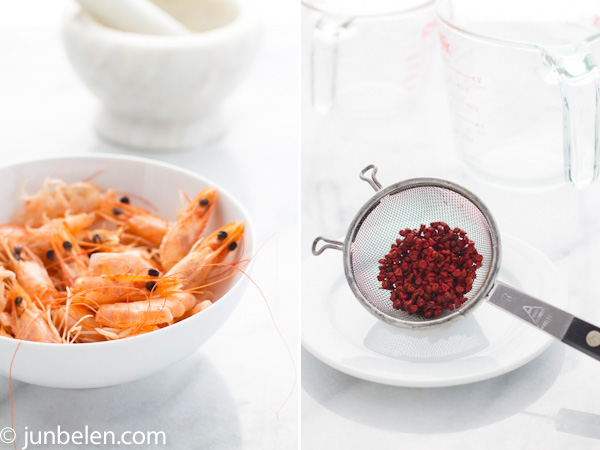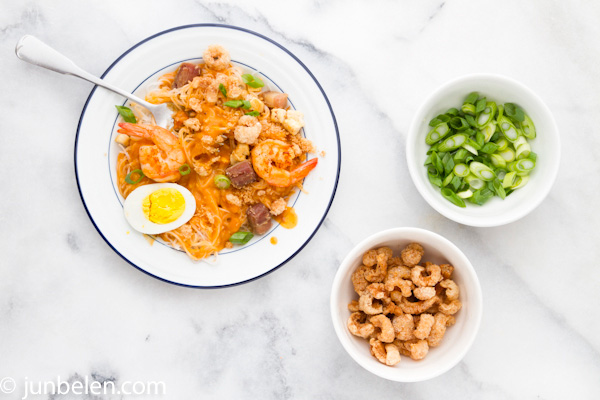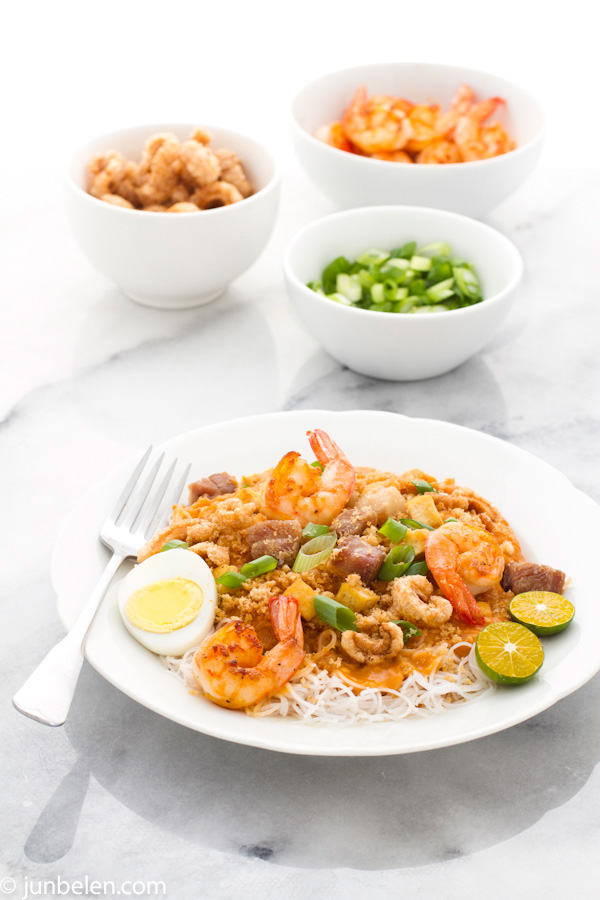 Learn the alphabet of Filipino food through our glossary. So much is lost in translation, I know, but I hope this glossary will help those unfamiliar with Filipino food become more informed.
A is for Achuete
B is for Barako Coffee
C is for Camarón
D is for Dinuguan
E is for Ensaimada
F is for Fish Balls
G is for Gata
H is for Himagas
I is for Itlog na Maalat
J is for Jackfruit
K is for Kamayan
L is for Longganisa
M is for Mani
N is for Noche Buena
O is for Omelet
P is for Pancit Palabok