"Where do you keep your ironing board?"  My mom asked. It was the morning after she flew in from Manila on a long, wearing flight made even more wearing by an unwelcome delay that lasted hours.
"You're on vacation, Ma!"  I reminded her, stopping short of scolding my seventy-five year old mother.  "Get some rest and enjoy your visit.  Read a book or take Stanford out for a walk. Aren't you jet-lagged?"
"I'm fine," she answered as she scoured our linen closet for the iron and the ironing board. "I get bored if I have nothing to do."
"I can send the shirts to the cleaners during the week,"  I added.  "So don't worry about them."
Of course, my prodding didn't stop her. "This is what I do," she replied.
She was right.  It's what she does. It's what she did for the longest time. The laundry. The dishes. The cleaning. The cooking.  She practically did everything single-handedly at home while my dad worked to put food on our table. She raised me and my five sisters and when the time came for my sisters to have families of their own she lent them a hand in every way she could and helped in taking care of her grandchildren. All ten of them.
Oftentimes, I wonder how my folks did it. My dad stayed in the same job in the government until the day he retired and earned a modest wage that was sometimes hardly enough to support a family of eight. My mom used to tell me stories about the tough times when all they could afford for dinner was a plate of cold rice doused with water and salt. They didn't even have money enough for a paltry piece of salted, dried fish.
My family has come a long way since those days. My mom still cannot believe that it's her fourth time to visit me here in California. Flying to America never crossed her mind back in the day. "Life has been good to us," she always reminds me whenever I find myself plagued with worries. She's right. Life, indeed, has been good to us.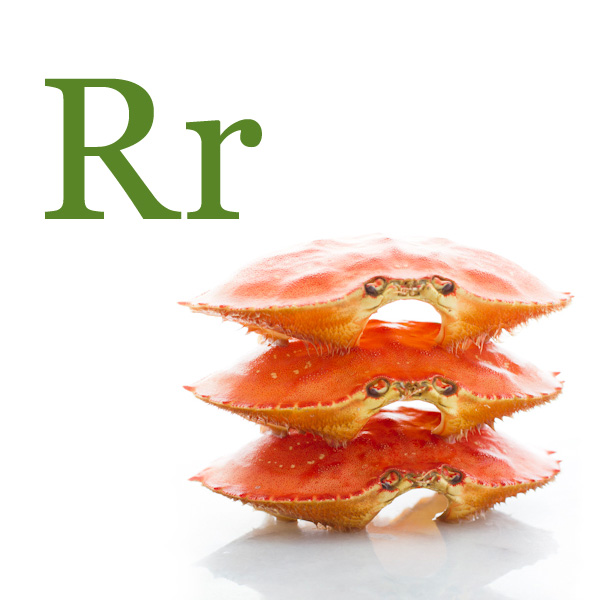 Relleno [rehl-yeh-noh], after the Spanish rellenar, means stuffed or to stuff. It is the technique of stuffing poultry Filipinos learned from the Spaniards and later adapted and made their own using fish and shellfish abundant across the islands.
Rellenong bangus is the popular milkfish stuffed with its own meat sauteed in garlic, onions, and tomatoes. Rellenong alimasag is crabmeat sauteed in the same triumvirate of garlic, onions, and tomatoes and then stuffed in the crab's own shell. Rellenong pusit is squid stuffed with sauteed ground pork and grilled over hot coals. The late food writer Doreen Fernandez wrote about a delicacy in Pampanga called betute, a version of relleno — frog stuffed with its own sauteed meat.
When I was little, my mom made rellenong alimasag once in a blue moon. For one thing, alimasag [ah-lee-mah-sahg] or blue crabs cost a fortune. It's one of those luxuries my family could rarely afford.  The dish is fairly simple but very tedious to make. It is truly a labor of love, which makes the dish even more special.
Rellenong Alimasag Recipe, makes 4 servings
2 large Dungeness crabs or 12 blue crabs
3 tablespoons vegetable oil
1 small onion, finely chopped
4 cloves garlic, finely chopped
1 tomato, finely chopped
salt and freshly ground pepper to taste
1 egg, beaten
1/2 cup breadcrumbs
Boil salted water in a large pot and then carefully drop in the crabs. Two Dungeness crabs will yield roughly a pound of crabmeat but use as many blue crabs or other crabs as needed to yield the same. Boil for 15 minutes. Remove the crabs from the pot and let them drain and cool.
Pull off the large top shell, clean thoroughly, and set aside.
Remove the fibrous lungs and rinse lightly. Split the main body in half down the center. Pull off the legs, crack them, and pick the crabmeat from the body and legs. Put the crabmeat in a bowl and gently go through the meat to remove any bits of shell left. Refrigerate until ready to use.
Heat 1 tablespoon oil in a pan over medium to high heat. Add onions and saute until fragrant and softened, about 5 minutes. Add garlic and saute until lightly browned, about 2 minutes. Add tomatoes and saute until softened, about 5 minutes.
Add garlic, onions, and tomatoes to crabmeat and mix well. Season with salt and freshly ground pepper. Add egg and breadcrumbs and mix well.
Stuff crab shells with sauteed crab meat.
Heat 2 tablespoons oil in a pan over medium heat. One at a time, carefully place crab shell with crab meat side facing down in the pan, and fry until golden brown, about 5 to 8 minutes.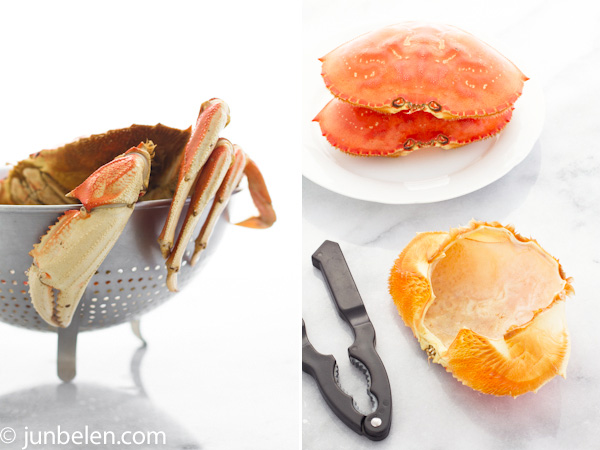 Learn the alphabet of Filipino food through our glossary. So much is lost in translation, I know, but I hope this glossary will help those unfamiliar with Filipino food become more informed.
A is for Achuete
B is for Barako Coffee
C is for Camarón
D is for Dinuguan
E is for Ensaimada
F is for Fish Balls
G is for Gata
H is for Himagas
I is for Itlog na Maalat
J is for Jackfruit
K is for Kamayan
L is for Longganisa
M is for Mani
N is for Noche Buena
O is for Omelet
P is for Pancit Palabok
Q is for Queso
R is for Relleno