Imagine this. A soft brioche bun lavished with melted butter and a flurry of sugar. Flour, butter, sugar, yolks, and milk are blended together and formed into a deep yellow dough that's rolled and twisted into a beautiful coil, and then baked until its crust turns into a radiant hue of golden brown.
Now, take a bite. Its flavor is as rich as its color. Imagine the gentle crunch of sugar. The delightful, sweet grit. Imagine the delicate, buttery layers all melting instantly. Melting marvelously.
Tear another piece but dunk it this time in rich hot chocolate. Imagine the chocolate dribbling down your chin. There's a thick smear of butter and sugar above your lips. There's butter on your finger tips. Need I say more? It is simple brioche bliss.
And, mind you, I'm not talking French here. I'm talking Filipino. I'm talking about Filipino-style brioche called ensaimada [en-say-mah-dah].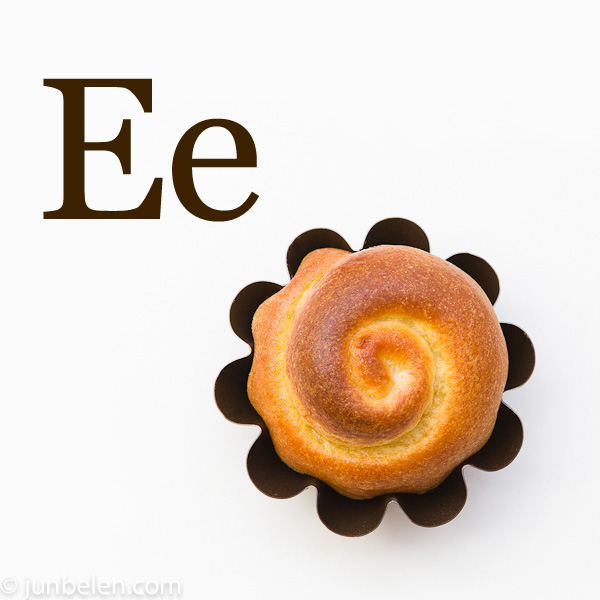 Ensaimada came to the Filipino table from the island of Majorca in Spain, in the Mediterranean Sea. The spiral-shaped pastry got its name from the Mallorquinese word saim, which means pork lard, which is used in making the dough. They are typically flat and large, the size of a dinner plate. After letting the dough rise, it is cut into smaller portions. Each piece is rolled flat into a thin sheet, which is brushed with pork lard and then rolled like you would a jelly roll. The delicate rolled dough is then twisted into a coil, the shape of a snail's shell with the tip tucked gingerly underneath. The spiral-shaped dough is set aside to rise one more time before it is baked until it turns golden brown.
In place of pork lard, Filipinos use butter to make their ensaimadas. The rolls are dusted with sugar like their Majorcan counterparts but the Filipino rolls are much smaller, as small as a clenched fist. Variations include baking the coiled dough in fluted brioche molds so that the rolls puff up as they get baked.  Edam or sharp cheddar cheese grated into fine shreds is sprinkled on top for a more savory brioche.  Slices of ham are sometimes tucked inside the dough and in Malolos, a town in the province of Bulacan, ensaimadas are topped with sliced salted egg like the native bibingkas.
But it's the traditional ensaimada brushed with butter and sprinkled with sugar that I have always loved. When I think of ensaimadas, I think of cool December mornings and warming up to hot chocolate and ensaimadas for breakfast. I think of lazy afternoon siestas and waking up to the smell of freshly baked rolls for merienda. I think of my sister bringing home brown paper bags filled with pan de sal and ensaimada from Washington Bakery a few blocks away from our home in La Loma. Washington Bakery makes the best ensaiamadas in town.  This isn't gospel truth, I must admit. I've had fluffier and flakier ones elsewhere but it's the sweet memories attached to every roll from our neighborhood bakery that make these ensaimadas truly perfect.  Truly one of a kind.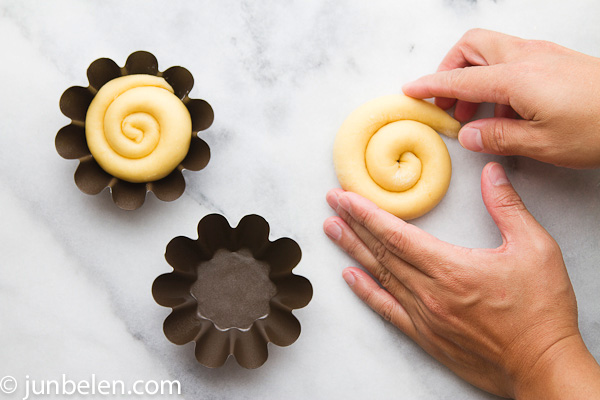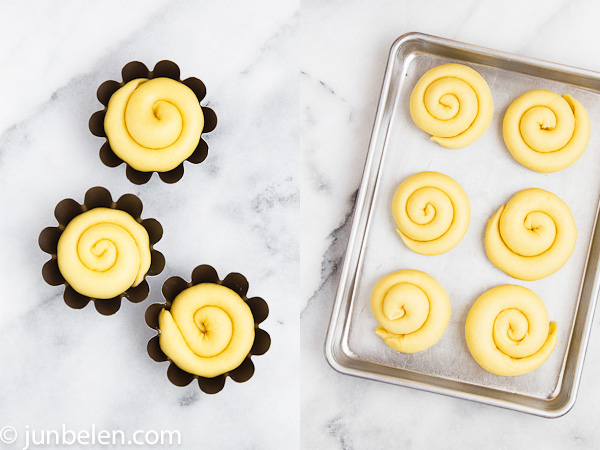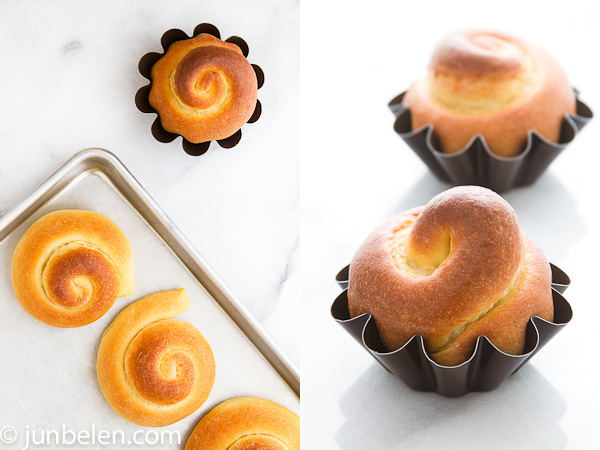 Ensaimada Recipe
Recipe adapted from Enriqueta David-Perez's Recipes of the Philippines, makes 12 rolls
1 packet instant dry yeast
1/4 cup warm water with a temperature between 100 and 110 degrees F
6 tablespoons sugar
4 cups all-purpose flour
1/2 teaspoon salt
3/4 cup butter, at room temperature, plus more melted butter for brushing the rolls
6 egg yolks
1/2 cup evaporated milk
canola oil for greasing a large bowl, baking sheet, and brioche molds
Dissolve yeast in warm water with a temperature anywhere between 100 and 110 degrees F. To proof yeast, add one tablespoon sugar and let stand for 10 minutes. If the mixture doubles in volume then yeast is active. It is very important to make sure that yeast is active. Water that is too hot kills the yeast so make sure that the water temperature is around 100 to 110 degrees F.
Sift flour and salt together twice. Add about 1/2 cup of flour to yeast and set aside.
Place butter and sugar in the bowl of an electric mixer fitted with the paddle attachment. Beat the mixture on medium-high speed until light and fluffy, about 5 minutes. Scrape down the sides and bottom of the bowl.  Turn the speed to medium-low, add yolks, one at a time, beating well.  Add flour alternately with milk, mixing until well incorporated.  Add yeast mixture, beating well.
Replace the paddle with a kneading hook and knead the dough until smooth and elastic. Alternatively, knead the dough by hand on a clean surface dusted with flour until smooth and elastic. Let the dough rest in a bowl greased lightly with canola oil. Cover the bowl with plastic wrap and let the dough rise until double in size, about one to two hours.
Punch the dough and divide into twelve small, equal portions. Roll out each piece to a thin sheet, brush with melted butter, and roll sheet like you would a jelly roll. Coil this into a spiral-shaped bun. Either place the coiled dough flat on greased baking sheets or in greased fluted brioche molds. Set aside to rise until double in size, about an hour. When the dough is almost done, preheat the oven to 350 degrees F.
Bake until the crust turns golden brown. Brush with melted butter and dust with sugar.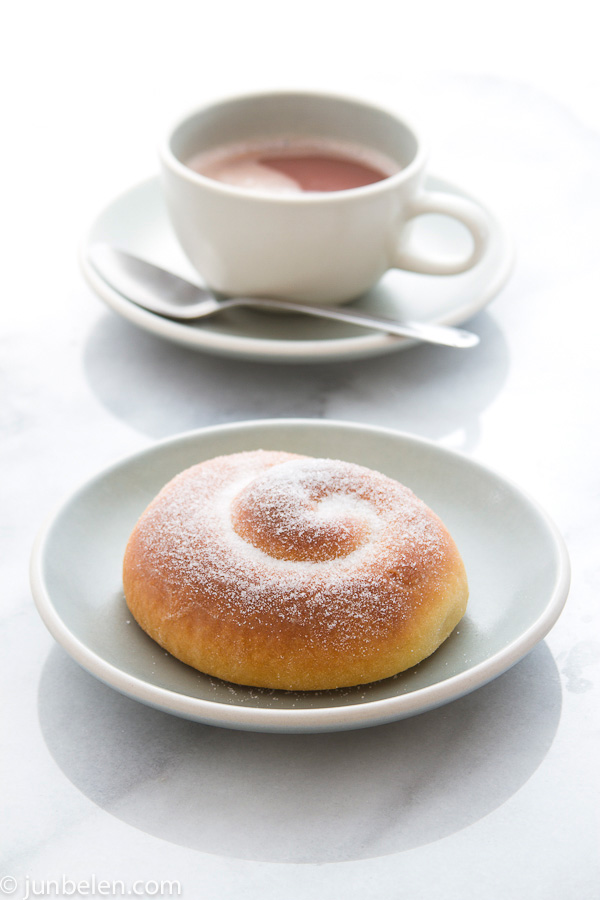 Learn the alphabet of Filipino food through our glossary. So much is lost in translation, I know, but I hope this glossary will help those unfamiliar with Filipino food become more informed.
A is for Achuete
B is for Barako Coffee
C is for Camarón
D is for Dinuguan
E is for Ensaimada