Camarón rebozado. Pescado en salsa agrio-dulce. Morisqueta tostada.  You would most likely find these dishes on the menu in the first restaurants in Manila, which debuted back in Spanish colonial times.  Camarón rebozado is batter-fried shrimp.  Pescado en salsa agrio-dulce is fish in sweet and sour sauce.  Morisqueta tostada is fried rice.  The food was clearly Chinese-influenced  — mostly fried and stir-fried in savory sauces as well as soups and noodles — but everything had Spanish names for the sake of the largely Spanish clientele.
The very first public eateries were called panciterias, a word derived from pancit, which is the Chinese word for noodles.   These panciterias mushroomed everywhere in the bustling city and in the quiet countryside next to panaderias and pastelerias as more and more Spaniards and affluent Filipinos discovered the pleasures of dining out.  Filipino food writer Doreen Fernandez called this interesting phenomenon Comida China, or Chinese food.
The Filipino favorite arroz caldo, rice slowly simmered with chicken or tripe, is an excellent example of Comida China.  The rice porridge, a popular comfort food among Filipinos, is obviously traceable to the Chinese breakfast congee or jook.  But like everything else that the Filipinos borrowed, the congee was indigenized.  The Filipino version of the rice soup is flavored with fish sauce and served with a sprinkle of local calamansi and loads of fried garlic. According to  Fernandez, this Chinese-influenced porridge bears a Spanish name because it "went public" during the Spanish regime.
So the next time you enjoy a comforting bowl of arroz caldo con pollo or a plate of crispy camarón rebozado drizzled with salsa agrio-dulce bear in mind the fascinating fusion of cultures in every bowl and in every plate: Filipino-style Chinese food with a Spanish name.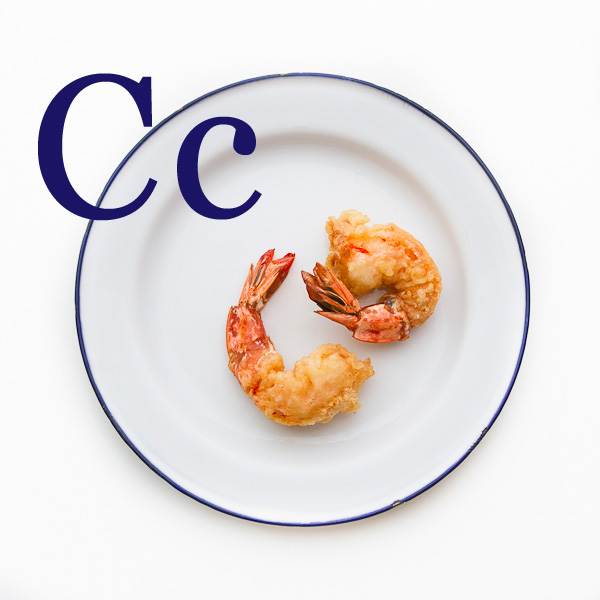 My mom makes her batter for camarón rebozado with all-purpose flour but I make mine with rice flour to give it a little more lightness and crispness when fried. Be sure to fry the camarón right before serving so that it stays light and crisp. I like to serve the batter-fried shrimp with a mango-pineapple sauce that is actually inspired by William Pilz's sweet and sour sauce that he serves with his legendary lumpia in his Hapa SF truck. The sauce has sweet notes of fruit and a hint of heat from fresh red Fresno peppers.
Camarón Rebozado Recipe
12 to 15 large Tiger prawns, cleaned, heads and shells removed but tails intact, and deveined
1/2 teaspoon salt
1/4 teaspoon freshly ground black pepper
1/2 cup rice flour, plus more for dredging the prawns
1/2 teaspoon baking powder
1/4 cup cold water
1 egg, lightly beaten
canola oil, enough to fill the frying pan or pot with at least 2-inches of oil
Wash the shelled and deveined prawns and pat them dry with paper towels.  Be sure to leave the tails on.  Season the prawns with salt and freshly ground black pepper. Combine rice flour, baking powder, water, and egg in a small bowl.  All-purpose flour can be used instead but rice flour makes the batter lighter and crisper when fried. Whisk everything together to a smooth batter.   Spread the rice flour on a plate.  Dredge the prawns in rice flour and then dip into the batter, letting the excess drip off.  Fry the prawns in canola oil until brown and crispy, about three minutes.  Drain the prawns in paper towels and season lightly with salt and pepper.  Serve immediately to enjoy the crispness of the batter-fried camarón.  Serve with mango and pineapple sweet and sour sauce or sweet banana ketchup.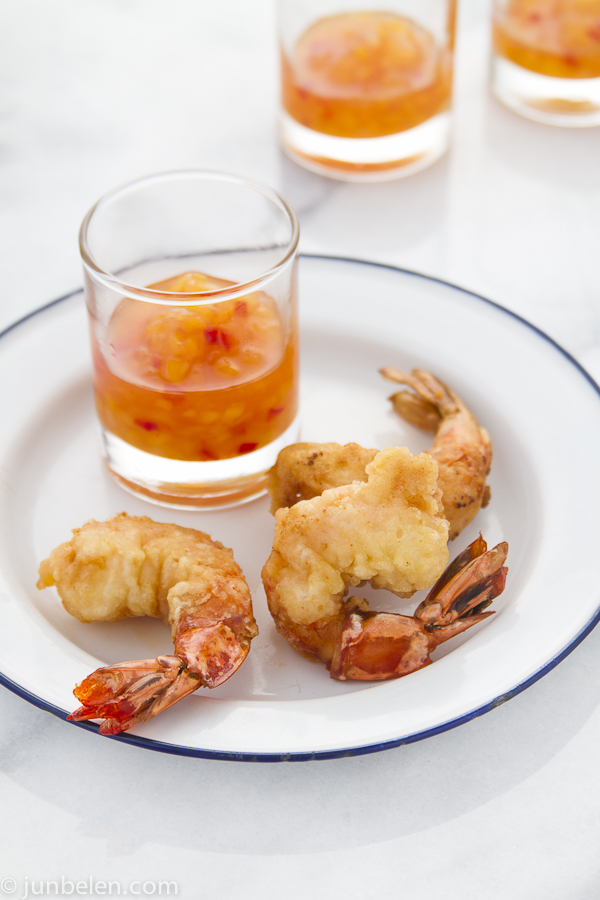 Mango and Pineapple Sweet and Sour Sauce Recipe
1/2 cup rice wine vinegar
1/4 cup sugar, plus more to taste
1/4 teaspoon salt
1 tablespoon tomato ketchup
1 small ripe mango, finely chopped, about 1/3 cup
1/3 cup crushed pineapple, or chunks finely chopped
1 small Fresno pepper, seeded and finely chopped, about 2 tablespoons
Mix the vinegar, sugar, salt, ketchup, mango, pineapple, and pepper in a small saucepan and bring to a boil. Let the sauce simmer over medium-to-low heat until it thickens, about 15 minutes. Adjust the balance between sweetness and sourness by adding sugar or vinegar.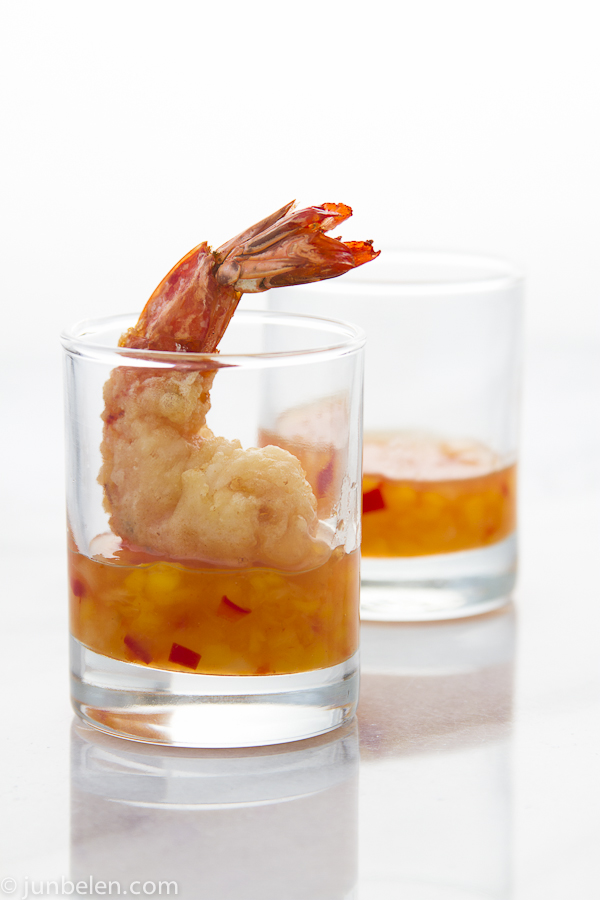 Learn the alphabet through our glossary of Filipino food words. So much is lost in translation, I know, but I hope this glossary will help those unfamiliar with Filipino food become more informed.
A is for Achuete
B is for Barako Coffee
C is for Camarón