Jimmy Dean hissed furiously in the kitchen. I had been living off two-for-one Jimmy Deans ever  since I emptied my pantry of corned beef and Spam.  Those twofers were lifesavers back in the day when I was a cash-strapped student.  They were deals too hard to pass like those sugar-laden cereals that were perpetually half-price. I never really cared for their cloying sweetness but I always felt compelled to buy them by the bulk, nevertheless.  I was too foolish, I know.
It was breakfast for dinner once again. Leftover rice fried with lots of garlic. Eggs sunny-side-up. Maple sausages charred to a crisp. I never tire of eggs and rice. A perfectly fried egg flecked with salt and paired with rice, either steamed or fried, is an immensely satisfying meal in my book. You can have eggs and toast all you want but I will have my eggs and rice. Nothing compares to the comfort that cooked rice steeped in golden yolk brings.
As I browned the sad sausages in the pan and a mist of grease rained on the stove, I couldn't help but miss home.  My breakfast for dinner would be infinitely better if I had longganisa [long-gah-nee-sah] instead of my miserable Jimmy Deans.  My mind longingly drifted to our butcher back home.  I dreamed about the stubby links of longganisa hanging handsomely under bright incandescent bulbs next to cuts of liempo (pork belly), kasim (shoulder), and tadyang (ribs).  My mind wandered back to our kitchen. I could hear breakfast. I could smell the garlic.  I could taste the charred skin of the sweet sausages. I could taste home.
I opened the windows in my empty apartment and hoped that a cold Fall breeze would whisk away the smell of the burnt sausages. I sat down to dinner with Jimmy Dean.  This would do for now, I thought.  Sweet longganisa would have to wait.
Longaniza is Spanish sausage, similar to chorizo. Longganisa is the Filipino counterpart made with native spices and ingredients. In her book Palayok, Filipino food writer Doreen Fernandez writes about the two general types of Filipino-style sausages: jamonado, which is sweet like ham, and de recado, which is spicier or vinegar-flavored.
The spices and flavorings used in making longganisa vary from town to town across the archipelago.  In the northern part of the island of Luzon, in a town called Vigan in Ilocos Sur, longganisang Vigan is marinated in garlic and basi or sugarcane vinegar.  Longganisang Lucban from Lucban, Quezon in the southern part of Luzon is made with oregano while the sausages in Pampanga, not far from Manila, are sweet and intensely garlic-flavored.  Traditional longganisa is made with ground pork and diced pork fat but versions that use chicken and beef abound.
Lala, my Pampangueña friend  and the voice behind the blog This Little Piggy, makes the best sweet Pampanga-style longganisa.  She makes them skinless and nitrite-free with lots of freshly ground black pepper to cut through the sweetness of the pork.  She uses achuete powder for color, which I substitute with achuete oil.
If you plan to make a big batch to freeze, Lala suggests laying them out on a baking sheet lined with plastic wrap or waxed paper. Place another layer of plastic wrap and sausages on top until you have stored them all and then place everything in a sealed plastic bag or container. In this way, the sausages freeze individually.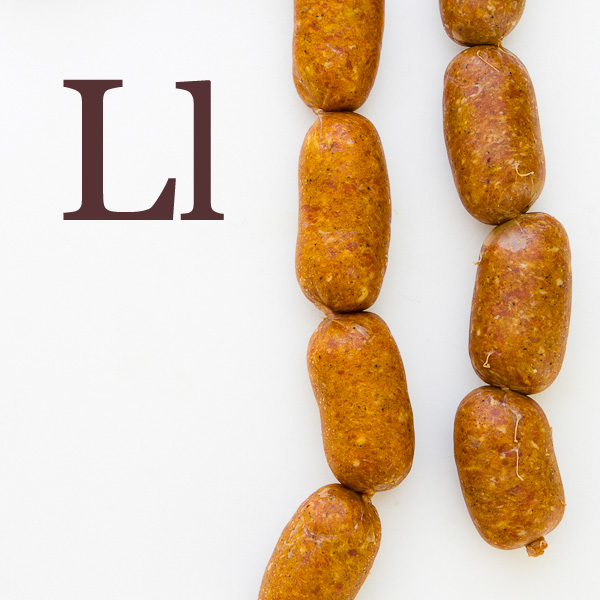 Sweet Pampanga-style Longganisa Recipe
Recipe adapted from the blog This Little Piggy, makes 6 to 8 three-inch sausages

1 pound ground pork shoulder
6 cloves of garlic, crushed
1 tablespoon vinegar
1/4 cup brown sugar
1 tablespoon salt
1 tablespoon ground black pepper
1 tablespoon achuete oil, more if making skinless sausages
hog casing, optional
canola oil, for pan-frying
Combine all ingredients except the hog casing and canola oil.  Mix very well. Cover and refrigerate for at least an hour or overnight. Adjust the taste by frying a spoon of the marinated ground pork and tasting it.
To make skinless longganisa, shape the marinated ground pork into 3-inch sausages using achuete oil. Fry in a lightly oiled skillet until cooked through and golden brown.
To make longganisa links, wash the hog casings thoroughly with warm running water before stuffing them with the sausage.  Food writer Hank Shaw has an excellent how-to on making homemade sausages in the blog Simply Recipes.  His instructions are very clear and are accompanied with equally clear step-by-step photographs.
Place the sausage links in a skillet and pour enough water to come about halfway up the sides of the links.  Simmer over medium-to-high heat, turning the sausages until all the water evaporates, about 5 to 10 minutes.  Add oil and fry until golden brown.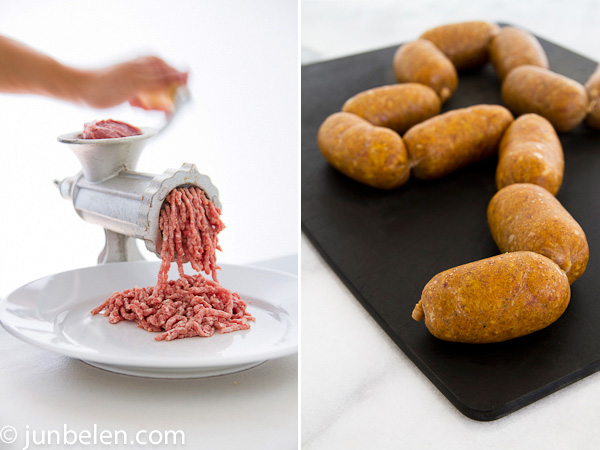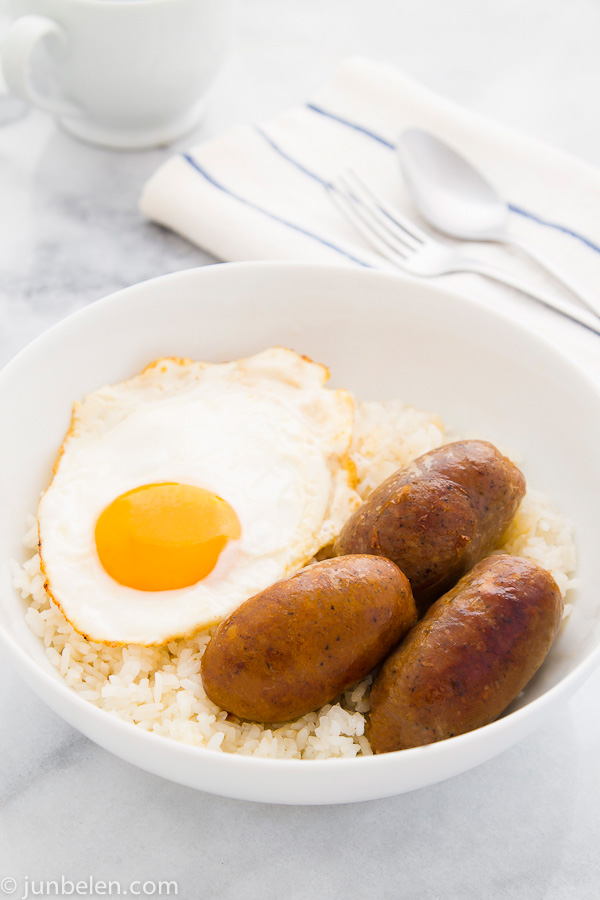 Learn the alphabet of Filipino food through our glossary. So much is lost in translation, I know, but I hope this glossary will help those unfamiliar with Filipino food become more informed.
A is for Achuete
B is for Barako Coffee
C is for Camarón
D is for Dinuguan
E is for Ensaimada
F is for Fish Balls
G is for Gata
H is for Himagas
I is for Itlog na Maalat
J is for Jackfruit
K is for Kamayan
L is for Longganisa