The colors were incredibly vivid.  Lush green foliage.  Volcanic black rocks.  Water cascading through a series of pools, flowing into the seemingly boundless deep blue sea.  The view of the gulch from the old, moss-covered bridge along Highway 31, was absolutely stunning.   I managed to filter out the cackle of tourists and drift dreamily with the gentle rustle of the bamboo trees.  It was, indeed, a mystical place.
The Seven Sacred Pools at the Kipahulu end of the glorious Haleakala was our last stop on our long Road to Hana.   After a quick dip in the cool, crisp water — a much needed relief from the heat of that July afternoon — we turned around and drove back to Paia, where our journey began.  We discovered a roadside cafe humbly set in a local's front yard and treated ourselves to plate lunches of barbecued chicken, rice, and macaroni salad.  The chicken was cloyingly sweet but the meal was satisfying, nonetheless.  For some strange reason, it felt very much like home. Maybe it was the Filipino family who prepared our meal or the long-haired mutt who cheerfully greeted everyone with a big, wet smile.
Mile marker after mile marker, we retraced our journey along Maui's most celebrated road.  The jagged jet-black beaches of Waianapanapa at Mile 32.  The fruit stands brimming with papayas and pineapples in Nahiku at Mile 25.  The nearly vertical Waikani Falls in Wailua at Mile 19. The checkerboard taro fields in Keanae at Mile 17.  The Crouching-Tiger-Hidden-Dragon-esque bamboo forest at Mile 7.  The daring windsurfers in Hookipa Beach at Mile 9.
Then we were back at where we started, at the Minit Stop, the convenience store next to our bed and breakfast. Minit Stop has the best Spam musubis in town — fried Spam on a bed of rice held together with nori.  At first, it bothered me that they spelled Minute, Minit (or maybe I just didn't get it?)  But it all seemed forgivable after I saw the trays of Spam musubi and fried chicken inside their humble store.  Who knew you can get soda, sunblock and Saran-wrapped Spam musubi all in one place? Only in Hawaii, I guess.
Cold fried chicken with rice, Spam musubi, a bottle of water, and a bar of Twix — all wrapped in a brown paper bag.  It was the perfect Hawaiian picnic lunch for the perfect Hawaiian road trip.  It couldn't get better than that.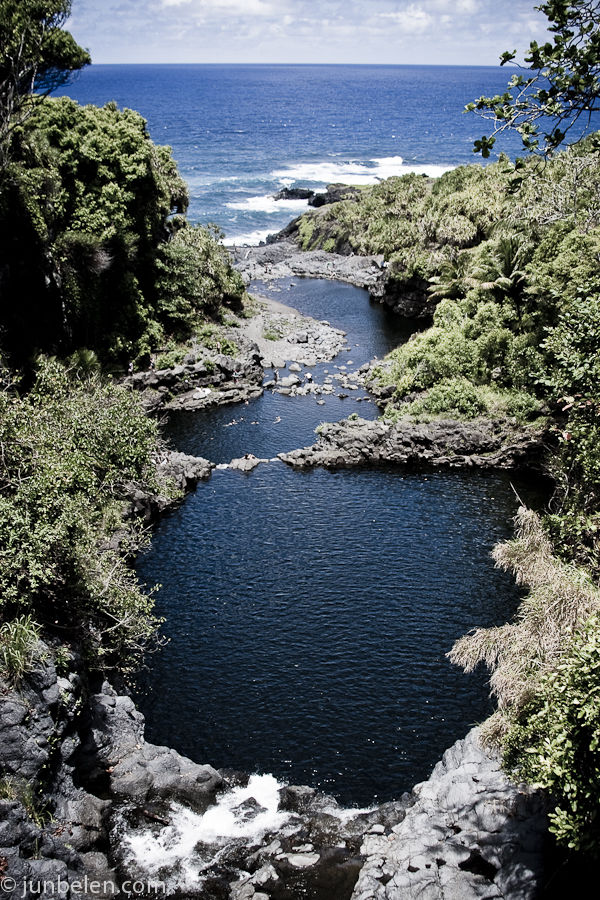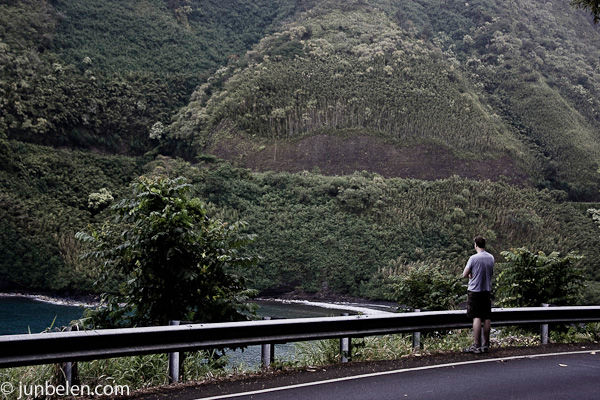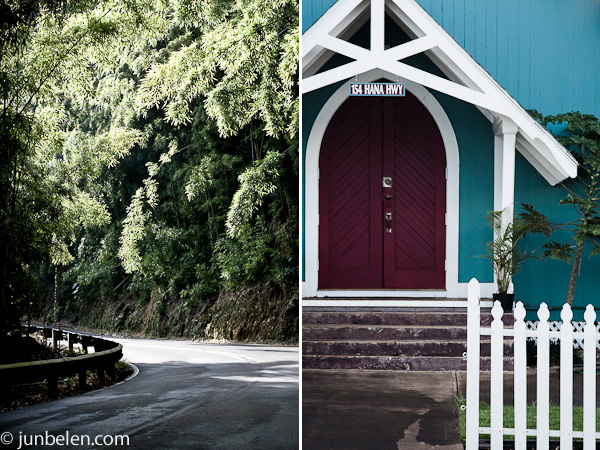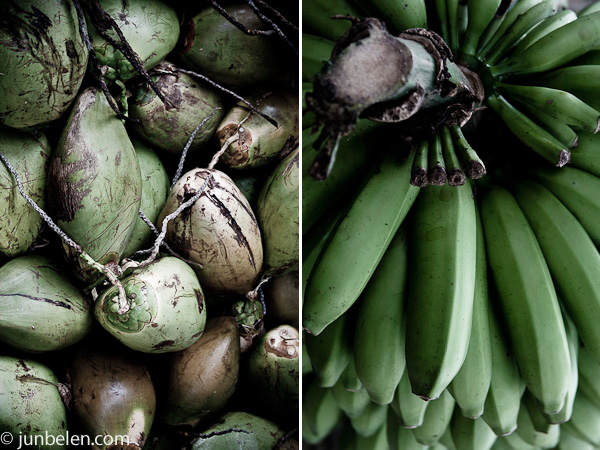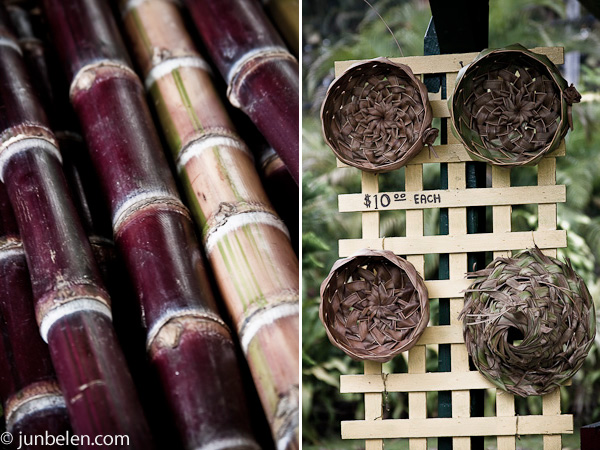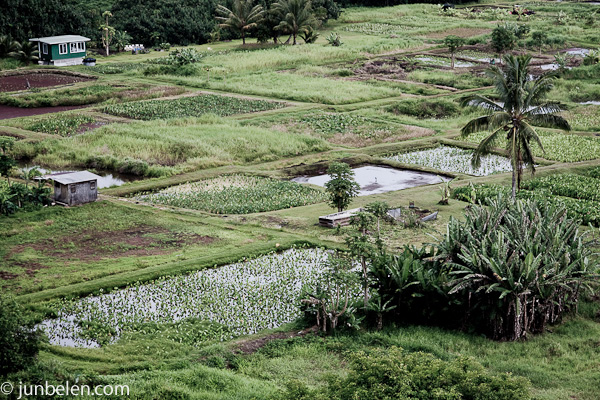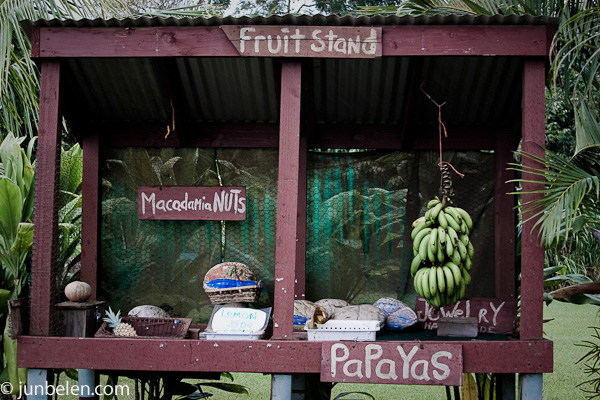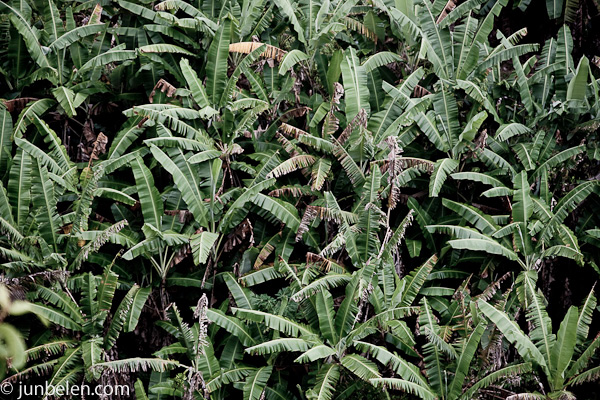 I had my first taste of the Hawaiian staple not too long ago but I am no stranger to Spam, having grown up with this comfort food in a can on our dinner table.  My mom would make fried garlic rice and fried eggs for Spam-silog breakfasts and would fix Spam pan de sal sandwiches for merienda.
Last weekend, while Dennis and I planned another trip to Hawaii, this time to the Big Island, I made Spam musubi for lunch.  I sprinkled nori komi furikake on the rice before I laid the slice of fried salty-goodness on top to give it a delightful sweet-savory crunch.  Every bite took us back to our incredible road trip in Maui and made us look forward to the volcanoes in the Big Island even more.
Making Spam Musubi
Spam musubi mold or an empty can of Spam with both ends cut open
4 to 6 cups cooked short-grain rice, preferably Nishiki
1 can Spam, sliced into eight 1/4-inch thick slices
8 sheets nori, preferably the size used for temaki sushi
nori komi furikake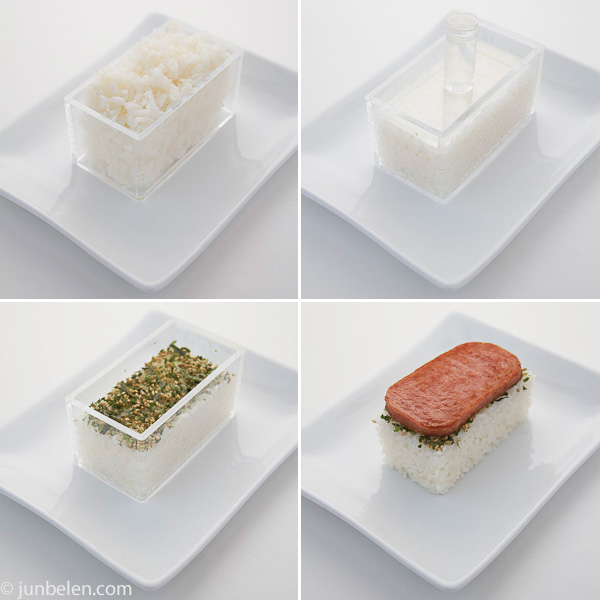 Fry Spam slices over medium heat until golden brown, one to two minutes each side. Lay the fried slices on paper towels until the musubis are ready to be assembled.
Fill the Spam musubi mold to the brim with freshly steamed rice. Press down the rice and sprinkle the top with nori komi furikake. Carefully remove the musubi mold and then lay a slice of fried Spam on the bed of rice. Trim the nori sheets into roughly 2-inch by 7-inch rectangles. Wrap the musubi with nori.  If the rice is warm enough, the nori sticks beautifully to the rice. Otherwise, moisten the ends of the nori with water to seal.
Cooking Notes:
1. A cup uncooked rice is roughly equivalent to two to three cups cooked rice.
2. Buy nori sheets that are used in making temaki or cone sushi. These have the right length, roughly 7-inches. Trim the width to around 2 to 2-1/2 inches.
3. Spam musubi molds are available in most Japanese grocery stores like the Nijiya Market in Japantown in San Francisco. An empty can of Spam with both ends cut open can also be used in place of a musubi mold. Just be careful since the edges may be sharp.  Use a fork to press down the cooked rice.
4. Homemade nori komi furikake can be made by mixing toasted sesame seeds, salt, sugar and nori cut into tiny pieces.