With one confident stroke of my knife, I cut the thirteen-pound jackfruit in half.  I cut the huge, heavy fruit — langka [lang-kah], as we call it back home — the way my mom cuts it.  I quartered it and sliced each piece into smaller wedges with a knife coated with vegetable oil to keep the stubborn sap from sticking to the blade.  I cut off the spongy pith from each wedge, dipped my fingers in oil, and picked out the fruit's plump, yellow bulbs that taste like a cross between bananas and pineapples.  I meticulously peeled off the fibrous strings that wrapped around each pod and separated the marbled seeds from the fruit.
Then I started two pots of boiling water.  One pot was for the seeds and the other was for the fruit.  The seeds make excellent snacks when boiled or roasted in the oven or in a skillet on the stove.  They taste like chestnuts but not as sweet. The fruit can be eaten fresh or preserved by simmering in a thick syrup made with brown sugar until it becomes soft and intensely sweet and its color turns into a deeper hue of golden yellow.
I thought about how I would enjoy my langka loot. I thought about stewing it with saba bananas and sweet potatoes in coconut cream to make ginataang halo-halo. I thought about wrapping it with saba bananas in delicate lumpia wrappers, dusting them with brown sugar, and deep-frying them to make crispy turon.  And I thought about using the day-old pan de sal sitting on my kitchen counter to make bread pudding dotted with strips of preserved langka.  I relished all the possibilities.
I took a deep whiff of the jackfruit simmering in the pot.  Memories of home instantly flooded my mind. Memories of my sisters crowding around our kitchen table with my mom, trading gossips and exchanging stories while picking out the sweet, golden pods.  Memories of spiny, thick rinds and a colander filled to the brim with ripe fruit. Memories as sweet as jackfruits.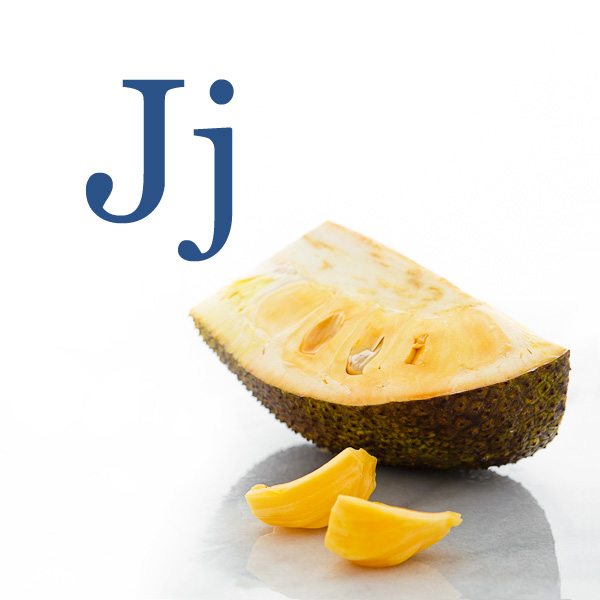 Preserved Jackfruit Recipe
ripe jackfruit
cup brown sugar
pinch of salt
water
Fresh jackfruits are available in most Asian and Latin supermarkets and are usually sold already cut and wrapped in plastic. Cut off the white spongy top, which is the fruit's core. This will make it easier to remove the bulbs of fruit. Remove the seeds from the bulbs and cut them lengthwise into 1/2-inch strips.
Jackfruits can be eaten fresh or preserved in sugar syrup.  In a saucepan, combine the jackfruit, brown sugar, and water enough to cover the fruit.  Use half a cup of sugar for every pound of jackfruit.
Bring to a boil and simmer until the jackfruit is cooked, around 15 minutes. Transfer the sweetened jackfruit and syrup into a jar and refrigerate until ready to use.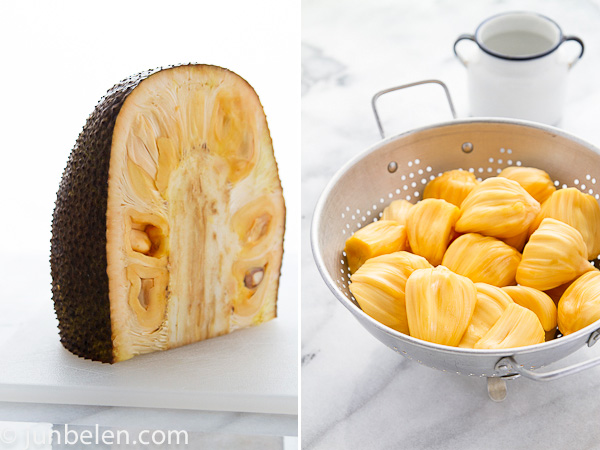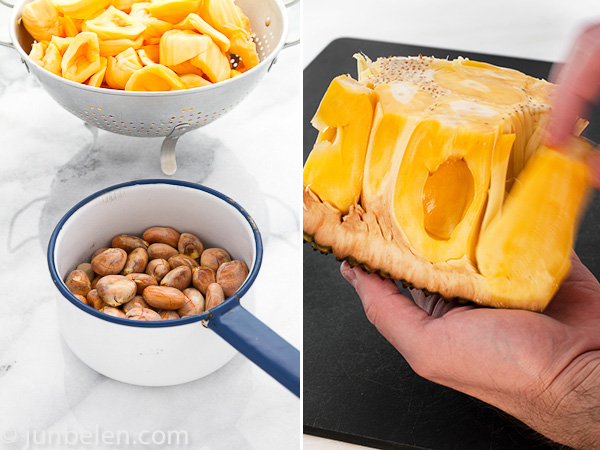 Jackfruit Pan de sal Bread Pudding Recipe
Recipe adapted from Gerry Gelle's Filipino Cuisine, makes 8 servings
4 cups milk
2 eggs, slightly beaten
1/3 cup sugar
1/2 teaspoon salt
2 teaspoons vanilla extract
4 tablespoons melted butter
1 cup preserved jackfruit, homemade or store bought, sliced into thin strips
6 to 8 pieces day-old pan de sal or white bread, cubed
Preheat oven to 350 degrees F.  Grease a 1-1/2 quart casserole or 8-by-8 baking dish with butter.
Whisk the milk, eggs, sugar, salt, vanilla, and butter in a large bowl.  Add jackfruit and bread, and mix well.  Let the bread soak for thirty minutes.
Pour the mixture into the dish and set it in a bigger baking or roasting pan.  Add warm water to an inch from the top of the dish. Bake for 75 minutes, or until a toothpick inserted in the center comes out clean.
Serve hot or warm, topped with whipped cream or à la mode.
Learn the alphabet of Filipino food through our glossary. So much is lost in translation, I know, but I hope this glossary will help those unfamiliar with Filipino food become more informed.
A is for Achuete
B is for Barako Coffee
C is for Camarón
D is for Dinuguan
E is for Ensaimada
F is for Fish Balls
G is for Gata
H is for Himagas
I is for Itlog na Maalat
J is for Jackfruit