Cooking is 80 percent confidence, a skill best acquired starting from when the apron strings wrap around you twice. — Barbara Kingsolver
It is no secret that I started to learn to cook only after I moved to California. It was out of necessity, out of my rootlessness. I was plagued with a terrible homesickness after the big move and I turned to food and cooking to appease my longing for my connections with home.
My once-a-week long-distance phone calls to my mom practically turned into impromptu cooking lessons. I asked her how to make chicken stock for pancit and arroz caldo and what cuts of meat I need for caldereta and mechado. How much fish sauce should I use for menudo? How much vinegar for adobo? My questions were endless. "Taste it and you'll learn," my mom repeated over and over.
Oftentimes, I failed miserably, confusing tomato paste with tomato sauce. I always had the tendency to over-salt, drowning my chicken thighs and legs in too much soy sauce, making them completely inedible. But despite my mishaps in the kitchen, there was one skill I proudly possessed. I know how to cook rice.
Back home, rice isn't cooked through the effortless flick of a switch in a rice cooker. The process is more elaborate, more involved. It begins with measuring uncooked rice — bigas [bee-gas] — by the gatang [gah-tahng], the smallest measure of rice, roughly the size of a can of condensed milk. One gatang feeds four. Two for those with larger appetites.
The uncooked rice, properly measured, is placed in a bowl or basin where the rice hulls and grit left behind after milling the grains are picked meticulously by hand. The cleaned rice is transferred to a pot and washed by hand with water, reserving the starchy wash water — hugas bigas [hoo-gas bee-gas] — for use as stock in dishes like pesa and sinigang. The proper depth of water for boiling is measured by dipping a hand in the pot, fingers first and fingers straightened, and using the folds of the middle finger as a measuring guide. At times, a knot of pandan leaves is buried underneath the bed of rice to give the cooked rice — kanin [kah-nin] — a sweet fragrance. As soon as the water comes to a boil, the heat is turned low and the rice is allowed to cook in a gentle simmer until the water has boiled off and the grains have become tender.
I learned to cook rice, I guess, after having burned rice far too many times while growing up. This is not to say that the scorched crust that forms at the bottom of the pot — tutong [too-tong] as Filipinos call burnt rice — is deplorable. I do not mind a little imperfection every now and then. A liberal douse of sauce from a braise fixes the flaw. For some, the crusty tutong is not even a flaw. It is the best part. And, mind you, rice that skews dry to burnt is, in my book, impeccable when fried for breakfast the following day. Fried rice — sinangag [see-nah-ngahg] — with fried eggs and fried pork is pure breakfast bliss.
But, I digress. A big part of cooking is about being confident and confidence only comes from doing, from wrapping the apron strings around you twice. Confidence in the kitchen comes from cooking and making mistakes. Burning the rice. Over-salting the chicken. It comes from learning from your mistakes and from doing it again.
"Taste it and you'll learn," my mom has always taught me. If I had half of my mom's confidence in the kitchen, I'd be a happy man.
Adobo Fried Rice Recipe, makes four to six servings
2 tablespoons canola oil
4 cloves garlic, crushed
3 cups leftover cooked rice at room temperature (1 cup uncooked gives roughly 3 cups cooked rice)
1 cup adobo flakes
1 teaspoon sriracha
salt to taste
Heat oil in a wok or large pan over high heat. Add garlic and saute until brown and fragrant. Mash the rice gently with clean hands, breaking apart clumps of rice. Pour rice into the hot wok and stir well, again breaking apart clumps of rice with a spatula. Stir fry until grains are separated and dry. Add adobo flakes and sriracha and stir well. Season with salt to taste.
Pork Adobo and Pork Adobo Flakes Recipe, makes four to six servings
1 lb pork shoulder or pork butt
1 lb pork belly
1/2 cup vinegar
4 cloves garlic, crushed
2 bay leaves
1 tablespoon coarse sea salt
12 whole black peppercorns
Cut the pork into 1 to 2-inch cubes. In a large bowl, combine pork, vinegar, garlic, bay leaves, sea salt and peppercorns. Cover with plastic wrap and let the pork marinate in the refrigerator overnight.
Transfer pork and marinade to a medium pot and bring to a boil. Reduce heat to medium-low and simmer covered until pork is cooked and tender, about 45 minutes to an hour. Remove the cover and continue to cook until the sauce is thickened.
To make adobo flakes, shred adobo by hand or with a fork. Fry adobo in its own oil or canola oil in a wok over medium-high heat, stirring continuously until golden brown and crisp.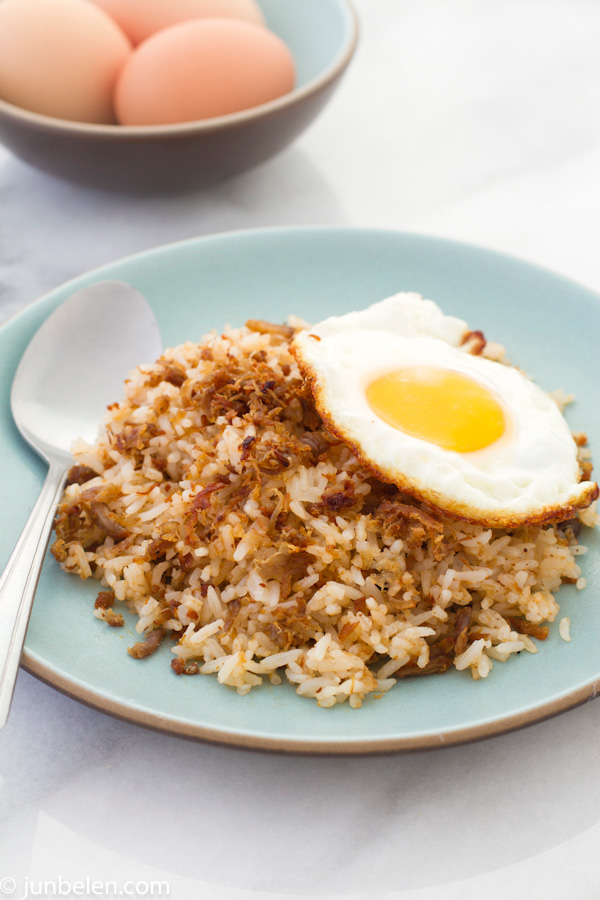 Learn the alphabet of Filipino food through our glossary. So much is lost in translation, I know, but I hope this glossary will help those unfamiliar with Filipino food become more informed.
A is for Achuete
B is for Barako Coffee
C is for Camarón
D is for Dinuguan
E is for Ensaimada
F is for Fish Balls
G is for Gata
H is for Himagas
I is for Itlog na Maalat
J is for Jackfruit
K is for Kamayan
L is for Longganisa
M is for Mani
N is for Noche Buena
O is for Omelet
P is for Pancit Palabok
Q is for Queso
R is for Relleno
S is for Sawsawan
T is for Tutong