I told him to sit and stay while I scurried upstairs to grab a clean towel from the linen closet.  I hurriedly ran down the steps and was surprised to find him still sitting next to the door where I left him.  Stanford usually gallops straight to the kitchen to get his treat as soon as he returns from his walks but not that day. He knew very well to stay put because he was soaking wet.
He laid on his back while I dried him off.  Corgis get insanely wet in the rain.  As they strut down the street from one puddle to the next, their bellies scoop up all the rainwater from the ground because of their short legs.  And so even with his waterproof, fleece-lined raincoat on, poor Stanford gets terribly wet even in just a drizzle.
But it wasn't a mere drizzle.  It was a storm!  It had been raining nonstop all week.  Sure, there were breaks from time to time when the sun tried its very best to peek out of the thick, grim clouds but those only lasted for only a fleeting moment.  I know we badly need the rain but don't we need the sun, too?  What happened to sunny California? My calamansi tree and the tomatoes and peppers Dennis planted in our tiny vegetable garden barely a week ago need the glorious sun. 
Don't get me wrong, I love the rain.  I grew up where it rains practically half the time, all the time. Monsoons are part and parcel of life. Images of basins and buckets full of rainwater that dripped from cracked ceilings flash through my mind. So do paper boats, deftly folded from old newspapers, floating dreamily along curbside streams. I love the mist. I love the rain. But cold, miserable rain for days is a totally different story.
The rain continued to pour and I knew our weekend plans would have to be ditched. I also knew I had to stop whining about the weather because there was simply nothing I could do. And things could be worse. I rolled up my sleeves and worked on a few things around the loft, which I had been putting off, then retreated to my kitchen to make stew for dinner. It was, after all, a stew kind of day. I made caldereta [kal-dih-ret-uh], beef stewed in a rich tomato sauce. I marinated the beef in vinegar for a couple of hours before I simmered it slowly in tomato sauce until it was fork-tender. I stirred in some liver pâté to thicken the stew and add another layer of flavor, then baked flaky drop biscuits right on top.
As the cold rain fell heavily outside, Stanford watched the world go by through the glass door. By the time the biscuits were done, he ran straight to the kitchen, nosed around, and followed me intently as I dished the stew and biscuits into plates for dinner. All of a sudden, the rain didn't matter anymore.
Beef Caldereta Recipe
Recipe adapted from Gerry Gelle's Filipino Cuisine
1/2 cup apple cider vinegar
6 whole peppercorns, crushed
3 cloves garlic, crushed
1-1/2 pounds beef for stew, cut into 1-inch cubes
2 tablespoons vegetable oil
1 medium onion, chopped, about 1/2 cup
12 marble or fingerling potatoes
1/2 cup tomato sauce
3 bay leaves
1 teaspoon salt
1 tablespoon sugar
1 cup water
1/2 cup liver pâté
1 medium red bell pepper, cut into strips
1/2 cup frozen peas
1/2 cup green olives, optional
1 to 2 small cayenne peppers, optional
salt and freshly ground pepper
Combine vinegar, peppercorns, garlic, and beef in a container large enough to hold everything together. Marinate for 1 to 2 hours.
Remove the beef and discard the marinade. Heat a large Dutch oven over medium-high heat Add the oil, then the beef, and brown on all sides. Transfer the beef to a plate and set aside.
Add the onions and cook until they are translucent. Add the beef, potatoes, tomato sauce, bay leaves, salt, sugar and water. Bring to a boil, lower the heat and simmer until the beef is tender, 1-1/2 to 2 hours.
Add the liver pâté and stir well. Adjust the taste with salt and pepper as needed. Add the red bell pepper and peas and simmer over low heat for 10 more minutes.
Meanwhile, make the drop biscuits.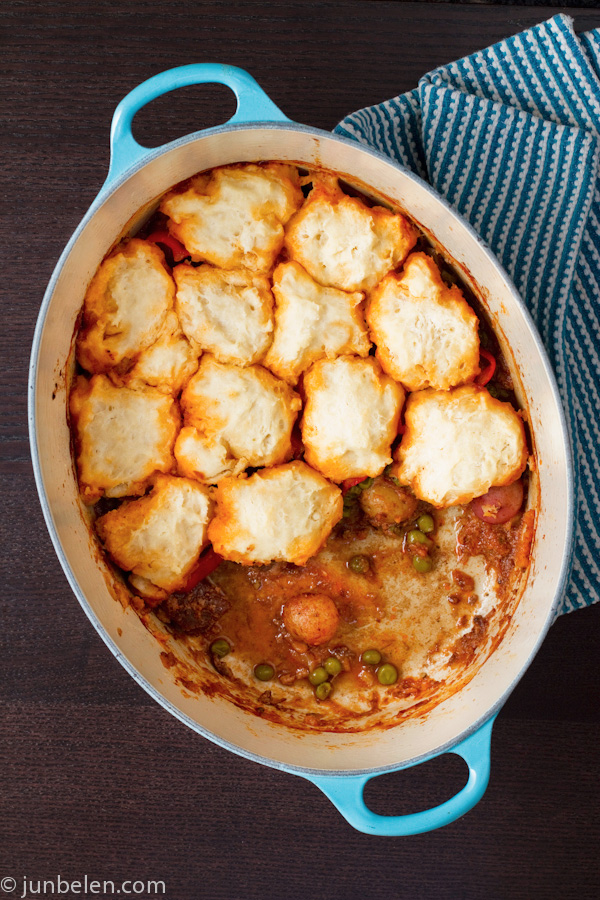 Drop Biscuits Recipe, makes fifteen 1-1/2-inch biscuits
Recipe from the Joy of Cooking
1-3/4 cup all-purpose flour
1 tablespoon baking powder
1/2 teaspoon salt
6 tablespoons chilled butter or shortening
1 cup milk
Preheat the oven to 400 degrees F.
Sift the flour, baking powder, and salt into a large bowl. Cut in the chilled butter using a pastry blender or two knives, until the size of small peas.
Make a well in the center. Add all the milk at once. Stir just until the dough comes away from the sides of the bowl.
Scoop the dough with a tablespoon and lay it gingerly on the stew until the stew is practically covered with biscuits. Leave a half-inch space between biscuits. Bake with the dutch oven uncovered until the biscuits are lightly browned, 15 to 20 minutes.
Alternatively, the biscuits can be baked separately in a baking sheet and served along with the stew. Drop the dough from the spoon onto an ungreased baking sheet. Bake until lightly browned, 15 to 20 minutes.
Cooking Notes
1. Caldereta is traditionally cooked with goat meat, in the northern part of the Philippines. Pitted green olives and slices chorizo are typically added as well as shredded cheddar cheese, which thickens the sauce.
2. Cut the meat and potatoes evenly to make sure they cook uniformly. I like using marble or fingerling potatoes that have roughly the same size as the beef cubes. Roast the potatoes separately in olive oil, salt and freshly ground pepper and add them in the stew when it is ready to be served.
3. Caldereta is typically ladled over a heap of steamed rice but I like how the drop biscuits soak up the rich, savory sauce.
4. Like most stews and soups, caldereta is better a day or two after it is made. Bake the drop biscuits fresh right before serving the stew.