I've been putting it off and I'm blaming the cold and not procrastination for it. But since Spring is here, or at least I hope it is, I have no more excuse but to finally commit to growing my own herb garden.
Ever since we moved to the Dogpatch last year, Dennis and I have been thinking about starting our own vegetable garden. Inspired by the community garden in Potrero Hill, we thought about tending one for ourselves in our huge patio, huge by city standards of course. And so this past weekend, we rolled up our sleeves, tidied up the patio and finally started our very own herb garden.
We are starting small — basil, mint, parsley, rosemary, and thyme — our favorite herbs that we cook most with. We don't want to get too ambitious and plant a bunch of stuff only to find out that we don't have a green thumb. But if all goes well, we'll probably throw in chive, oregano and tarragon in the mix. Maybe some lavender.
As much as we want to grow herbs in the ground, we really don't have much of a choice but to grow them in pots.   Alanna Kellogg has great suggestions about growing herbs in pots.
We used eight-inch diameter lightweight pots with drainage holes at the bottom and we planted a single herb to a pot. Large pots this size will hold enough moisture on hot rainless summer days while the drainage holes will prevent plants from drowning.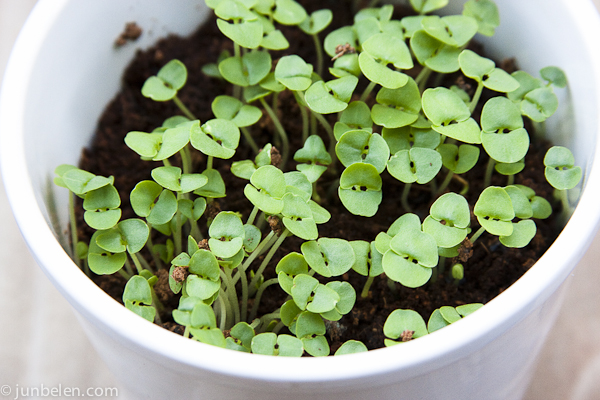 What about the soil?
"For extra-large pots, fill the bottom third or half of the pot with styrofoam popcorn or even used wine corks. The pot will need less soil and be quite a bit lighter, making it easier to move or at least turn. Then fill with soil. If you're doing just a couple of pots, buy a premixed soil called potting soil, which will be loose and easy to work with. For more soil, it's easy to make your own potting mix." – Kellogg
Our patio gets flooded with morning sun, which is perfect for plants since afternoon sun is hard on them.  We found a spot that's bright in the morning but has plenty of shade in the late afternoon.  It is important to find a spot that gets direct sun for at least six hours a day because herbs love the heat.
How about watering and caring for the herbs?
In hot climates, Kellogg recommends watering daily unless it rains. She soaks them in the morning, filling the pots until water begins to drain out of the holes in the bottom. But for San Francisco, I think we'd have to come up with our own watering schedule and see how it goes since we wouldn't want to overwater our plants.
Finally, Kellogg warns about herb blooms: do not allow them to bloom — particularly, basil. Nip these off as soon as they appear, she says. Keep the herbs clipped, neat and trim.
Here are a few links for sites that have more information about growing herb gardens at home.
Never Buy Fresh Herbs Again
Growing Herbs on Pots
Make Your Own Potting Mixes
Would You Pay $150+ for Year-Round Fresh Herbs?
By the way, we ended up just spending under $40 for the herbs, pots, and potting soil. We bought those small herb plants that are typically sold in grocery stores and Farmers' Markets for $2 to $3 apiece.  Since we didn't spend a fortune,  I'm really psyched and really looking forward to cooking with our own herbs.
If all goes well, we'll have meyer lemons next and a bigger place that comes with the tree.