I was busy in the kitchen tinkering with my camera when I noticed Stanford pacing briskly back and forth out on the deck. He click-clacked his way up and down the beaten wooden planks and appeared enchanted by something in the old Redwood tree. It must be his new friend, I thought. Or his new foe — the squirrel who's built a nest of sticks and twigs perched on the tree.
He poked his handsome head between the railings and prepared to lunge at the frolicking squirrels. Stanford has a propensity to run with reckless abandon toward anything that catches his fancy. You should see him in the park when he chases after his ball or in his walks when he spots pigeons on the street. Never belittle those short corgi legs for he can run like the wind. That morning, he was determined to run after our beguiling little neighbors. I rushed outside, grabbed the little guy, and calmed him down. Nobody wants a squirrel scuffle. Nobody wants anyone to get hurt.
Soon the morning ruckus quieted down. All I could hear were the ducks quacking in our neighbor's yard. The ducks, mind you, aren't a bad thing. They are actually a hoot! They don't quack incessantly, thank heavens, but when they do they're hilarious.
I sank back into my Adirondack while Stanford retreated to his favorite spot next to our Early Girls. A gentle morning breeze blew from the south and I caught a whiff of the fragrant calamansi blossoms. We had lost all hope that they would bloom again but after we read about and tried starving the tree of water until its leaves roll up then adequately watering it, we saw a full flush of blossoms within a month. The tree looked magnificent with a flurry of white citrus flowers.
I leaned back and marveled at how much our edible garden has grown. We started with pots of basil, mint, parsley, rosemary, and thyme over a year ago and we've expanded our repertoire to fill every possible square footage of space in our yard that gets ample sun. Dennis has done a remarkable job putting it together.
Why care for an edible garden? We don't fit the bill of hippie-urban-farmer-types, you know. I seriously doubt we can reduce our carbon footprint by caring for a garden as tiny as ours, even if every little bit helps. I also doubt we can save a real, big chunk of change by eating food sourced at home. But gardening is something both our moms did when we were little. It reminds us of home. Papaya and guava trees in Manila. Tomatoes and zucchinis in Ohio.
And it's the sheer delight of seeing things grow. The delight of seeing tomatoes ripen and pea shoots curl up. The delight of seeing fragile dill leaves form and ruby-red beet stems grow.
Plus it's the unquantifiable sense of pride that the radishes pickling in vinegar and the tomatoes simmering in butter in our kitchen didn't come from far, far away. They were homegrown and hand-picked from our own edible garden.
You'll be amazed at how much you can grow even in tiny, cramped spaces. There's so much information out there both in print and online that you should give an edible garden, however small, a try. Here's a list of books and links that we've found most useful.
Sugar Snaps and Strawberries
Heavy Petal
A Veggie Venture
Growing Herbs on Pots
Make Your Own Potting Mixes
Would You Pay $150+ for Year-Round Fresh Herbs?
Growing Dwarf Citrus
Calamondin – The Most Versatile Citrus
By the way, we wouldn't have the impetus to start growing tomatoes and radishes if it weren't for Annapet and Melissa. Thank you for the inspiration.
Care to share your own gardening story?
Pickled Radish Recipe
Recipe by Thomas Keller from Ad Hoc at Home
1/2 cup champagne vinegar
1/4 cup granulated sugar
1/4 cup water
1 cup red radishes, washed, trimmed, thinly sliced or quartered
Combine vinegar, sugar, and water in a saucepan and bring to a boil, stirring to dissolve the sugar. Remove from the heat and let cool to room temperature, then chill in the refrigerator.
Put the radishes in a canning jar or other storage container and pour the pickling liquid over them. Let stand for 20 to 30 minutes, then cover and refrigerate for up to 1 month.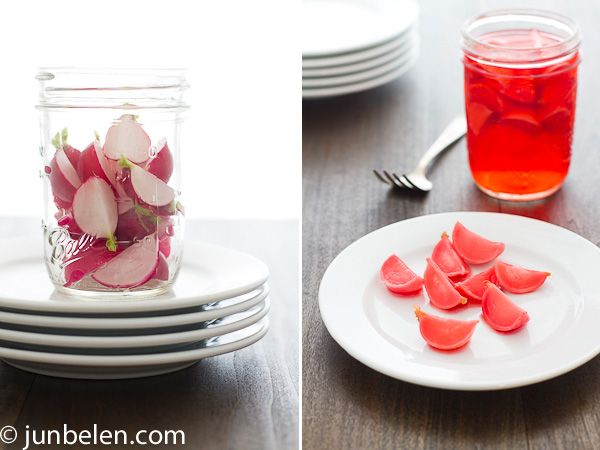 Tomato Sauce Recipe
Recipe by Marcella Hazan from Essentials of Classic Italian Cooking
2 pounds fresh, ripe tomatoes, prepared as described below, or 2 cups canned imported Italian tomatoes, cut up, with their juice
5 tablespoons butter
1 medium onion, peeled and cut in half
salt to taste
Plunge the tomatoes in boiling water for a minute or less. Drain them and, as soon as they are cool enough to handle, skin them, and cut them into coarse pieces.
Put either the prepared fresh tomatoes or the canned in a saucepan, add the butter, onion, and salt, and cook uncovered at a very slow, but steady simmer for about 45 minutes, or until it is thickened to your liking and the fat floats free from the tomato.
Stir from time to time, mashing up any large pieces of tomato with the back of a wooden spoon.
Taste and correct for salt. Discard the onion before tossing with pasta. Serve with freshly grated parmigiano reggiano cheese for the table.