On the northeast corner of our lot sits our kitchen garden. A big fig tree, twice as tall as I, spreads out like a long espalier on its west side. The garden, roomier than a modest but nevertheless pricey one-bedroom apartment in the city, has two raised beds made of cinder blocks, strawberry troughs, and wine barrel planters. Everything is fitted with drip line irrigation — a nifty must-have for any serious urban farmer, in my opinion. A tall deer-proof fence secures the garden all around. Oakland's hills are teeming with wildlife. We've seen a fox strutting down our street twice already since we moved. A flock of wild turkeys pays our block a visit every now and then. If we don't keep them out, deer will turn our lettuce and tomato beds into a free-for-all eat-all-you-can salad bar.
Nobody lived in the property for a while before us and so everything in the garden and around the yard was heavily overgrown when we moved in. The mailbox, for instance, looked like it was swallowed by the juniper tree standing unwieldily next to it. It's been four months since we got the keys and we've been busy working around the house. Trimming overgrown oleander and juniper trees. Taming wild ivy vines and blackberry bushes. The Golden Girls have been hard at work, too. Weeding out grass and tearing up fallen leaves. Stirring up the soil. Aerating it and enriching it with their nitrogen-rich manure.
We've been busy planting, too. Asparagus and rhubarb along the perimeter across the fig tree. Lemongrass. A three-year-old Meyer lemon tree. Bare-root Quinalt and Albion strawberries. Broccoli and sugar snap peas. Swiss chard and fennel. Red and green leaf lettuce and leeks. Black Krim, New Girl, and San Marzano tomatoes. All from seeds.
The list of to-do's goes on and on. I'm not even counting the orchard and the backyard bees, which are projects that, I'm afraid, will have to wait another year. Our plate is full and there's plenty to do. But nothing makes me happier these days than knowing that the days are getting longer. That the days are getting warmer — knock on wood! Daffodils and paper whites have sprung up. Our pluot tree is abloom. Soon I'll be stir frying chop suey [chap sooy] with broccoli crowns and snap peas picked from our kitchen garden. Soon I'll be canning tomatoes for sauce. Soon I'll be juicing calamansi and pickling carrots for sawsawan.
No more frost, I hope. I'm keeping my fingers crossed.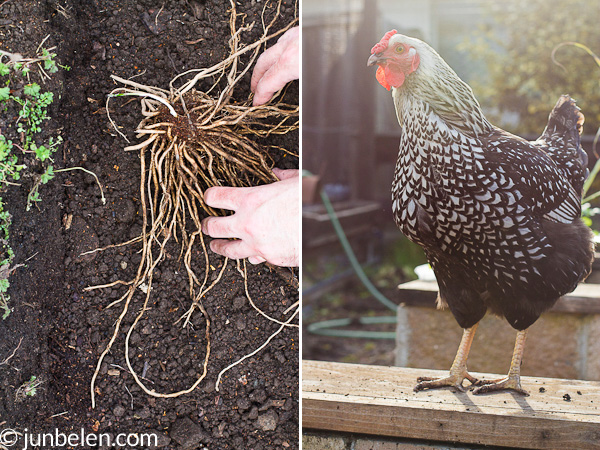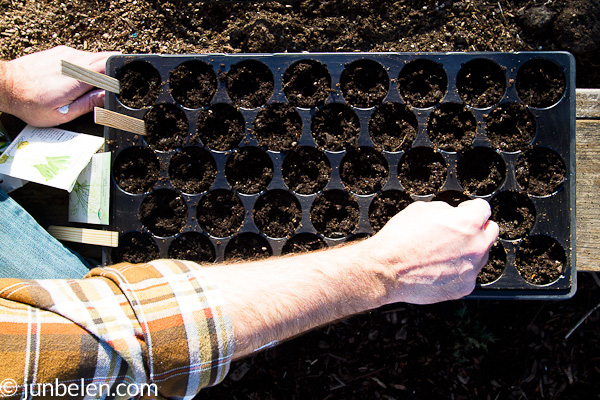 Chop Suey Recipe, makes four servings
1 tablespoon fish sauce
2 tablespoons soy sauce
1 tablespoon oyster sauce
1 teaspoon brown sugar
1 tablespoon flour
1/4 cup shrimp stock
1-1/2 cup broccoli florets and stems
1-1/2 cup cauliflower florets and stems
3 tablespoons vegetable oil
2 cloves garlic, crushed
1/4 pound shrimp, shelled with tails on, and deveined
1/2 cup thinly sliced onions
1 cup thinly sliced carrots
1 cup thinly sliced brown crimini mushrooms
Whisk fish sauce, soy sauce, oyster sauce, brown sugar, flour, and shrimp stock together in a small bowl and set aside.
Bring 1 quart of water to a boil in a saucepan over high heat. Add broccoli and cauliflower and cook, stirring 1 minute or until broccoli is bright green. Drain in a colander and set aside.
Heat a large heavy skillet or wok over high heat and add 1 tablespoon vegetable oil. Add garlic and stir fry until lightly browned. Add shrimp and stir fry until cooked. Transfer shrimp to a bowl and set aside.
Add remaining 2 tablespoons vegetable oil. Add onions and stir fry until fragrant and soft. Add carrots and mushrooms, stir fry until mushrooms begin to soften. Add sauce, cover, and cook, stirring occasionally, until carrots and mushrooms are cooked. Add shrimp, broccoli, and cauliflower. Stir fry until well combined.
Serve immediately with rice or noodles.
Use whatever vegetable is in season. Carrots and cabbages, broccoli and cauliflower year-round. Asparagus and sugar snap peas in the spring. Green beans in the summer. Brussel sprouts in the fall.