In Filipino cooking, the dining table is a virtual extension of the kitchen. Cooking doesn't end when the fish has been grilled, when its skin has charred. It doesn't end when the pork has simmered, when the stew has been ladled into bowls. Cooking extends beyond the kitchen and into the dining table where everyone is encouraged to take part in preparing the meal. It extends into one's plate, into one's hands, if one chooses to indulge and eat with bare hands, where the taste and texture of the food are adjusted to one's liking using the ever-present sawsawan [sou-sou-wuhn].
Sawsaw [sou-sou] means to dip in Filipino and sawsawan is the assortment of sauces and condiments always present in every Filipino meal. It can be a dipping sauce like patis [pah-tis] and toyo [toh-yò]. It can be a garnish like sprigs of wansoy [wuhn-soi] and slivers of green onions. It can be a marinade like toyomansi — toyo and calamansi combined together to flavor meats like chicken and beef.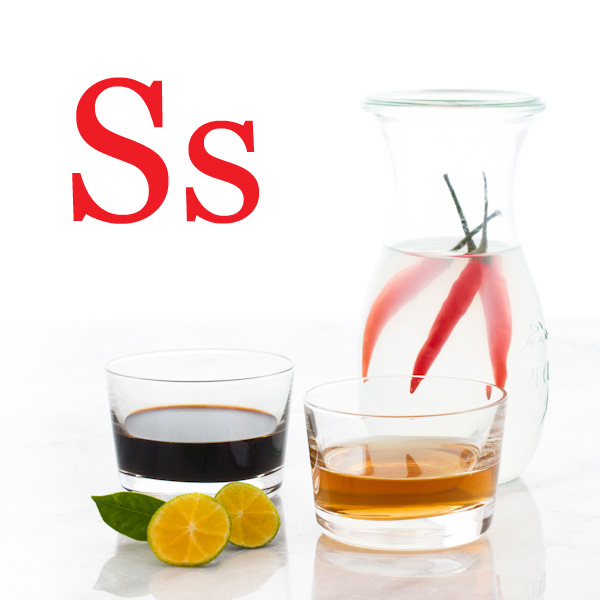 It can be a side dish like a medley of green mangoes with tomatoes, shallots, and itlog na maalat. It can even be a meal by itself accompanied with rice, of course, like burong mustasa [boo-rohng muhs-tah-sah] or pickled mustard leaves sauteed with eggs and the trinity of garlic, onions, and tomatoes.
With the suitable sawsawan, the sour is tempered with the salty: green mangoes with bagoong alamang, and the salty with the sour: dried, salted scad or mackerel with suka [soo-kà]. The sawsawan can be as simple as a squeeze of calamansi in patis that accompanies bulalo, the soup of beef shank and beef marrow. As simple as a dash of worcestershire in banana ketchup that makes a meal of Max's fried chicken complete.
Or the sawsawan can be a sophisticated blend of sauces, aromatics, chilies, and spices with complementing layers of taste and texture. My dad dips everything in vinegar infused with garlic, black whole peppercorns, and chilies. Burnt Lumpia swears by his Ilocano sawsawan composed of tomatoes, bagoong isda, and shallots. A good friend from Cebu grills fish seasoned simply with sea salt and cracked black peppercorns but assembles an elaborate sawsawan made of vinegar, soy sauce, and calamansi with a pinch of sugar, a sprinkle of finely chopped shallots, and crushed siling labuyo.
The combinations are countless. Every sawsawan is unique just as everyone's palate is unique.
When I was little I was so enamored of the Lazy Susan on our wide, round dining table. It twirled busily at every meal and I was so fascinated whenever I got the chance to spin it. I knelt precariously on my chair, rested my left hand on the table, then spun the Lazy Susan around with my right.
There was always a big bowl of rice on the Lazy Susan. Oftentimes, there was fish, usually fried. There was either soup like nilaga or vegetables sauteed in a simple guisado to accompany the fish. And there was always sawsawan. Patis with calamansi. Suka with siling labuyo. Everyone had a small dipping dish with his or her own sawsawan. Everything was shared, family-style. The best way, the only way to enjoy Filipino food.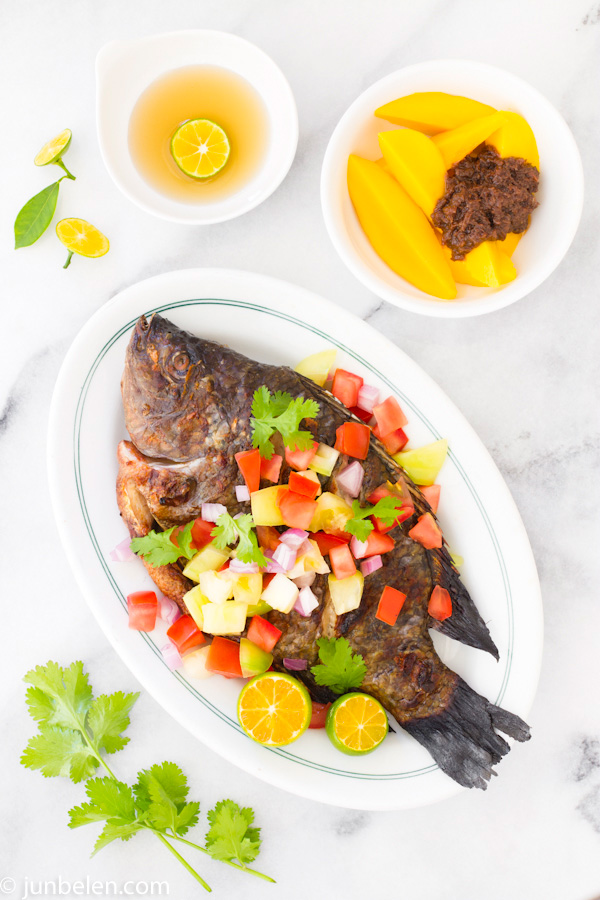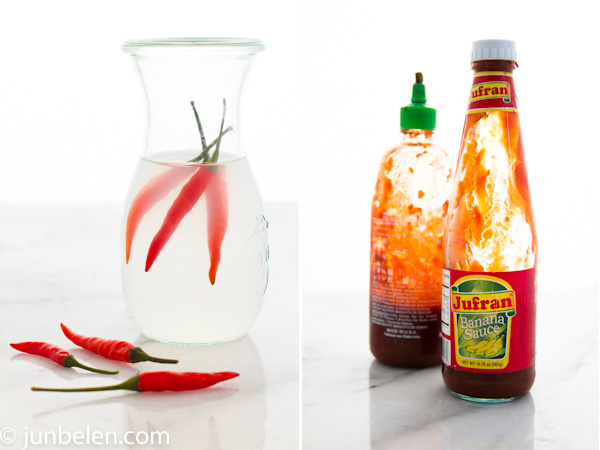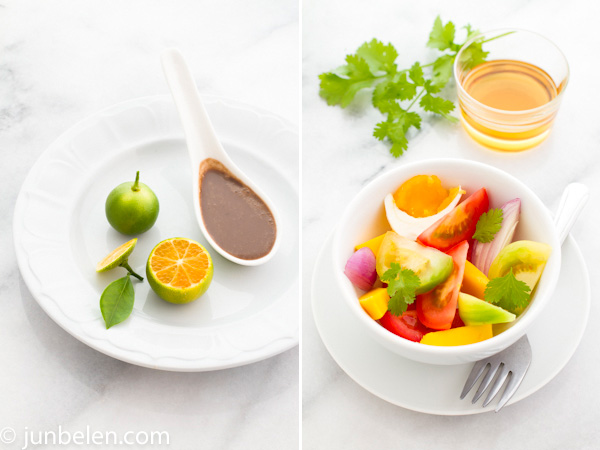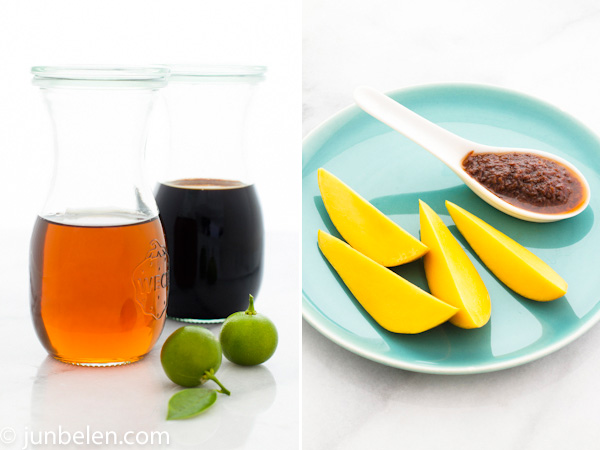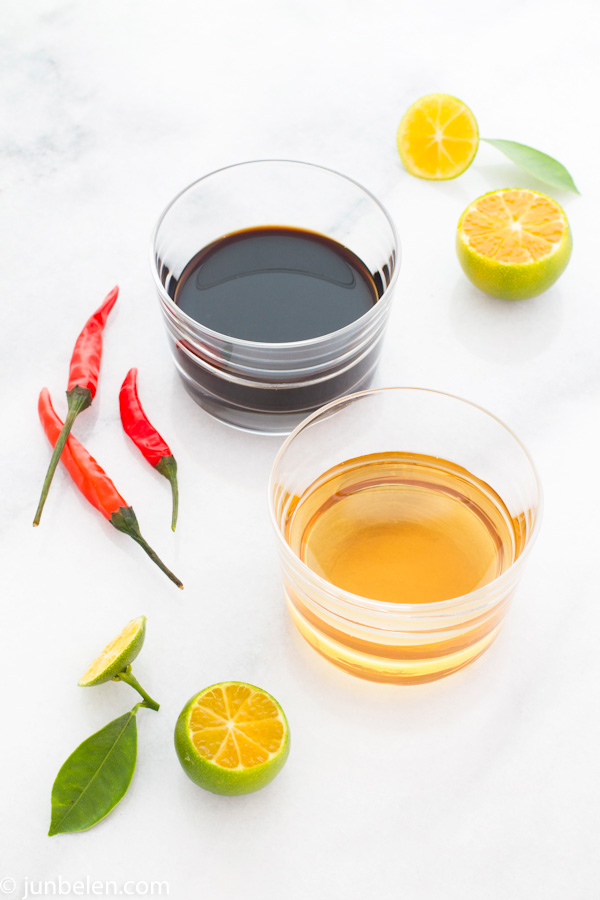 From top to bottom, left to right: patis (fish sauce) with calamansi; green mangoes with bagoong alamang (salted, fermented shrimp paste); grilled tilapia with tomatoes, onions, and wansoy (cilantro); suka (vinegar) with siling labuyo (Thai chilies); sriracha and banana ketchup; bagoong isda (salted, fermented fish paste) with calamansi; green mango salad; patis and toyo (soy sauce); green mangoes with bagoong alamang; patis and toyo with siling labuyo and calamansi.
What is your favorite sawsawan?
Learn the alphabet of Filipino food through our glossary. So much is lost in translation, I know, but I hope this glossary will help those unfamiliar with Filipino food become more informed.
A is for Achuete
B is for Barako Coffee
C is for Camarón
D is for Dinuguan
E is for Ensaimada
F is for Fish Balls
G is for Gata
H is for Himagas
I is for Itlog na Maalat
J is for Jackfruit
K is for Kamayan
L is for Longganisa
M is for Mani
N is for Noche Buena
O is for Omelet
P is for Pancit Palabok
Q is for Queso
R is for Relleno
S is for Sawsawan