I skimmed through the wall of nuts in front of me. The selection was staggering.
Pecans and pistachios. Macadamia nuts.
Whole walnuts and halved walnuts.
Cashews of every size. Large, extra-large, and large ones crushed into tiny million pieces.
Almonds of every kind. Sliced and slivered. Salted and unsalted. Raw and roasted. Dry roasted and honey roasted. Milk chocolate covered and dark chocolate covered. Even cinnamon toffee almonds that sounded pretty darn tasty.
The choices were overwhelming but I couldn't find what I was looking for. Out of the blue, I had a deep pining for cold beer and fried peanuts — pritong mani [preeh-tong mah-nî]. The kind with the red skins unscathed that's fried in oil, tossed with fried garlic, and flecked with salt. The kind that's peddled in the streets back home, next to jeepney and bus stops, in churchyards and schoolyards. The kind that's measured by the glass and wrapped in brown paper bags. For a fiddling sum of money, you can buy happiness. Salty, greasy, and garlicky happiness.
I quickly browsed through the shelves again and spotted a jar of blister fried peanuts, the closest to what I was looking for. "The boiling time, cooking time, oil temperature, and salting process are all precisely maintained according to our own recipe, thus guaranteeing you the best tasting peanut you've ever had," the label proudly declared. I so wanted to cry out, I've had better!
Before I lost my mind, I grabbed a bag of unshelled peanuts, paid what I owed, and stormed out the door. I wasn't going home defeated. I was going to make it from scratch.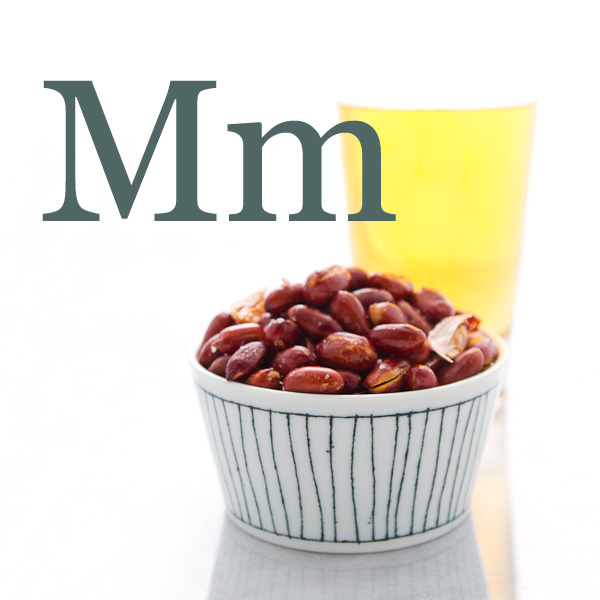 Pritong Mani Recipe, makes four servings
1 cup canola oil
6 cloves garlic, crushed
2 cups raw peanuts, shelled but skins intact
salt to taste
Pour canola oil in a deep wok or kawali enough to reach a depth of two inches. Fry garlic over high heat until fragrant and golden brown, about 5 minutes. Transfer fried garlic to a plate using a skimmer and set aside. Reduce heat to low. Fry peanuts over low heat, turning frequently with a skimmer, until golden brown, about 10 minutes. Transfer fried peanuts to a meshed sieve fitted on top of a bowl and drain excess oil. Sprinkle with fried garlic and salt. Serve with cold beer.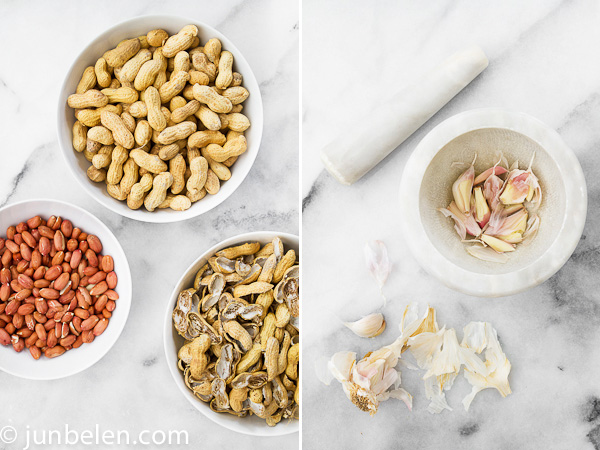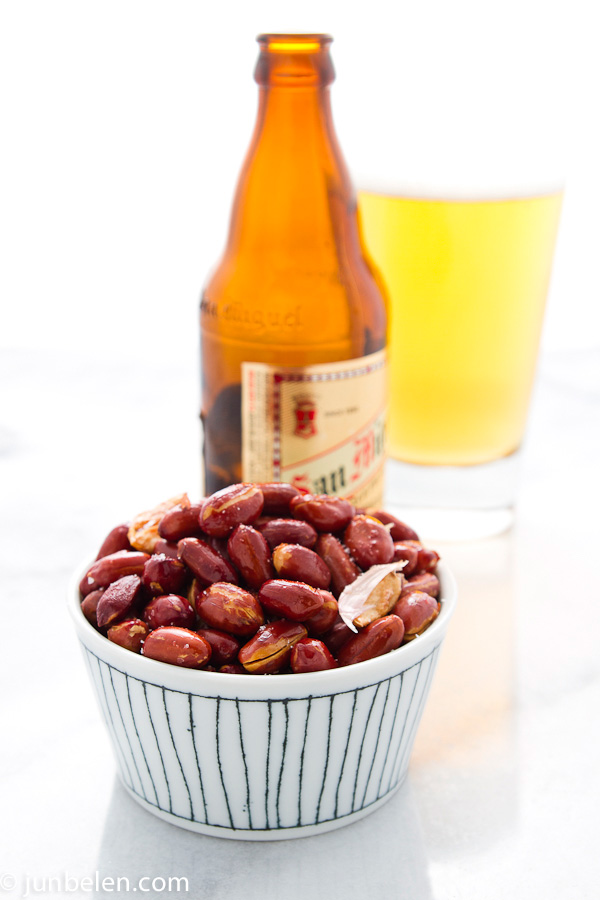 Learn the alphabet of Filipino food through our glossary. So much is lost in translation, I know, but I hope this glossary will help those unfamiliar with Filipino food become more informed.
A is for Achuete
B is for Barako Coffee
C is for Camarón
D is for Dinuguan
E is for Ensaimada
F is for Fish Balls
G is for Gata
H is for Himagas
I is for Itlog na Maalat
J is for Jackfruit
K is for Kamayan
L is for Longganisa
M is for Mani