I could smell garlic in my breath, which I didn't mind. When you're ten years old you don't obsess about such things. Besides, I felt like I was on top of the world, on the front seat of a jeepney flying at full speed with the cold wind against my face and the taste of fried garlic in my mouth. I was ten when my mom let me take jeepneys on my own. Jeepneys are the minibuses back home. They are jitneys of some sort originally made from American military jeeps leftover from the war, which explains the play on words.
Always be careful, my mom reminded me every morning before I headed out to school, which was barely a mile, a quick ten-minute jeepney ride from home. I could practically walk to school but if I did I would be sweating like a pig in the heat of the sun by the time I get to class. My mom gave me exact change for the fare and taught me how to hail jeepneys with a wave of a hand and how to tap the roof with my knuckles to let the driver know I had reached my destination.
The jeepney ride home was always the highlight of my day. I relished the time I spent by myself doing things on my own. I looked forward to sitting in front next to the driver where I could watch the road ahead unfold and admire the over the top ornaments on the hood. When I had extra change I looked forward to a small paper bag of pritong mani peddled on the streets next to the jeepney stop. Mani is peanuts, pritong mani is peanuts with their skins on fried in oil with garlic and salt. Happiness was — and still is — pulling out a plump clove of fried garlic from a greasy bag of pritong mani.
The scent of garlic evokes fond recollections of those days. I love the smell of crushed cloves in my almires (mortar and pestle) and do not mind how the smell lingers on my fingers. I remember folk stories when I was little about witches and spirits and how the smell of crushed garlic can drive them away. A crucifix and a smear of crushed garlic, they say, are all it takes to ward wickedness off. But to me the scent of garlic is far from repugnant. The scent fondly reminds me of home.
The smell of freshly crushed garlic means pork or chicken is soaking in vinegar for adobo. It means butterflied milkfish is curing for daing na bangus. Waking up in the morning to the smell and sound of garlic hissing in hot oil means breakfast with sinangag, or dayold leftover rice fried with garlic and salt. A plate of sinangag with fried eggs and fried fish or fried pork like tocino or longganisa — made with even more garlic — is one of life's simple pleasures. The same is true with a bowl of arroz caldo garnished with a flurry of golden fried garlic. The chicken and rice porridge served with slices of hard boiled eggs, a squeeze of calamansi juice, and, of course, a sprinkle of fried garlic is my kind of Filipino comfort food.
The first thing I learned to cook after I moved from Manila to California was my mom's pork adobo. She taught me to use pork shoulder and pork belly and to make the marinade with vinegar, crushed garlic, whole black peppercorns, bay leaves, and salt. Then I learned the rudiments of making gisado. To gisa — from the Spanish guisar — means to sauté. Gisado means sautéed, like a vegetable gisado with repolyo (cabbage), sitaw (yard long beans), or whatever vegetable is in season, and pancit gisado with noodles. She taught me how to render fat from small cuts of pork in a hot kawali (deep frying pan) and how to sauté with garlic, followed by onions, and followed at times by tomatoes. She taught me how to sauté the crushed garlic until the garlic begins to brown and its fragrance fills the kitchen. The making of a delicious home cooked meal in my book always commences with this fragrance. It always begins with the scent of garlic.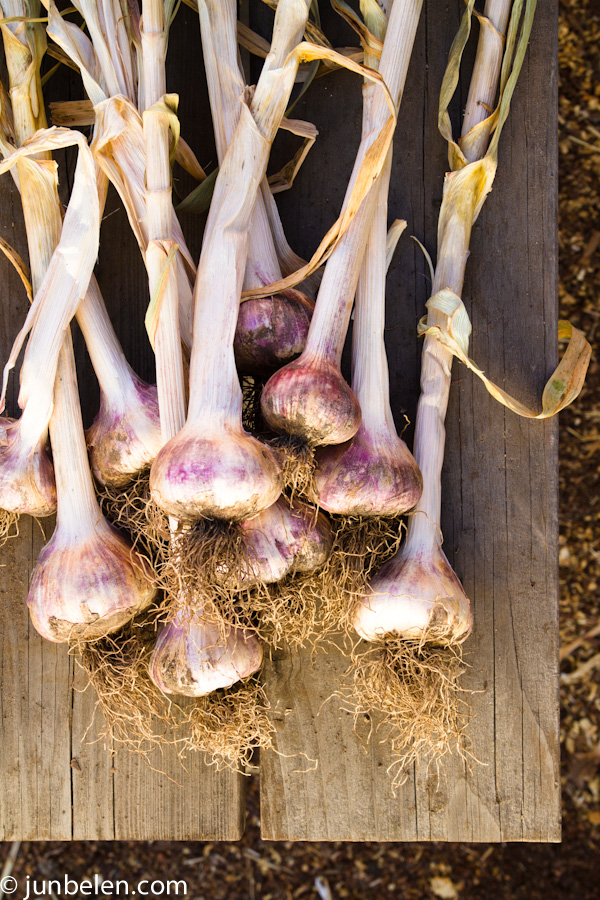 Green Bean Gisado Recipe
tablespoon pork lard
cloves garlic, crushed
cloves shallots, sliced thinly
green beans, washed and ends clipped
salt and freshly ground black pepper to taste
Heat lard in a pan over medium to high heat. Add garlic and stir fry until almost brown. Add shallots and stir fry until soft and fragrant. Add green beans and stir fry until blistered and tender but not limp. Season with salt and freshly ground black pepper.