I can't help but think of my dad whenever I cook with eggplants. They weren't his favorite as far as I remember. I don't think he had any. He loved to eat, that's for sure. He loved everything my mom made. Everything from her simple one-pot stews to her more pompous dinners. He didn't know his way around the kitchen and he never tried to learn. Their roles at home were clear-cut. My dad was the breadwinner and my mom was the homemaker. He was genuinely appreciative of everything my mom did for him and for us. Appreciative of her homecooking, above all.
I wasn't particularly fond of eggplants when I was little. I always had my eyes on the soft fish belly in paksiw and never on the spongy eggplants that came with it. The same was true with kare-kare, the stew of oxtail and vegetables flavored with toasted peanuts and thickened with pounded rice. I would eagerly seek out the oxtail and even the notorious tripe. I would lavish the tender meat that fell off the bone with thick peanut sauce and pungent shrimp paste and clandestinely brush the poor eggplants aside.
But my dad loved those unappreciated aubergines. He loved eggplants with fish heads stewed in vinegar and plenty of ginger. He loved them with okra and bitter melon simmered in shrimp paste. He loved them thinly sliced, rubbed with rock salt, and then fried until their firm flesh shriveled into a delicate mush. He loved them grilled whole with their charred skin stripped, and then fried into omelets.
Thank heavens, my dad loved eggplants! Because of him, I got a free pass for not eating the purple nightshades when I was a kid. "Remember the poor little boys and girls who have nothing to eat," my mom would tell me while throwing me that disarming are-you-not-eating-that-eggplant look. My dad would then come to my rescue and take the sad, ravaged piece of meatless tortang talong [tohr-tang tah-long] — eggplant omelet — off my plate. And then he would flash me his approving smile, which meant that I was off the hook. I can just picture him now.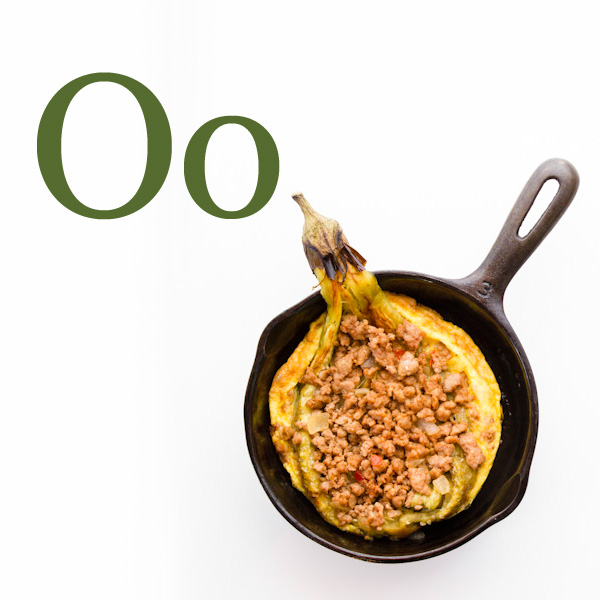 Luckily for me, I've outgrown my petty dislike of this popular vegetable. I can't remember though when and how the epiphany came. My favorite way of cooking Filipino eggplants — the kind that's vividly purple, slender, and long — is either frying thin slices in olive oil or grilling them whole until they are shriveled and soft. Grilled eggplants and ground pork make great omelets, the best use of eggplants in my book. The different layers of flavor and texture make for a perfect bite.
Tortang Talong Recipe, makes six omelets
1 pound ground pork
1 small onion, chopped
3 cloves garlic, crushed
1 small tomato, chopped
2 pieces bay leaf
salt and freshly ground black pepper to taste
6 slender eggplants, preferably 6- to 8-inches long
6 large eggs
canola oil
Fry pork in a pan over medium high heat. Stir and crumble into pieces until completely browned, about 15 minutes. Transfer to a plate but leave the fat and juices behind. Saute onions in pork fat until fragrant and softened, about 5 minutes. Add garlic and saute until lightly browned, about 2 minutes. Add tomatoes and saute until softened, about 5 minutes. Place the pork back in the pan. Add bay leaves, salt, and freshly ground black pepper and simmer over low heat for another 15 minutes. Transfer to a plate and set aside.
Make a shallow cut lengthwise along the eggplant. Grill eggplants in medium high heat until shriveled and soft, about 10 to 15 minutes. Transfer to a plate and cover with a clean towel to make the eggplants sweat as they cool. Once cool to touch, peel the skin off and discard but leave the stem intact. With your fingers, pull the eggplant apart so that it flattens like a deflated balloon.
Assemble omelets one at a time. Turn the broiler to high. Add oil to a six-inch cast iron frying pan, just enough to coat it. Turn the heat to medium. Crack an egg in a small bowl and beat with a whisk or fork. Pour in the egg and add a pinch of salt. Shake the pan to get the egg to coat the pan. Lay an eggplant on the egg. Sprinkle sauteed ground pork, about half a cup, on top of the eggplant. Let this cook until the edges begin to set, then put the pan under the broiler. Cook the omelet under the broiler until the top browns, about 5 minutes. If you prefer to finish the omelet on the stovetop, like when you use a nonstick pan instead of cast iron, carefully flip the omelet using a spatula to cook the other side. Serve warm with banana ketchup.

Cooking Notes
1. Eggplants can be broiled under high heat instead of grilled. Make sure to cut a shallow slit lengthwise down the eggplants before broiling or grilling to prevent them from bursting while cooking.
2. I prefer Filipino eggplants over the bigger Chinese ones. A good size would be something around eight inches. If there is no other choice but to get the heftier variety, the meat from one eggplant can be used to make two or even three omelets.
3. I also prefer using six-inch frying pans to make individual omelets. I use a cast iron one so I can finish them under a broiler without worrying about flipping them with a spatula. Bigger non-stick pans will work, too. When using a bigger pan, like an eight-inch, double the eggs and eggplants so that the omelet will fill the entire pan.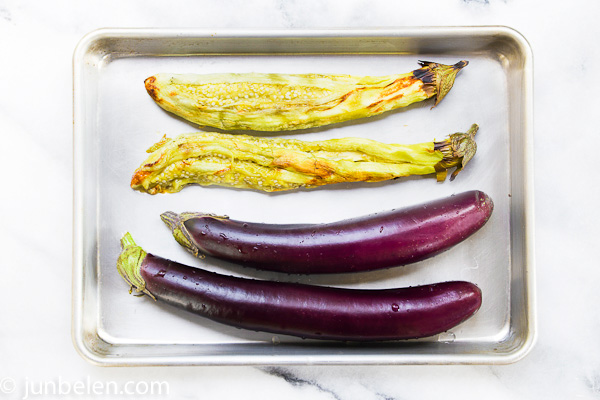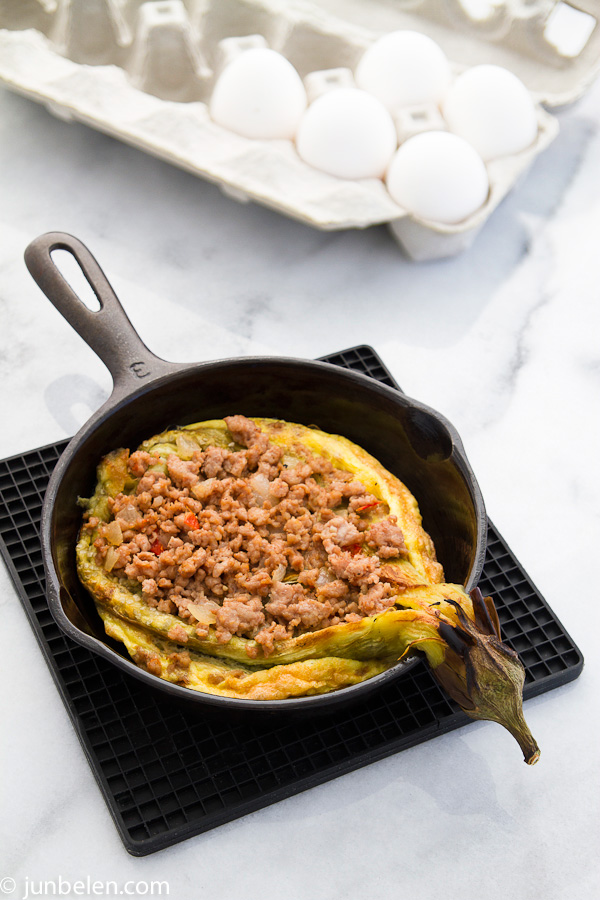 Learn the alphabet of Filipino food through our glossary. So much is lost in translation, I know, but I hope this glossary will help those unfamiliar with Filipino food become more informed.
A is for Achuete
B is for Barako Coffee
C is for Camarón
D is for Dinuguan
E is for Ensaimada
F is for Fish Balls
G is for Gata
H is for Himagas
I is for Itlog na Maalat
J is for Jackfruit
K is for Kamayan
L is for Longganisa
M is for Mani
N is for Noche Buena
O is for Omelet